Detrás de Swiss Typefaces, Novembre Magazine, TTTISM, Physical o el gran Sang Bleu hay una mente creativa y capaz de gestionar e hilar todos estos proyectos a la perfección, su nombre: Maxime Plescia-Buchi.
Behind Swiss Typefaces, Novembre Magazine, TTTISM, Physical or the great Sang Bleu there is a creative mind and able to manage and run all these projects to perfection, his name: Maxime Plescia-Buchi.
Hablar de Maxime no es sólo es hablar de Sang Bleu, proyecto del que también es fundador. Plescia-Buchi es una persona creativa y una mente inquieta, es un creador nato y un empresario único. Además de todo esto, es fuente de inspiración para proyectos emergentes como este que estás leyendo.
Talking about Maxime is not just talking about Sang Bleu, a project of which he is also a founder. Plescia-Buchi is a creative person and a restless mind, is a born creator and a unique entrepreneur. Besides all this, he is a source of inspiration for emerging projects like this you are reading.
Hace un tiempo hablamos de él, ahora es turno de hablar con él. A continuación tenéis la entrevista completa.
Some time ago we talked about him, now it's time to talk with him. Below you can read the complete interview.
–

Entrevista Español | English Interview
–
Highxtar (H) – Hoy en día Sang Bleu es un proyecto multiconceptual, pero si vuelves la vista atrás, a cuando todo empezó…. ¿Cual fue la idea original detrás del proyecto y por qué decidiste crear este mundo de creatividad?
Maxime B. – Siempre me encantaron las cosas artísticas y nunca dejé de buscarme la vida con la creatividad. Sin embargo, me gustan varios aspectos de la creatividad y no podría centrarme solo en una cosa. Debido a esto me vi obligado a buscar una forma de reunir todas estas inquietudes bajo un mismo proyecto. Publicar era algo estupendo para empezar, es algo flexible desde un punto de vista creativo aunque no tanto desde un punto de vista empresarial. Después descubrí el tatuaje, que no era tan masivo pero aún así podía ganarme la vida con ello. Una vez que todo esto se consolidó trabajé para poder introducir la moda y el diseño en el juego.
H – Has vivido en Suiza, París y Londres… ¿Cómo ha influenciado cada ciudad tu proyecto?
Maxime B. – Esa es una pregunta muy interesante. Soy de Suiza, es extremadamente multicultural y diversa aunque a la vez es lenta y un poco angosta. Estudié diseño en ECAL  (Escuela de Arte de Lausanne), luego me trasladé a Zurich para trabajar con NORM y luego a París para hacerlo en la revista Self Service, esto último fue como un curso intensivo en moda. Sabía y tenía claro que quería trabajar en moda pero era algo ignorante al respecto,  aunque rápidamente me ellos me pusieron al día. Finalmente Londres fue la ciudad en la que me di cuenta de que todos mis intereses podrían  funcionar juntos y coherentemente bajo un mismo proyecto.
H – ¿Por qué decides establecerte en Londres?
Maxime B. – Londres era el lugar perfecto, tanto cultural como geograficamente. Reunía las culturas anglosajonas con la mentalidad europea.
H – Las colaboraciones son una constante en el mundo de Sang Bleu, ¿Qué te lleva a colaborar con un determinado proyecto, marca o persona? ¿Hay alguna nueva colaboración programada en un futuro próximo?
Maxime B. – Hay algunas cosas preparadas, pero si te soy sincero, estoy intentando centrarme más en Sang Bleu, Physical, TTTism y menos en las colaboraciones. Las collabs me han permitido expandir y experimentar áreas y campos en los que yo no podría haber entrado por mi mismo. Cuando cada una de estas experiencias concluye siempre trato de  analizar lo  aprendido y los resultados de forma interna, para así poder aplicarlos a Sang Bleu sin dependencia de otros. Ahora quiero escoger cuidadosamente cada proyecto con el que colaboro.
"Me gustan varios aspectos de la creatividad y no podría centrarme solo en una cosa. Debido a esto me vi obligado a buscar una forma de reunir todas estas inquietudes bajo un mismo proyecto. "
Maxime Buchi
H – Hace algún tiempo hablamos sobre la "ola suiza": influencers, cultura street, artistas, música, etc. ¿Tienes la sensación de que algo grande está sucediendo en Suiza, especialmente con la gente de Lausanne?
Maxime B. – Totalmente de acuerdo. Suiza está finalmente adoptando la  cultura "millennial". Es un país capaz de producir cosas con una calidad impresionante cuando se lo proponen y eso es lo que está sucediendo. El principal problema es que el mercado Suizo es muy pequeño para la moda. Simplemente no hay dinero para mantener la interesante  cantidad de micro-marcas y  proyectos que emergen. Esto obliga a la gente a buscarse la vida en otra parte lo que es una gran pérdida para el país.
H – Swiss Typefaces, Publicaciones, Ropa, Galería, Lab, Magazine, Tattoo Studio… ¿Qué es lo siguiente?
Maxime B. – Centrarme en TTTISM y Physical.


H – Somos amantes de  Novembre Magazine, fue una gran inspiración cuando comenzamos… ¿Cuál es tú rol detrás de esta publicación?
Maxime B. – Yo la concebí, la diseñé y le encontré el título. ¡Soy el creador! Tuve esta idea y  Florence Tétier tenía una similar, pero yo era la persona con los contactos y con la  experiencia  en publicación. En esa época trabajaba con Jeanne-Salomé Rochat en Sang Bleu, así que Novembre es fruto de reuniones en Sang Bleu con Florence con el fin de publicar una revista de arte. Jeanne-Salomé fue la encargada de traer la mayor parte del contenido artístico. Fue muy divertido. Desgraciadamente tuvimos diferencias en lo que respecta a la dirección que debíamos adoptar. 
Yo era muy ambicioso y quería que la publicación fuera un éxito comercial, mientras que Florence quería que fuera algo mucho más experimental. Yo ya había hecho algo experimental con Sang Bleu, y no quería ir por esa línea así que decidí renunciar. Además de esto, hay que sumar que Florence estaba trabajando con una persona que estaba siendo realmente deshonesta con nosotros y no quería tenerla cerca. Así que en lugar de acumular rencor, decidí que Jeanne-Salomé y Florence se divirtieran con ella y que la hicieran crecer de acuerdo a su propia visión.
Habría sido contraproducente para mí haberme quedado e intentar apegarme al proyecto y forzar que se hiciera bajo mi visión. Fue una decisión muy difícil de tomar en aquel momento y estuve muy triste. Pero ahora, con perspectiva, me alegro de haberlo hecho. Estoy muy orgulloso de ver lo que lograron con la revista, aunque desde un punto de vista un poco narcisista estoy muy feliz de saber y haber comprobado que mi visión era la correcta.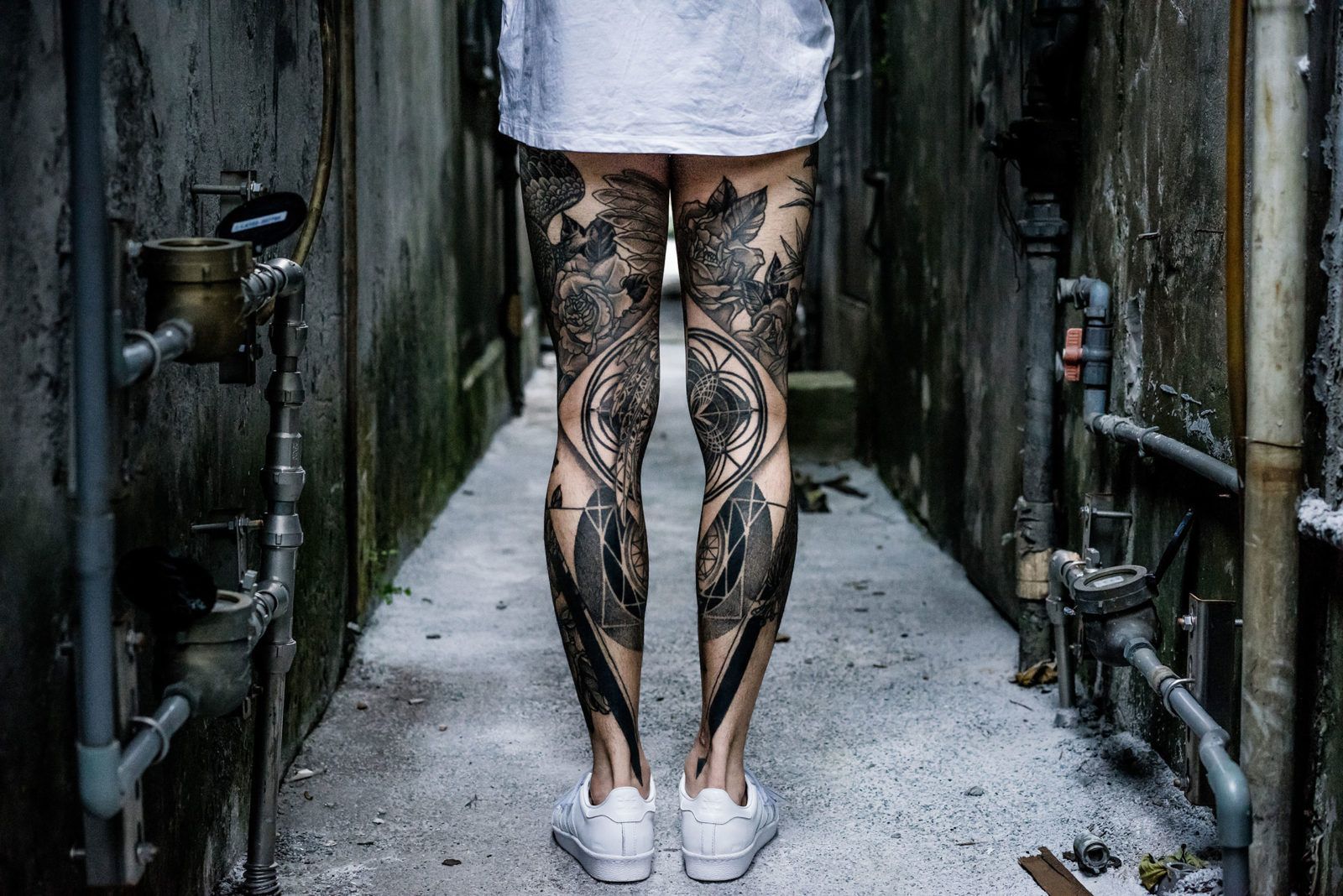 H – Sang Bleu tiene una imagen impecable como estudio de tatuaje, su estilo es único, la geometría de Sang Bleu es aplicada a ropa y a muchos de los proyectos en los que estáis involucrados… ¿De dónde sacas la inspiración para haber creado ese estilo que ya os identifica? ¿Que diferencia a Sang Bleu de otros estudios de tatuaje?
Maxime B. – Mi trabajo geométrico se encuentra en muchas de las cosas que realizo. Pero es sólo una cosa más de las que hago, aunque soy consciente de que soy conocido por ello y un montón de gente llega a mi queriendo que les produzca un trabajo parecido para esto o lo otro. Pero en un futuro, ya no lo encontrarás en mis producciones o sólo ocasionalmente. En especial, Physical, nace como una marca de moda de alta costura basada en los patrones y no en la impresión.  
Se diferencia del resto de estudios en que éstos son solo estudios, y Sang Bleu es una especie de embajada de todos los proyectos que hacemos.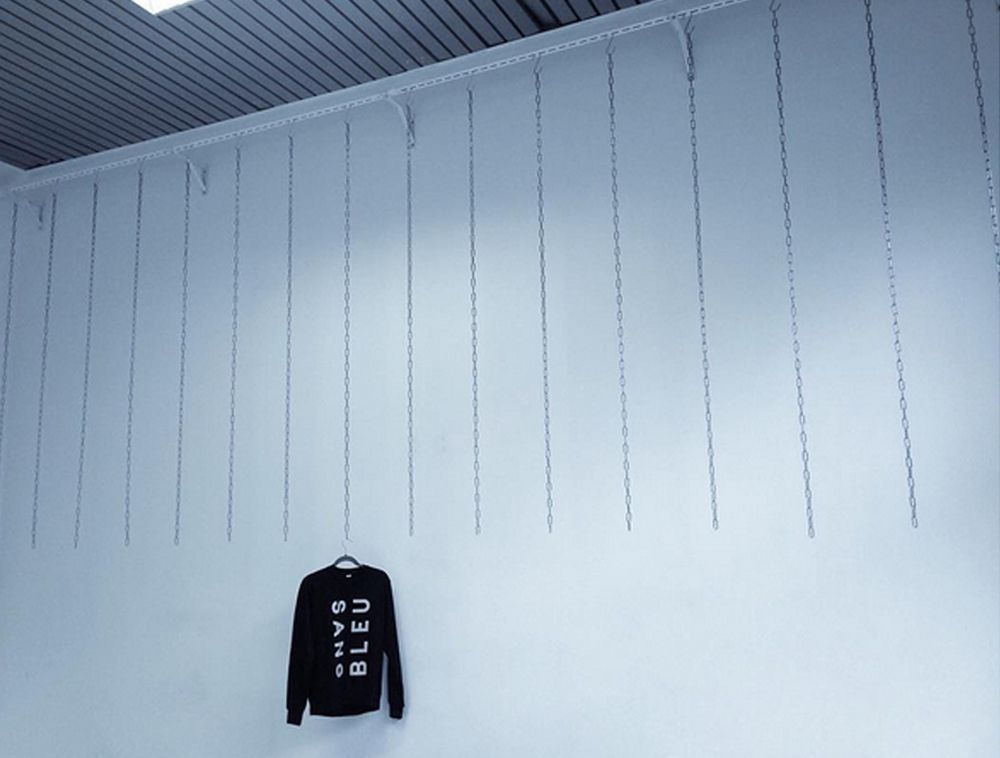 H – Sang Bleu está cada vez más involucrada en el mundo de la moda, ahora con Physical podemos decir que estáis en el corazón del movimiento… ¿Planeas expandir este área de negocio y empezar a vender en otras tiendas (puntos de venta)?
Maxime B. – Si, por supuesto. Physical será muy pronto una entidad completamente independiente, mientras que la ropa de Sang Bleu seguirá siendo más street y producirá accesorios de lifestyle. Estoy trabajando en la constitución de Physical como una línea de moda con derecho propio. Probablemente, a principios del próximo año la lanzaremos oficialmente. Actualmente ya estoy preparando el terreno para ello, he comenzado a añadir productos y contenido en  www.physical.company y @physicalhigh… Estas plataformas son mi propio espacio para la experimentación.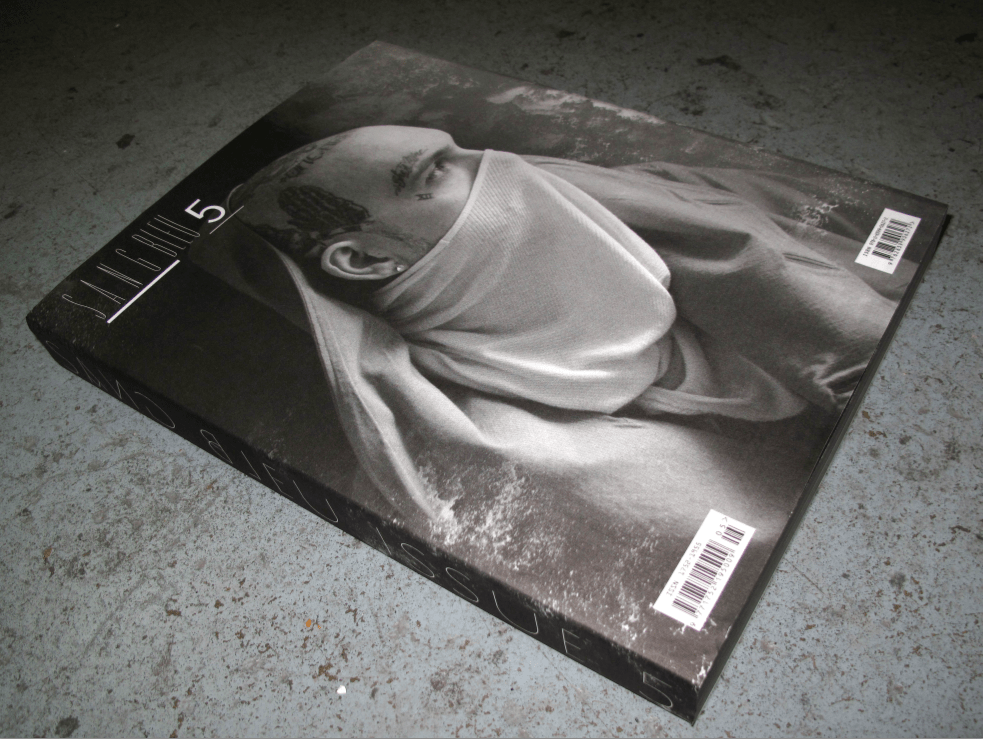 H – Sang Bleu, la revista, para nosotros como consumidores funciona como un recurso de inspiración, ¿Como decides el contenido que tendrá la revista? y en un mundo dónde la impresión parece que está muerta ¿Por qué decides publicar en papel?
Maxime B. – Sang Bleu magazine paró durante 5 años, así que en realidad decidí no seguir imprimiendo. Esto hasta hace muy poco, ya que creo que la impresión está de vuelta… Y respecto a que esta muerta podríamos tener una larga conversación. Somos conscientes del espacio que ocupa la  impresión en la era de internet, así que desde esa perspectiva he decidido retomarla. Muy pronto lanzaré magazine.sangbleu.com (no sé cuando será publicada la entrevista, ¡quizá para entonces ya esté en el aire!). Mi intención es hacer convivir la revista impresa con una versión online. 
En lo que respecta al contenido siempre ha sido un simple reflejo de mi estilo de vida en un momento determinado.
H – Desde tu punto de vista… ¿Sobre que otros proyectos creativos deberíamos poner nuestro radar? 
Maxime B. – Creo que los medios de producción son el mayor desafío para la cultura experimental del siglo XXI, especialmente en la moda y debería ser un tema de conversación.

H – Para acabar tenemos algunas preguntas rápidas…
H – ¿Cuales son tus tiendas online favoritas y tus tiendas físicas?
Maxime B. – En Londres, me gusta Machine-A y obviamente Dover Street Market, pero si soy sincero compro cosas que veo a través de instagram y otros medios. Si veo algo lo "googleo" y listo. Ya no confío mucho en las tiendas. En NY siempre voy a ojear  Opening  Ceremony, V Files, etc. Aunque es más por ver amigos que otra cosa.
H – ¿Cual tu sneaker favorita de todos los tiempos? Sólo una 🙂
Maxime B. – Wow. Solo una. TNs probablemente. Ellas representan mis orígenes.
H – Tu marca favorita es….
Maxime B. – Sólo una otra vez. Quizás Prada. No es necesariamente la que más me excita pero, en  general, es probablemente la que más me fascina.
#mustfollow >>> @mxmttt | @sangbleu  | @physicalhigh | @tttism

English Interview | Entrevista Español
–
Highxtar (H) – Today Sang Bleu it's a multi-concept project, but if you look back, when it all started… What was the original idea behind the project and why do you decide create this world of creativity?
Maxime B. – I always loved artistic things and never ceased to look for a way to make a living off creativity. But I also had a very broad scope of interest so I couldn't be satisfied with only one thing. I had to find a ways to bring together all my interests. Publishing was a good way to start as it is somewhat flexible, at least, from a creative viewpoint, if not from a business point of view. But Then I found out tattooing was not even as open if not more but I could also make a living off it. And once this was established, I work to bring back fashion, fine art and design back in the game.
H – You have lived in Switzerland, Paris and London… How has each city influenced your project?
Maxime B. – That's a very interesting question. Switzerland is where I'm from. It's extremely multi-cultural and diverse but relatively slow and narrow-mided. I studied graphic design at ECAL (École Cantonale d'Art de Lausanne). Then I moved to Zurich to work with NORM then Paris to work at Self Service magazine, where it was like a crash course in fashion. I knew I wanted to work in fashion, but I was pretty ignorant. It really got me up to speed. But London is where I realised that all my interests actually could function together in a coherent project.
H – Why do you decide stablish it in london?
Maxime B. – London was the perfect locus, both culturally and geographically. It brought together anglo-saxon subucultures with European mentality.
H – Collaborations are a constant in the world of Sang Bleu, What leads you to collaborate with a particular person or brand? Will there be any new collaboration in the near future?
Maxime B. – There are a few things in the pipeline, but to be honest, I am trying to focus more on Sang Bleu, Physical and TTTism , and less on collaborations. Collabs enabled me to expand and experiment in fields I wouldn't have been able by myself, but when those experiences were conclusive, I always tried to then apply the results internally and figure how to appropriate those resources for Sang Bleu without relying on others. Now I want to pick and choose carefully each new project.
"I always loved artistic things […] I couldn't be satisfied with only one thing. I had to find a ways to bring together all my interests."
Maxime Buchi
H – Some time ago we talked about the "swiss wave": influencers, street culture, artists, music, etc. Do you have the feeling that something big is happening in Swizertland, particulary with the people from Lausanne?
Maxime B. – Absolutely. Switzerland is finally catching up to millennial culture. The beauty of a certain latency in catching up with cultural trends is that you can also avoid the pitfalls of experimentation and positioning. Switzerland is able to do things at an amazing level of quality when it does put its mind to it, and that's what's happening. The huge issue is that the Swiss market is too small for fashion. There just isn't enough money involved to sustain an interesting amount of eve micro-brands. So people have to look elsewhere, which is a huge loss.
H – Swiss Typefaces, Publications, Apparel, Gallery, Lab, Magazine, Tattoo Studio… What's next?
Maxime B. – Focusing on TTTISM and Physical.


H – We are Novembre Magazine lover's, it was an inspiration when we start… What is your role behind this publication?
Maxime B. – I conceived it, designed it, found its title. I created it! I had this idea, and Florence Tétier had a similar one, but I was the person with the contacts and experience in publishing. At the time I worked with Jeanne-Salomé Rochat on Sang Bleu. So Novembre was Sang Bleu getting together with Florence to publish an art magazine. Jeanne-Salomé brought most of the art content. It was a really fun time. Unfortunately, we didn't agree on the direction to give it.
I was very ambitious and wanted it to be a commercial success, while Florence wanted to keep it more experimental. I had already done the experimental thing with Sang Bleu, so I couldn't be bothered and I decided to just give up. On top of this, Florence was working with a person who was being really dishonest with us and that I simply couldn't be around. So rather than building up grudge and frustration, I thought it was classier to let Jeanne-Salomé and Florence have fun with it and grow it according to their own vision.
It would have been selfish and counter-productive for me to try and stick to it and force my own vision in there. It was a very difficult decision to make at the time and I was definitely bitter for a moment, but I am happy I did now. I am really proud to see what they achieved with and from a little narcissistic point of view, quite happy to see that my vision was right.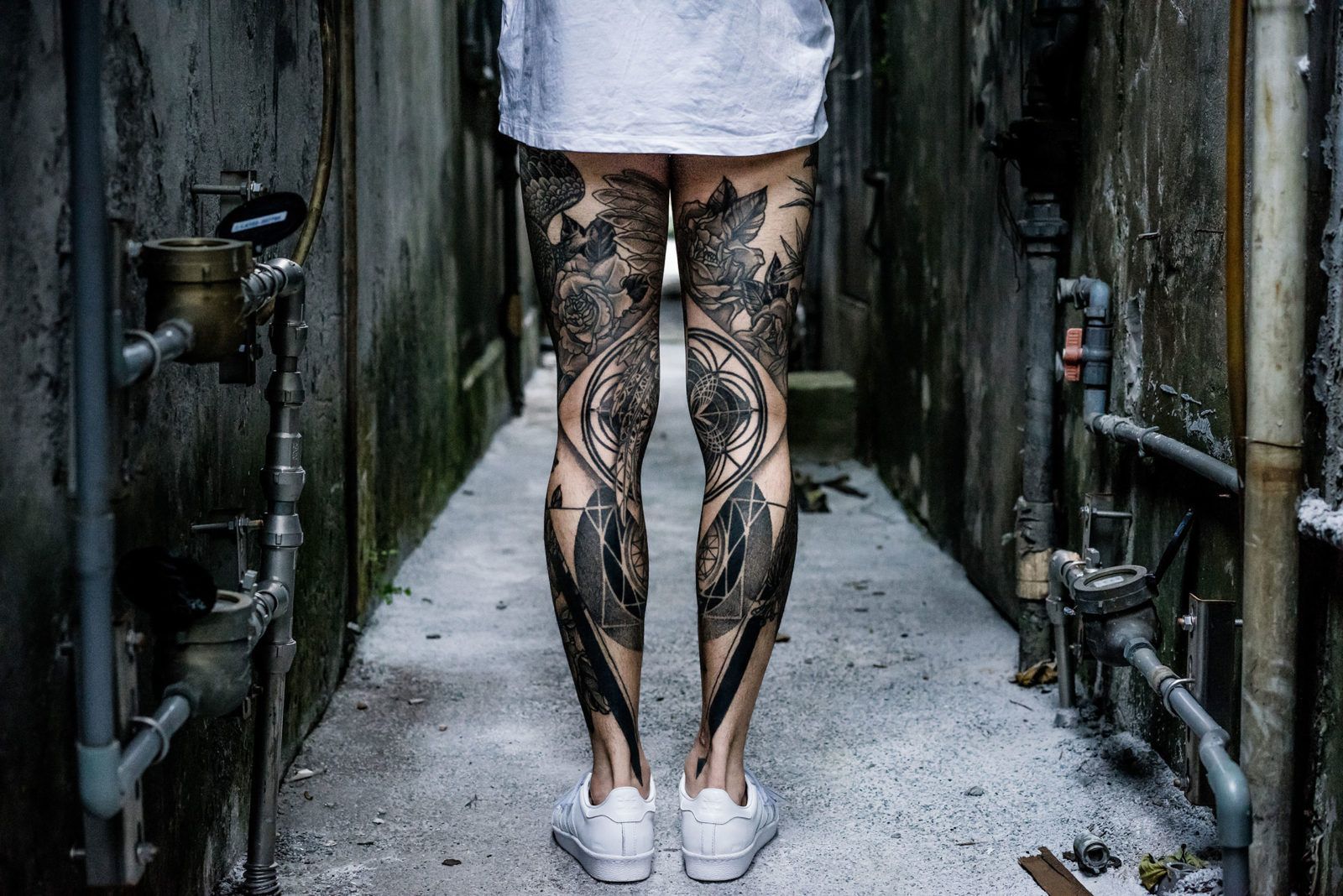 H – Sang Bleu has an impeccable image as a tattoo studio, your style is unique, the Sang Bleu geometry is applied to the clothes and a lot of projects in which you are involved … Where does the inspiration come from to have created that style that already identifies you? What is different in Sang Bleu from the other tattoo studios?
Maxime B. – To be honest, it is a contingence that my geometric work finds itself on other things. It is only one in many other things I do. But also it is one thing I'm known for so a lot of people reach out to me wanting me to produce similar work for this or that. But going forward, you won't find it anymore on my productions. or only occasionally. Especially, Physical is meant to be a high fashion brand. Shape based and not print based.
The studios are different because they are not only studios, they are a kind of embassy for all the things we do.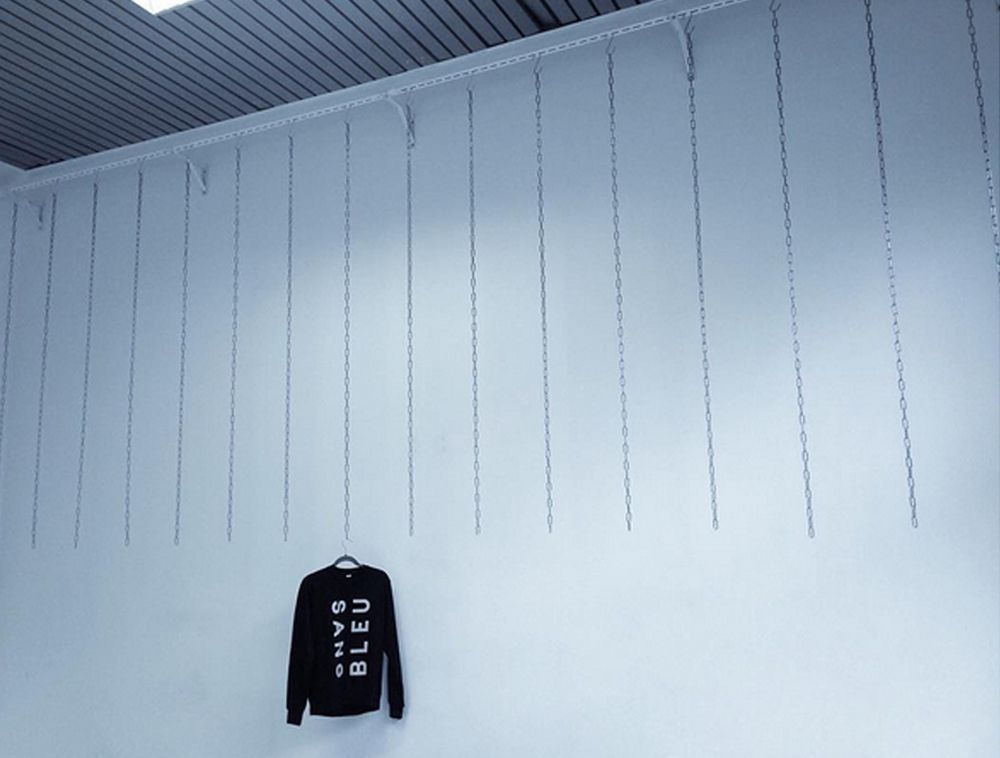 H – Sang Bleu is increasingly involved in the fashion world, and now with the Physical line we can say that it is at the heart of the movement …… Do you plan to expand that area of business and start to sale in other stores (stockist)?
Maxime B. – Yes, absolutely. Physical will soon be a completely separate entity, and while Sang Bleu clothing will continue to produce more street-wear, lifestyle products, I am working on constituting Physical as a fashion line in its own right. It will probably be early next year that we will officially launch it, but I am already preparing the ground. I have started putting products and editorial content on www.physical.company and @physicalhigh, these platforms are my own space for experimentation.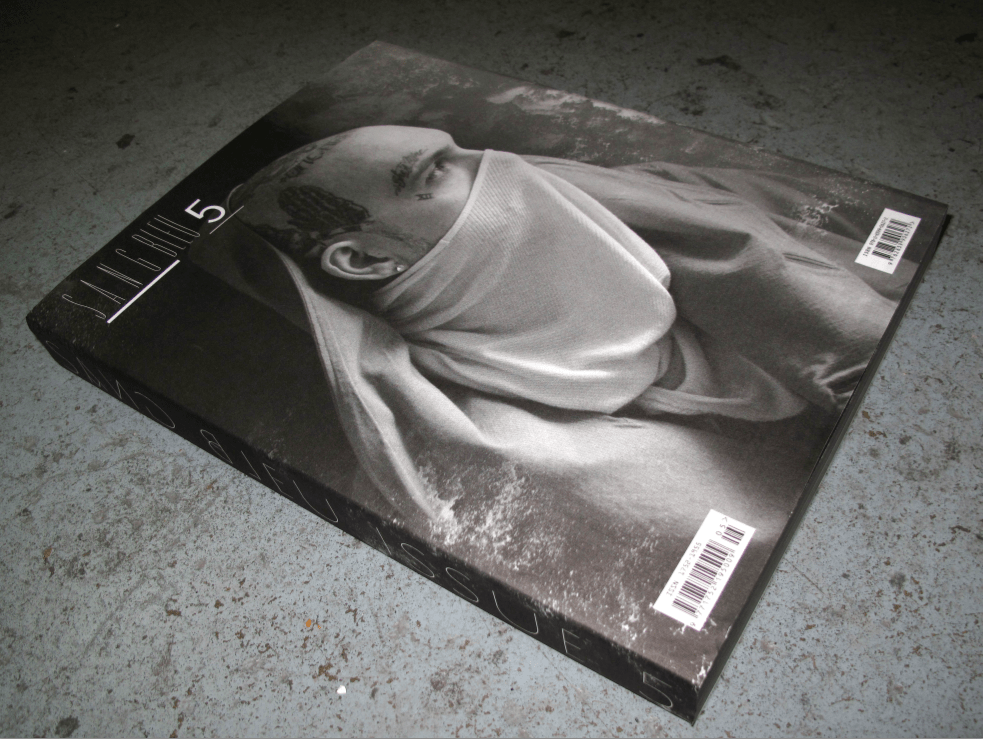 H – Sang Bleu, the magazine, for us as consumers works as a kind of source of inspiration … How do you decide what content the publication will have? and in a world where the print is almost dead… Why do you decide to continue publishing on paper?
Maxime B. – Sang Bleu magazine stopped for 5 years, so I actually decided to not continue print. Until recently. It is a long conversation, but I believe that print is back. Not that it left, but we finally understand the place that print has in the era of internet. SO I am actually going back to it. magazine.sangbleu.com will be up very soon (not sure when this interview will come out, it might already be up by then!) and I intend to make the print magazine and the online version work together.
As far as the content is concerned, it was always a simple reflection of my lifestyle at a certain moment. But I always, say, curated my lifestyle quite a bit!
H – From your point of view… Over what other creative projects should we put our radar?
Maxime B. – I think that production means are the biggest challenge for 21st century experimental culture, especially in fashion. And should be a conversation subject!
H – To finish, we have some fast questions…
H – What are your favorite online stores & physical stores?
Maxime B. – In London, I like Machine-A and obviously, Dover Street Market, but to be honest, I shop by following instagrams or other media, and when I see something I like I just google it. I don't rely on shops anymore. In NY i always go check Opening  Ceremony, V Files, etc. But it's more in order to see friends or whatever.
H – What is your favourite sneaker of all time? Just one 🙂
Maxime B. – Wow. Tough one. TNs probably. They really represent my origins.
H – Your favourite brand is….
Maxime B. – Another tough one. Maybe Prada. It is not necessarily the one that excites me the most but all things considered, it is probably the one I have the most fascination for.
#mustfollow >>> @mxmttt | @sangbleu  | @physicalhigh | @tttism