Rusa, afincada en Milán hace 7 años y con un gusto exquisito para la moda underground, Valeria Semushina (@valeriasemu) llamó mi atención desde el primer momento. Su gusto al combinar sus orígenes post-soviéticos con el chic milanés la han convertido en una de mis instagramers y estilistas favoritas.
Russian, settled in Milan 7 years ago and with an exquisite taste for underground fashion, Valeria Semushina (@valeriasemu) caught my attention from the first moment. Her taste in combining her post-soviet origins with Milanese chic has made her one of my favorite stylists.
Graduada en el prestigioso Istituto Marangoni de Milano, Valeria colabora a menudo con numerosos medios especializados de moda y diseñadores como: Interview, Hunter, Vanity Fair, Vogue, Alyx o NSS.
Graduated in the prestigious Istituto Marangoni of Milan, Valeria often collaborates with numerous specialized fashion media and designers such as: Interview, Hunter, Vanity Fair, Vogue, Alyx or NSS.
Si no la conocías ya no tienes excusa… A continuación crucamos unas palabras con ella acerca de su trabajo, Milán y más cosas….
If you didn't know her, you have no excuse… Below we talked with her about her work, Milan and more…

Entrevista Español | English Interview
–
Highxtar (H) – Hola Valeria, cuéntanos brevemente quién es Valeria Semushina…
Valeria -Soy estilista de moda y soy de Siberia. Actualmente estoy viviendo y trabajando en Milan. 
H – Te mudaste a Milán hace 7 años… ¿Por qué Milán?
Valeria -Tenía dieciséis años y en aquel momento no trabajaba en moda y no pensaba en la estética. Simplemente me mudé aquí porque ya conocía muy bien la ciudad, bastante más que París o Londres. Además en Rusia existe la idea de que estudiar moda en Milán es lo mejor que puedes hacer. Realicé mis estudios en el Istituto Marangoni de Milán y fue una experiencia increíble. 
"Definitivamente no necesitas tener mucho dinero para crear un buen estilo, la fantasía es la parte más importante para crearlo."

Valeria Semushina
H – Milán es una ciudad que destaca por su moda "chic", sin embargo también es verdad que hay un Milán underground que se desarrolla paralelamente y tú estás en el centro de este movimiento… ¿Cómo es el Milano de la moda más underground?
Valeria – Me encanta nuestro grupo / escena undeground de Milán. No somos un montón de gente como puede ser en Londres o París pero quizá eso nos hace más únicos. No tenemos este estilo por una cuestión de tendencia sino que nos viene del alma, es nuestro estilo de vida. Somos verdaderos amantes de la moda y de la cultura de la calle. Aquí en Milán combinamos el chic Milanés con la cultura street underground que tanto amamos.
H –  Cuándo vas de compras… ¿Miras las marcas? ¿Qué es más importante, el dinero o la personalidad para un buen estilismo?
Valeria – No, en primer lugar me fijo en la prenda y después en la marca. Definitivamente no necesitas tener mucho dinero para crear un buen estilismo, la fantasía es la parte más importante para crearlo.
H – De todas las colaboraciones que has hecho, ¿Cuál te hace sentir más orgullosa?
Valeria – Me encantan todas las colaboraciones que he hecho. He conocido gente maravillosa en todas ellas. He hecho trabajos de ensueño. Todavía tengo muchos sueños que hacer realidad, por supuesto, y eso es por lo que trabajo cada día.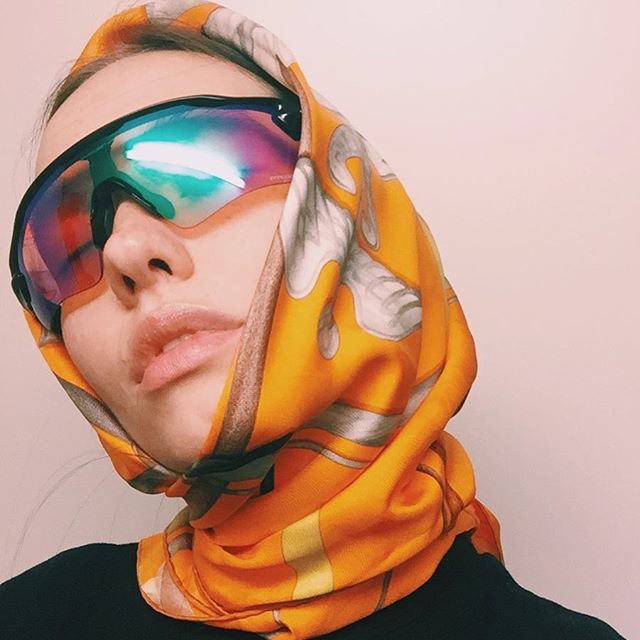 H – Como nativa de Rusia… ¿Qué te parece el auge del movimiento post-soviético, no crees que está sobre-explotado? Y de los máximos exponentes del movimiento, Vetements, MISBHV o Gosha… ¿Con cual te quedas y por qué?
Valeria – Sí, realmente creo que el movimiento está sobreexplotado, por lo que lamentablemente la gente se está aburriendo de él. Aunque la realidad Rusa es algo completamente diferente, diferente cultura, diferente forma de combinar la ropa, siempre ha sido llamativo para la gente. Ahora es o ha sido un buen momento para la moda o estética soviética ya que a la mayoría les encantan los 80 y los 90, justo años en los que en Rusia el estilo era oscuro, fuerte y marcado todo ello vínculado a momentos históricos determinados. Esta herencia se hace patente hoy en día con estilos oscuros de streetstyle como la estética "hooligan rusa".
Me gusta mucho MISBHV, son trangresores con prendas de calidad y muy buenas ideas. Me encantan los tejidos y la forma en la que comunican su marca. Gosha y VETEMENTS puedes verlas en todas partes, incluso en gente que no se preocupa por la moda, MISBHV es otro royo… Es más para las personas que investigan y que valoran y aman este estilo más allá de regirse por un hype.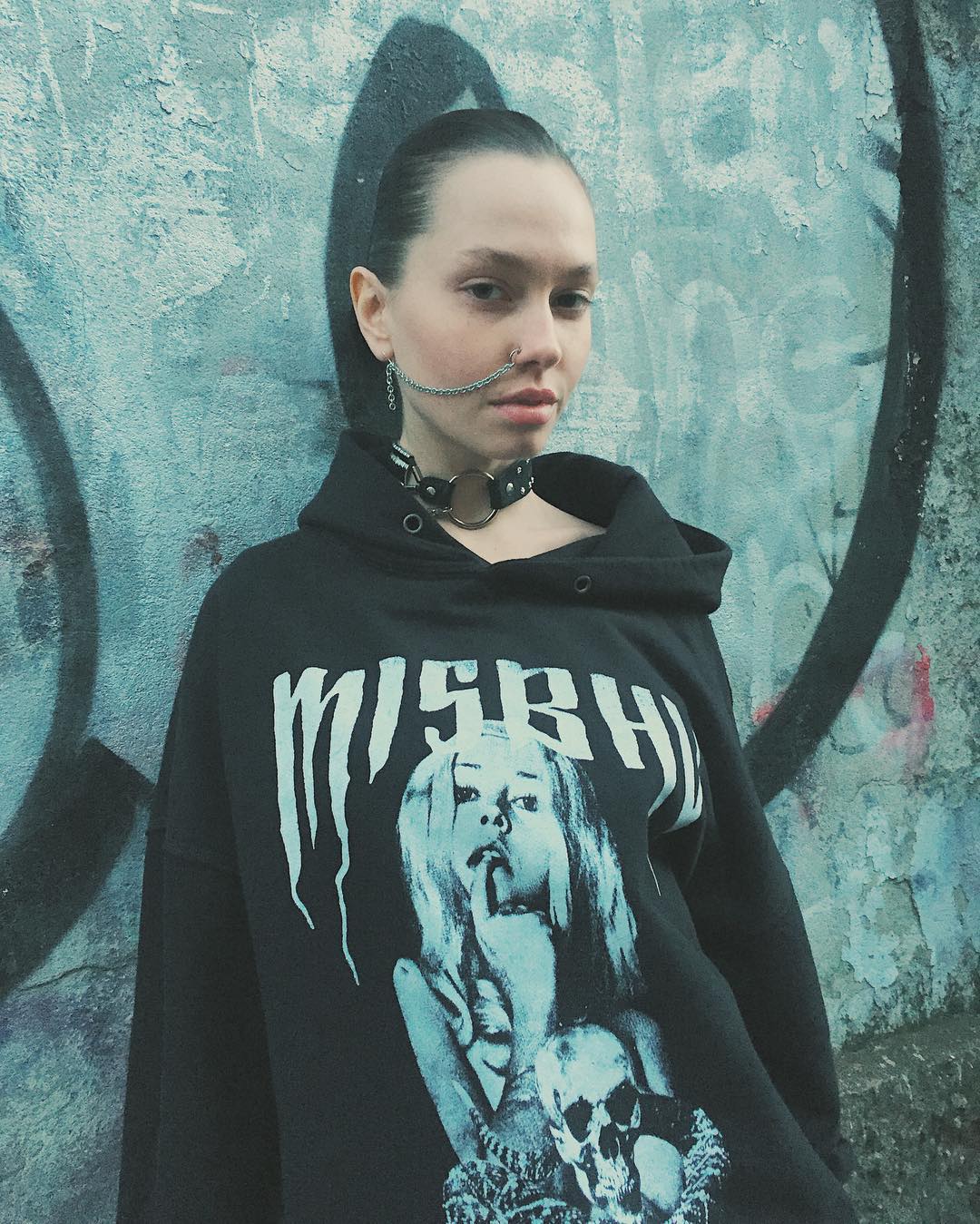 H – ¿Dónde buscas tu inspiración a la hora realizar los estilismos?
 Valeria –  Gente, Culturas, Arte… Cada día tengo nuevas inspiraciones, las veo y las recojo en todas partes.
H – He visto que tienes un talento nato para enamorar a la cámara… ¿Cómo disfrutas más, delante o detrás creando estilismos?
 Valeria –  Mejor como estilista. Pero sin duda es muy divertido ser modelo y estilista al mismo tiempo.
H – Por último… ¿Dónde te gustaría verte en los próximos cinco años? ¿Qué marcas debemos seguir de cerca según tu opinión yque tiendas de Milán nos recomiendas?
 Valeria – Puedo asegurarte que me encantaría estar viajando mucho por trabajo y haber crecido profesionalmente más allá de estilismos y direcciones artísticas.
#mustfollow >>> @valeriasemu | www.valeriasemushina.com

English Interview | Entrevista Español
–
Highxtar (H) –  Hello Valeria, tell us briefly who Valeria Semushina is…
Valeria – I'm a fashion stylist from Siberia and I live and work in Milan. 
H –  You moved to Milan 7 years ago … Why Milan and not London or Paris?
Valeria – I was sixteen and didn't work in fashion and I didn't think about esthetic. I moved in Milan just because I already knew pretty well this city more then Paris or London; in Russia I had this stereotype that study fashion in Milan is the best thing that you can do. I finished Istituto Marangoni in Milan and it was really nice, amazing experience I really liked it. 
"Definitely you don't need to have a lot of money to create a good styling, fantasy is the most important part."

Valeria Semushina
H – Milan is a city that stands out for its "chic" fashion, however it is also true that there is an "Underground Milano" that develops in parallel. You are at the center of this movement … How is this Milan of the underground fashion?
Valeria – I love our underground group in Milan. We are not in a lot like in Paris or London of course, so that's why probably we are more unique. We don't have this style just because it's a trend, no, it comes from the soul and our life style. Real lovers of fashion and street style culture.  Here in Milan we are not just underground street style guys we bring Milan's chic in our street style. 
H – When you go shopping… Do you look at the brands names? What do you think is more important, money or personality for a good styling?
Valeria – No, first of all I see a clothes and then brand. Definitely you don't need to have a lot of money to create a good styling, fantasy is the most important part.
H – Of all the collaborations you've made… Which of all you feel more proud? What is your dreamed collaboration?
Valeria – I'm happy about all my collaborations. I met amazing kind people. Made dream works. I have few dreams more to come true of course, I work for it.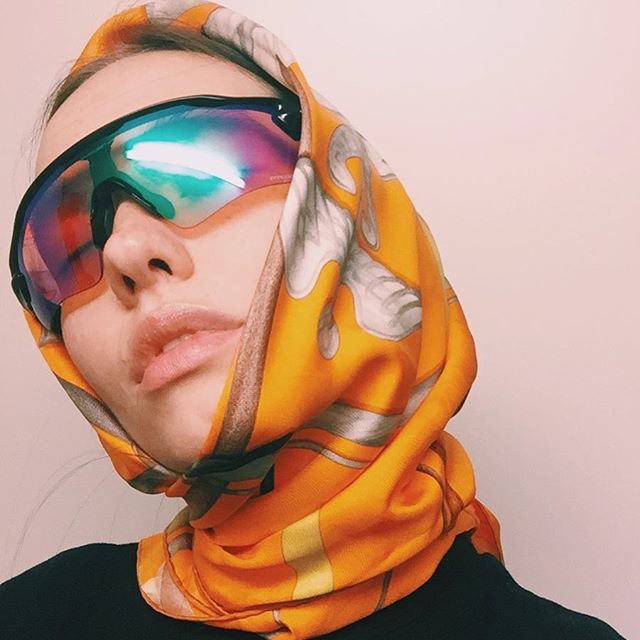 H – As a native of Russia … What do you think about the rise of the post-Soviet movement? Do not you think it is over-exploited? And of the maximum exponents of the movement: Vetements, MISBHV or Gosha… Which one is your favourite and why?
Valeria – Yes think this movement is over exploited, so that's why unfortunately people will get tired of it very fast. But it's something completely different. Different culture, different way to think to mix clothes of course it's always curious for a people. It's was or it is the right time for a Russian fashion or let's say soviet style because now people love eighties and dark nineties and in Russia we had a strong style, depended on a specific historical moments in Russia. And specially we still have a strong dark street style, Russian hooligan style, which still is very interesting for a people and unique. 
I really like MISBHV, they are very modern with a good quality and very cool ideas. I love there fabrics and the way how they present a brand. Gosha and VETEMENTS you can see on everybody, even on a persons who doesn't care about fashion , misbhv it's another situation. MISBHV is for the people who do the research and who really love this style , not just because it's a trend.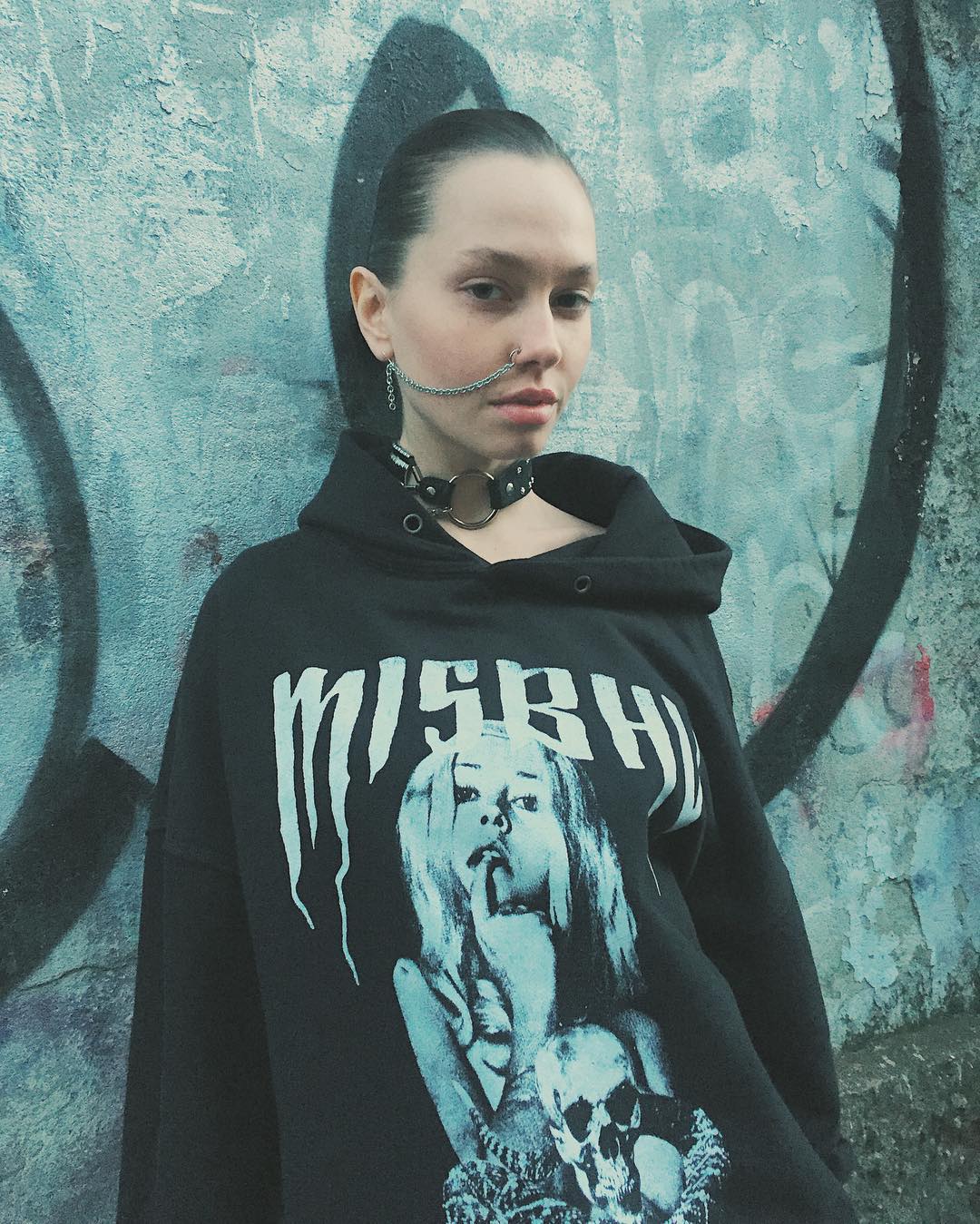 H – Where do you look for the inspiration of your styles?
Valeria – People , cultures , art , everyday I have new inspiration. I see inspirations everywhere. 
H – I've seen you have a natural talent to talk with the camera… How do you feel better, in front as model or behind as stylist?
Valeria – Stylist is better, but is definitely very funny to be a model and stylist at the same time. 
H –  To finish … Where would you like to see yourself in the next five years? What brands should we follow closely according to your opinion? and… Which are your favourite stores in Milano?
Valeria – I can say that definitely I want to travel a lot for my job and do something more then just a styling or art direction.
#mustfollow >>> @valeriasemu | www.valeriasemushina.com