Slam Jam es de esos proyectos que no abundan. Han sabido expandir su proyecto, primero influenciando la ciudad en la que se encuentran, Milano, y ahora a un continente como Europa.
Slam Jam is one of those projects that do not abound. They have known how to expand their project, first influencing the city they are in, Milan, and now a continent like Europe.
Al frente de su base de operaciones de Milán se encuentra Alberto Pannochi (@albertopanocchi), un joven que sabe de lo que habla y que en sólo tres años ha afianzado su posición en uno de los proyectos más interesantes del mundo de la moda.
At the head of his Milan operations base is Alberto Pannochi (@albertopanocchi), a young man who knows what he is talking about and who in only three years has consolidated his position in one of the most interesting projects in the world of fashion.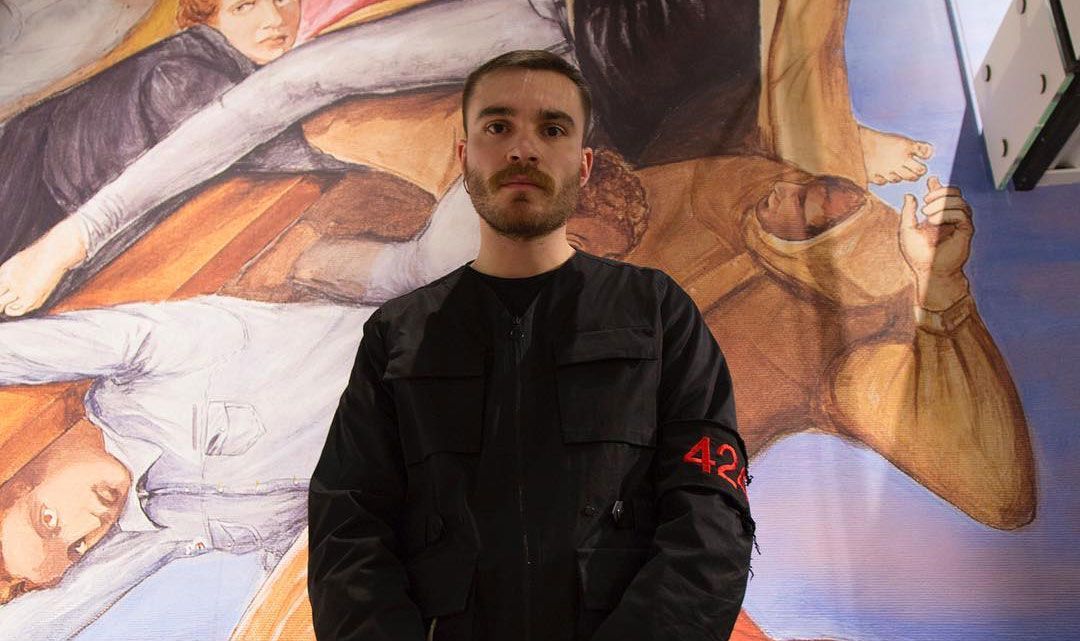 Slam Jam ha crecido mucho en estos últimos años, y Alberto lo ha hecho de la mano. Influencer, apasionado del fútbol y de la moda nos ha dedicado un poco de su tiempo para respondernos a la entrevista que os dejamos a continuación.
Slam Jam has grown a lot in recent years, and Alberto has done it hand in hand. Influencer, passionate about football and fashion has given us a little time to respond to the interview that we leave below.
Sin duda un perfil que debes seguir de cerca ya que estamos seguros de que su ambición le depara muchas y buenas sorpresas en un futuro no muy lejano…
Without a doubt a profile that you must follow closely as we are sure that his ambition gives him many good surprises in the not too distant future…

Entrevista Español | English Interview
–
Highxtar (H) – Cuéntanos… ¿Quién es Alberto Panocchi y cuál es su rol en Slam Jam Milano?
Alberto – Alberto Panocchi es un chico de 26 años que hace casi cinco años decidió que su pueblo en la campaña del centro de Italia se le estaba quedando pequeño, así que decidió trasladarse a Milán. Desde hace tres años trabajo en Slam Jam y estoy a cargo de las compras y la parte social del nuevo espacio en el centro de Milán.
H – Las tendencias son importantes en tu trabajo… Dinos… ¿Cómo te mantienes informado sobre ellas?
Alberto – El estar en continuo contacto con los clientes en la tienda y el viajar durante la temporada de compras, me permite empaparme de las tendencias que me rodean. Últimamente estoy leyendo muchas menos revistas, tanto impresas como online; prefiero seguir las redes sociales, especialmente Instagram donde también desarrollo mi perfil como Alberto Panocchi, comunicador e influencer.
H – A menudo podemos ver muchos de tus looks fotografiados por cool-hunters… ¿Cuales son tus influencias o donde buscas la inspiración de tus outfits?
Alberto – Me cuesta mucho definir mi estilo ya que desde mi punto de vista creo que en la moda de hoy ya no existe un estilo propio, sino una mezcla de muchos. En mi opinión la solución pasa por entender que es lo que te gusta y hacer única la combinación de esos estilos que te apasionan. Hace unos años era impensable usar los pantalones de vestir con un chaleco de pescador sobre él; hoy ya no es un tabú.
H – Tenemos la visión de que Milán es muy "Chic", pero sin embargo tu estas trabajando en uno de los proyectos más underground de Europa en Milán… ¿Cómo es ese "Underground Milano" en el vives cada día?
Alberto – Milán es una ciudad pequeña pero con un gran potencial, es una continua sorpresa de estímulos y nuevas situaciones. Más que underground (que ya es un concepto "antiguo") encuentro esta ciudad contemporánea: como en la moda, hay la fusión de diferentes estilos, se puede hacer y encontrar todo, lo único que te toca a ti es indagar para encontrar tu lugar.
Por ejemplo en el sur de la ciudad puedes encontrar clubes con una buena selección de hiphop tanto de la vieja como de la nueva escuela, en contraposición en el área este hay muchos clubes más centrados en el techno y el electro, parece que estás en Berlín, es un claro ejemplo.
H – Recientemente Slam Jam cambió su localización… Pascuale Paoli ya no es lo mismo… ¿Crees que la tienda ha perdido cierto aspecto undergorund que tenía en Navigli? 
Alberto – La nueva tienda es increíble porque es estructuralmente hermosa y está ubicada en un lugar maravilloso, entre el castillo y la catedral. El antiguo espacio en Pasquale Paoli hoy en día es un "pop up store" que usamos sólo para eventos especiales y presentaciones.
Personalmente estoy muy apegado a esa tienda porque fue mi primer proyecto con Slam Jam y diría que con grandes resultados y sobre todo hay que tener en cuenta que es lo que nos ha llevado a la apertura de lo que hoy es el nuevo Slam Jam Milán.
"En mi opinión la solución pasa por entender que es lo que te gusta y hacer única la combinación de esos estilos que te apasionan."
Alberto Panocchi
 H – ¿Qué hace a Slam Jam diferente de otras tiendas? ¿Qué novedades podremos ver la próxima temporada?
Alberto – Slam Jam con sus muchas caras es capaz de captar la atención de una gran audiencia, desde el "sneakerhead" a la persona que viene a la tienda para comprar Visvim. Tenemos una habitación de invitados dentro de la tienda donde presentamos nuestros proyectos, nuestras colaboraciones, nuestras marcas e intentamos influenciar la ciudad y no solo con nuestras tendencias sino de otra manera más especial.
Hay muchos proyectos y muchas sorpresas pero no puedo decir nada en este momento, ¡lo dejo a vuestra imaginación!
H – Hemos visto a través de algunos medios como NSS o instagram que estás inmerso en algunos proyectos. Uno de ellos es Calcetto Eleganza… ¿Qué concepto hay detrás del proyecto?
 Alberto – Entre todos los proyectos personales que tengo en mi cabeza, el más especial es Calcetto Eleganza, porque tenéis que saber que mi otra gran pasión es el fútbol. Hemos creado este equipo que queremos que se convierta en una marca y un estilo de vida. Tenemos a mucha gente pendiente de nosotros y en septiembre celebraremos un torneo en la ciudad con un gran patrocinador. Acabamos de regresar de París donde desafiamos a nuestros amigos franceses de Le Ballon FC.
Esperamos organizar pronto un torneo en la ciudad, ya que últimamente hay muchos equipos similares al nuestro que están emergiendo, combinando pasión y moda. Nuestro lema es "no por el deporte sino por la moda" ya que casi todos los miembros del equipo trabajamos en la industria de la moda y siempre solíamos jugar ¡muy bien vestidos y muy elegantes!
H – Para acabar… ¿Qué planes de futuro tienes ahora mismo? 
Alberto – Por el momento no tengo muchos planes aparte de ir a Tokio en agosto con mi novia y otros amigos.
Me gustaría concluir diciendo que espero que mi experiencia pueda dar a todos la voluntad de hacer, nunca rendirse y luchar por los sueños y metas que uno tiene. Todavía tengo un largo camino delante de mí y cada día me siento enérgico y con ganas de enfrentarme a los problemas que puedan aparecer con el fin de alcanzar mi objetivo.
#mustfollow >>> @alberto_panocchi | @slamjammilano

English Interview | Entrevista Español
–
Highxtar (H) – Tell us… Who is Alberto Panocchi and what is your role inside Slam Jam…
Alberto – Alberto Panocchi is a 26 year old guy who almost five years ago decided that his village in the countryside of the center of Italy was a bit narrow to him and so he moved to Milan. Since three years I have been working in Slam Jam and I'm taking care of the buying and social of the new space in downtown Milan.
H – Trends are important in your job… So… How do you keep informed about it?
Alberto – By working in close contact with the customers in store and by travelling around a bit during the buying session, I can get and understand the trends and tendencies that surround me. Lately I'm reading a lot less online magazines and magazines in general; I prefer to keep up with social medias, especially Instagram where I also work as Alberto Panocchi being involved as insider and influencer.
H – We often see that your looks are photographed by cool-hunters… What are your influences or where do you take the inspiration for your outfits?
Alberto – It's hard for me to define my style because even in today's fashion there is not a proper style anymore but a mix of more genres; and in my opinion the solution is to understand what you like and make unique the combination of styles that you more feel yours. A few years ago it was unthinkable to wear the tailoring trousers and a multitasking fisherman vest over it; today it's not a taboo anymore.
H – We have the vision that Milano is too "Chic", but you are working in one of the most underground projects in Europe… How is the "Underground Milano" that you lives every day?
Alberto – Milan is a small city but with a great potential, it's a continuous surprise of stimuli and new situations. More than underground (which is an "old" concept already) I find this city contemporary: as in fashion there is the merger of different styles, even in the city I live in I find the same aspect, you can do and find everything, but it's up to you to find your right space.
In the south of the city you can find clubs with a good selection of hiphop both old and new school, in the east area there are many realities more focused on techno and electro, seems to be in Berlin.
H – Recently Slam Jam has changed the location… Pascuale Paoli it's not the same anymore… Do you think that the store has lost certain aspect underground that had in the Navigli?
Alberto – The new store is amazing because it is structurally beautiful and placed in a position just as beautiful between the castle and the cathedral. The old space in Pasquale Paoli today is a pop up store that we uses only for special events and presentations.
I'm personally very attached to that store because it was my first project with Slam Jam and I would say with great results and above all it is what has led us to think about opening what today is Slam Jam Milan.
"In my opinion the solution is to understand what you like and make unique the combination of styles that you more feel yours."
Alberto Panocchi
H – How does Slam Jam differ from other stores? What new brands will be included in Slam Jam next season?
Alberto  – Slam Jam with its many faces captures the attention of a large audience, from the "sneakers addicted boy" to the man who comes in store to buy Visvim. We have a guest room inside the store where we present our projects, our collaborations, our brands and we try to influence the city and not only with our trends.
There are many projects and lots of iron in the fire but I can't say anything at the moment, I leave it to your imagination!
H – We have seen through media like NSS or instagram that you are immersed in some projects. One of them is Calcetto Eleganza… Which is the concept behind the project?
Alberto – Among all the personal projects I have in my head, the most concrete one is Calcetto Eleganza, because you have to know that another great passion I have is soccer. We have created this team that we want it to become a brand and a lifestyle, we have several eyes focused on us, in September we will have a tournament in the city with a big sponsor, we just came back from Paris where we challenged our French friends from Le Ballon FC.
We hope to soon organize a tournament in the city as lately many teams similar to ours are emerging. Our slogan is "not for sport but for fashion" as we almost all work in fashion, and we all used to play well dressed and very stylish!
H – To finish… What next projects are you currently working on? 
Alberto –  At the moment I have no plans other than going to Tokyo in August with my girlfriend and other friends.
I conclude by saying that I hope my experience can give everyone the will to do, to never sit and to fight for the dreams and goals you have. I still have a long way in front of me but every day I feel stimulated to fairly deal with it. 
#mustfollow >>> @alberto_panocchi | @slamjammilano