If something made clear to us Highsnobiety when they introduced us the brand based in Madrid, SISYPHE, under his "Under The Radar" is that, here in Spain, our legacy within the streetwear world is nothing short of a joke… Unfortunately they are right.
Si algo nos dejaba claro Highsnobiety cuando nos introducía la marca con base en Madrid, SISYPHE, bajo su "Under The Radar" es que, aquí en España, nuestro legado dentro del mundo streetwear es nada menos que irrisorio… Desgaraciadamente tienen razón.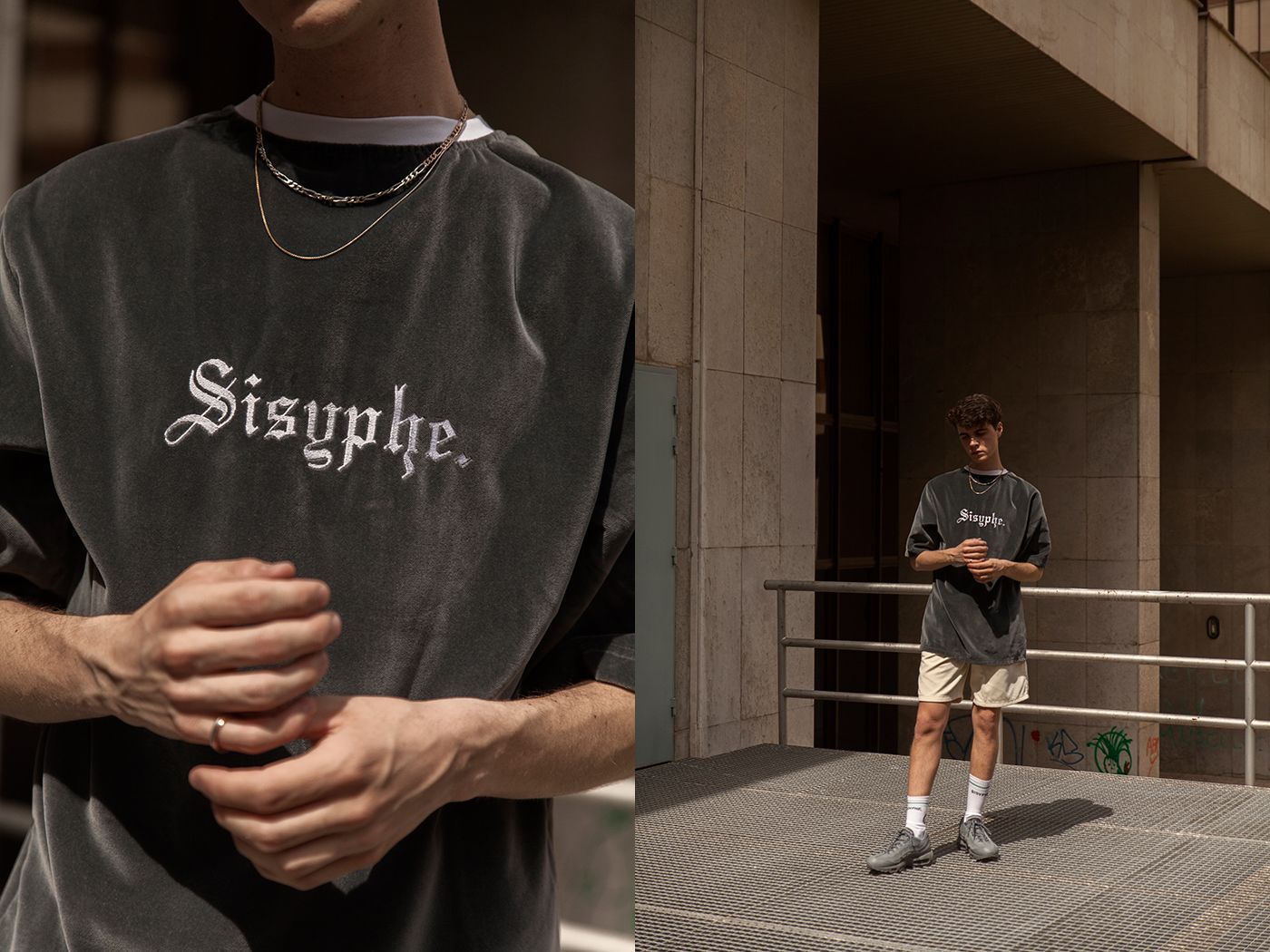 Be calm! There is a person based in the capital that has come to break the rule and become the exception. SISYPHE (designed by Pablo López Torres)  is a purely streetwear brand with a very interesting positioning. With only 6 collections has caught the attention of many streetstyle lovers and nothing less than mass media like Highsnobiety.
¡Pero tranquilos! hay una persona con base en la capital que ha llegado para romper la regla y convertirse en la excepción. SISYPHE (diseñada por Pablo López Torres), es una marca puramente streetwear y con un posicionamiento muy interesante. Con sólo 6 colecciones ha llamado la atención de muchos amantes del streetstyle y nada menos que de medios de masas como Highsnobiety.
From our point of view SISYPHE has everything that an emerging brand has to have: concept, solidity and good taste. Taking a look inside his collections you can realize that he drink from the same water that brands like Fuck Art Make Tees, Misbhv or Vetements among others. Midway between gabber & postsoviet aesthetics, the Madrid based designer has managed to find his place.
Desde nuestro punto de vista SISYPHE tiene todo lo que una marca emergente ha de tener: concepto, solidez y sobre todo gusto. Indagando en sus colecciones puedes darte cuenta que bebe del mismo agua que marcas como Fuck Arte Make Tees, Misbhv o Vetements entre otras. A medio camino entre estética gabber & postsoviet el diseñador afincado en Madrid ha sabido encontrar su lugar.
Here you can see a selection of our favourite pieces, we recommend that you buy them as soon as possible because the "hype" of the Madrid's brand is just around the corner and you know what will happen …. Sold Out & $$$
Aquí podéis ver una selección de nuestras prendas favoritas, os recomendamos que las compreís cuanto antes ya que el "hype" de la marca madrileña está a la vuelta de la esquina y ya sabéis lo que pasará…. Sold Out & $$$
In the manifesto he talks about rebellion, youth and future … of the latter we augur very much. From Highxtar we want to invite you to vote for the best representative we could have on the list of Highsnobiety "Under The Radar" 2016 and position the streetwear of our country where it deserves.
En su manifiesto habla de rebeldía, juventud y futuro… de esto último le auguramos mucho. Desde Highxtar queremos invitaros a que votéis al mejor representante que podíamos tener en la lista de Highsnobiety "Under The Radar" 2016 y posicionar el streetwear de nuestro país donde se merece.
Thank you SISYPHE for representing us so well.
Gracias SISYPHE por representarnos así de bien.
—
web: www.iamsisyphe.com
instagram: @iamsisyphe