READ IN: Español
A.W.A.K.E.'s collection, a narrative structure in three acts, condenses an almost irreconcilable aesthetic united only by a minimalist and polished style.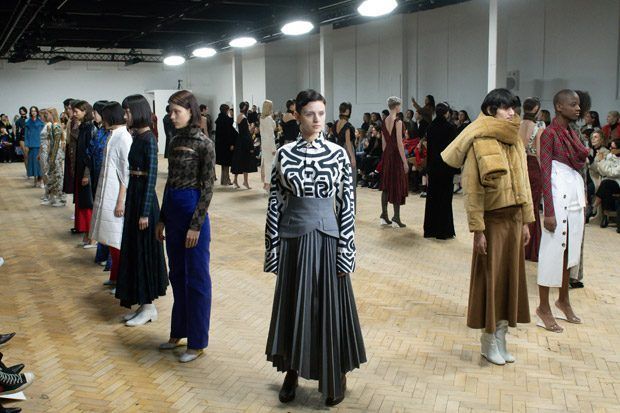 The first part of the collection condensed the greatest care and savoir fairefor the structure of the pieces and fabrics. Among the key garments, we find black quilted fur coats, elastic dresses with thin stripes and leather trousers that evoked the aesthetics of the film Matrix. These latest have undoubtedly been the main protagonists, a touch of moderate and prudent mischief between elegant silhouettes and neutral colour palettes.
After several looks, the lights in the space where the show took place went out and the music stopped playing. A plot twist to give way to the second part, where tartans, levitas and botanical prints were the central elements. This second act carried the identity of Natalia Alaverdian, creative director of the firm. "The second part was very me, what I have inside me, just a madness", she commented. Perhaps it was the game of necklines (one of them even below the chests) that most concentrated that point of craziness referred to by the designer.
The third and last section repeated, like the first, the legendary group Underworld as a soundtrack. This third part stood out for its marked punk airs, deconstructed pieces and hybrid garments. The tartar was repeated and the corduroy was included with greater force. But in spite of insisting on certain fabrics and textures, it had nothing in common with the garments of the first and second parts.
A.W.A.K.E. FW19
"I wanted to show that there was a reality within a reality within a reality," Alaverdian specified. "I wanted it to look like they were different realities from each other". A.W.A.K.E.'s idea has undoubtedly been a risky one. Condensing three small collections so different from each other in a single fashion show has that eccentricity point that is so beneficial in the fashion industry; however, building a strong identity that is easy to identify and associate with the brand is a basic must that A.W.A.K.E. has left behind.