READ IN: Español
ABRA makes the leap to ready-to-wear with the presentation of his first collection during MBFWM. During the show, the designer's first jewellery collection was presented in collaboration with SUOT Studio; an experimental jewellery project that will be launched on 18 October. The accessories collection, the brand's core collection from 2016 to date, included a complete selection of bags and shoes such as kitten heels, 12-centimetre boots and sandals.
ABRA presented its Spring/Summer 2022 collection, the first ready-to-wear collection from the firm headed by designer Abraham Ortuño. ABRA transfers the codes of his Instagrammed bags and shoes to garments that stand out for a personal nostalgic style that recovers aesthetic references from the designer's youth.
In a revival exercise of the early 2000s, Abraham – a native of Valencia who lives in Paris – introspects on the wardrobe of his generation's childhood, which he analyses by contemplating the clothing needs that arise from his environment and friends. The result is a collection of accessible silhouettes with an elaborate utilitarian sense that reuses conventionally tacky elevated aesthetics to offer an updated style with kitsch references.
The designer himself defines the aesthetic character of his first clothing line as a sort of "Medieval Manga" that incorporates retro imagery with a geeky twist and reminiscent of tomboy style.
Cargo trousers, monochrome lycra dresses and bold prints; hooded capes, asymmetric skirts and rugby polo shirts turned into pique mini-dresses with rhinestone crystal shoe patterns. These are some of the key pieces in the collection.
They are joined by tops and T-shirts with illustrations that include the figure of a demon; a nod to items found at the fairs we all remember from our youth. Alluding to this same era and teen folklore, ABRA presents skirts made with heart motifs that read "Te Quiero" and long sweatshirts with lists on the sleeves.
The chromatic proposal of the collection moves between pastel shades of yellow and pink and bright, saturated reds and greens, applied in cottons, lycras and synthetics with a glitter effect.
In addition, accessories play a key role in this Spring/Summer 2022 collection. On the other hand, the footwear line – the starting point for the brand, which presented its first accessories collection in 2016 – is a complete selection of shoes ranging from discreet kitten heels to eye-catching high boots: card boots, with card holder included. All of this includes mules, loafers and ankle boots, the star piece and the most recognisable of the designer's work. This season, ABRA is working on a carry-over to raise them up to 12 centimetres off the ground. A heel that contrasts with light sandals with a very thin strap lacing; a model with a studded version and closed shoes made with a delicate leather braiding presented in the same tones as the rugby polo shirts of the first looks of this collection.
For the bags, ABRA reworks its best sellers: baguettes, pouches with spikes and clutches with the perfect size to hold two iPhones. Ideal for the working kids with the office look that inspires the designer so much. The brand's shoes and bags are made in Ubrique.
In both proposals, shoes and bags, the use of the belt is presented as a unifying element of this collection, appearing in almost all the models in the line.
The designer completes the total ABRA look by also presenting a jewellery line; his first capsule in collaboration with SUOT STUDIO. It is an experimental jewellery project that will see the light of day on 18 October. More details will be revealed soon.
This collection is an ode to Y2K nostalgia, combining different metals and materials and connecting them harmoniously to evoke, at the same time, the essence of SUOT and the designer.
A total of 19 pieces make up the collection, made of precious materials and metals such as silver, 18-carat gold-plated gold and titanium. Pearls and gems have also been used, which are transformed into eye-catching earrings, earrings and elaborate earcuffs.
The four earrings named CONNECTIONS stand out. These combine recycled metals with pearls or precious stones and are mixed with piercings, spikes, studs and lacquered titanium hearts, so representative of ABRA's work and imaginary. These earrings are absolutely transformable, as they are made up of interchangeable plates on which to build a personalised design through earrings that, together, constitute a unique earring-of-earrings.
The rest of this collection consists of six earrings, three hoops, two rings, three earcuffs and a necklace. In keeping with the spirit of versatility and personalisation of the jewellery, the studs screwed onto other pieces – such as the ring – allow this component to be removed and used independently as an earring.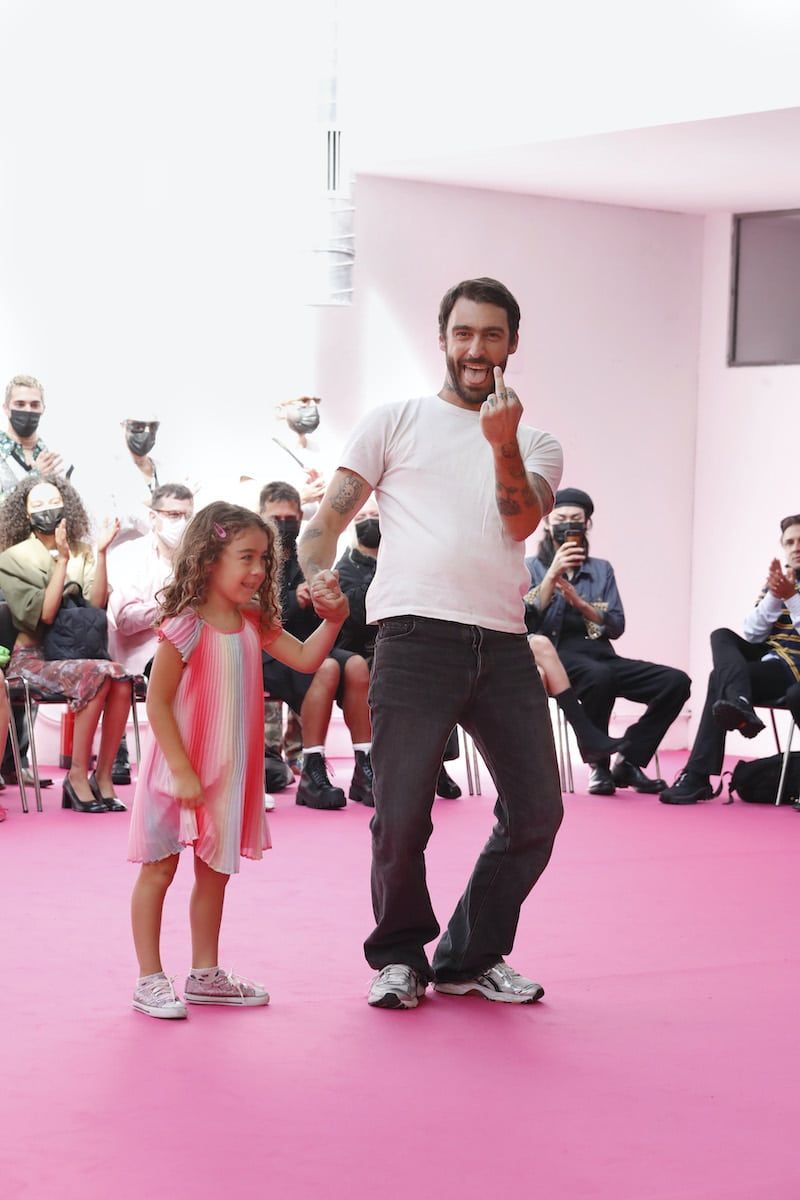 The hair styling proposal, led by Sebastian Professional – part of the Wella Company group – and with creative direction by Joseba Errasti, was conceptualised to respect the personality of each model's hair, enhancing natural textures and unpolished lines for a casual, charismatic look. To achieve this, products such as Texture Maker, Shine Define and mists have been used.
The make-up beauty look, led by make-up artist Vincent Guijarro, focused on refreshed and relaxed faces in nude and effortless tones.