READ IN: Español
Andalucía Big Festival presents its final line-up and the distribution by days with additions such as María José Llergo, Wolf Alice, Niños Mutantes, Delaporte and Viva Belgrado.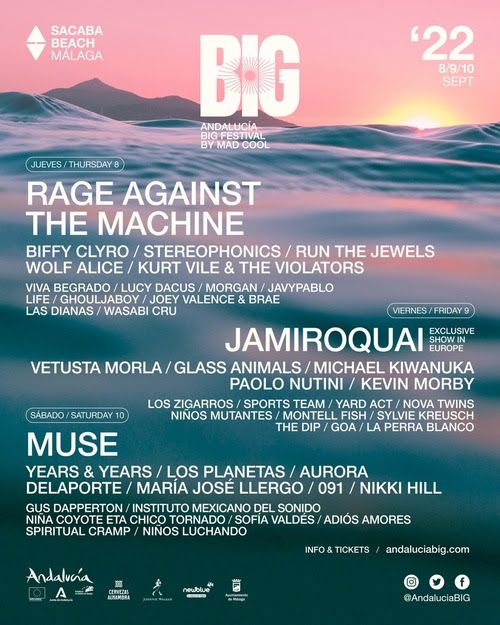 The festival kicks off on Thursday 8 September with Rage Against The Machine as the main headliner. The Angelinos return to Andalusia after 25 years, and will be followed by other artists such as Biffy Clyro and Morgan, with Wolf Alice and Joey Valence & Brae as two of the novelties for this first day.
Friday 9 September will include an exclusive concert by Jamiroquai, which will be the only one that the British band will offer in Europe. The party will continue with other names such as Glass Animals, Nova Twins, Michael Kiwanuka or Sylvie Kreusch, and with Vetusta Morla or La Perra Blanco to enjoy the best Spanish indie music of the moment.
Finally, closing the festival on Saturday 10 September will be Muse, who, along with Years & Years, Delaporte, Los Planetas and María José Llergo, will put the finishing touch to three days of music at Sacaba Beach.
Day tickets go on sale today at 12.00 noon at www.andaluciabigtickets.com and will be priced at €69 plus booking fee. General admission tickets for the three-day festival are still available for €125.
Andalucia Big Festival is part of the Andalucia BIG project, which is supported by the Andalusian Regional Government's Ministry of Tourism and aims to be the biggest cultural event in Andalusia and includes two other major events: Andalucia Live, a series of free concerts that will take place in the different provinces of Andalusia in the weeks prior to the festival and Andalucia Music Forum, the meeting for music industry professionals.