READ IN: Español
The Festival·B cycle will take place between 3 and 6 March at the Fabra i Coats Factory in Barcelona with an exquisite selection of the best in independent and urban music.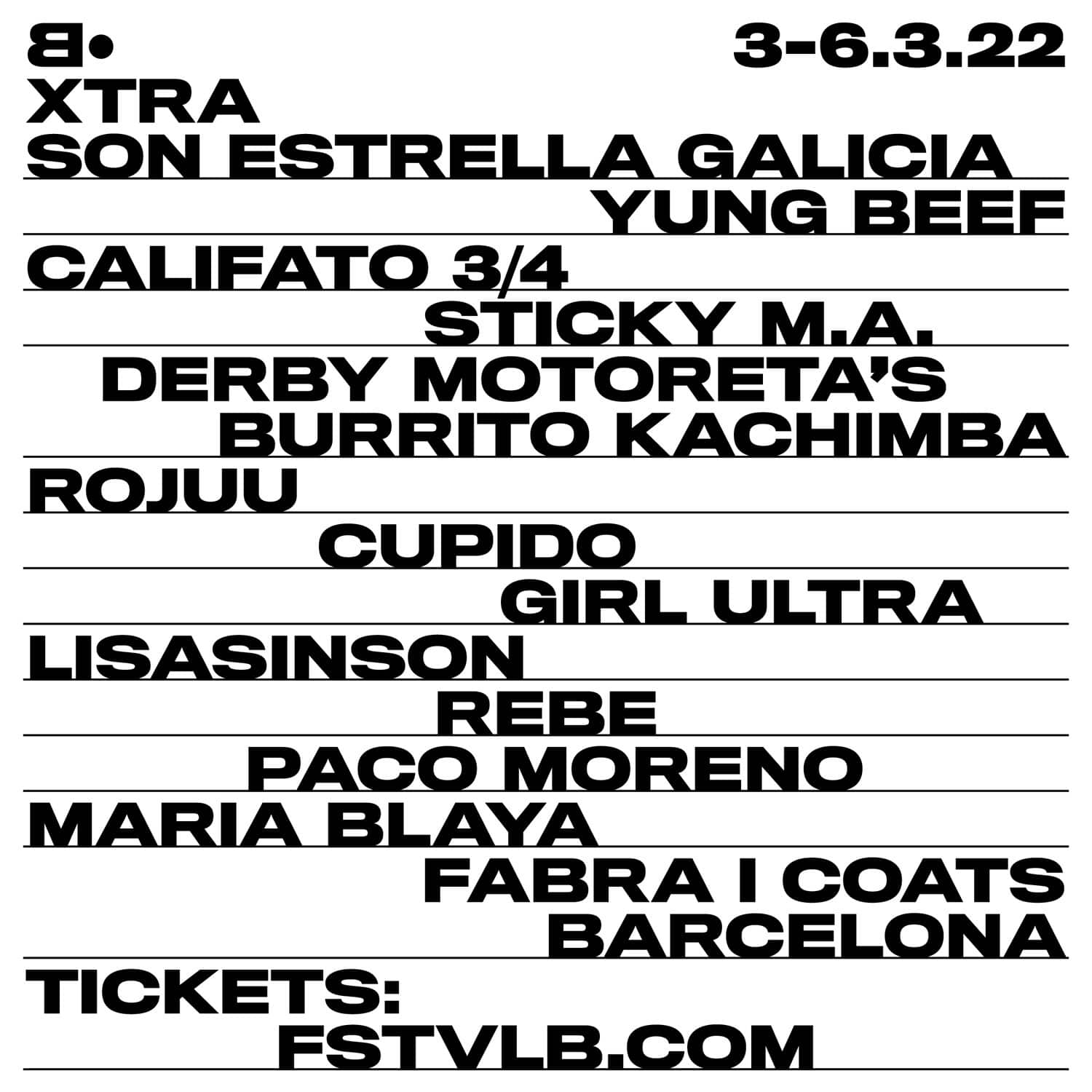 B·XTRA SON Estrella Galicia, the B·Festival concert series, kicks off on Thursday 3 March with the performance of Sticky M.A. at the Fàbrica Fabra i Coats in Barcelona. The first date of a cycle that will last until Sunday 6 March, with concerts by Yung Beef, Califato 3/4, Derby Motoreta's Burrito Kachimba, Rojuu, Cupido, Girl Ultra, Lisasinson, Rebe, Paco Moreno and Maria Blaya.
B·XTRA SON Estrella Galicia is a cycle that calls itself the event that takes the pulse of the b-side of the current music scene; displaying, during the first week of March at the Fàbrica Fabra i Coats, the live performances of an exquisite selection of the musical proposals that are currently setting the various independent and urban scenes on fire.
Festival·B joins forces with SON Estrella Galicia, the most consolidated beer music project on the scene after more than twelve years fighting against the standardisation of music. A natural encounter born from common values such as differentiation, support for talent and the value of origin to create memorable musical moments.
In this first edition, the performances will be divided into matinee sessions on Saturday and Sunday mornings and afternoon sessions every day.
MARCH 3 – 19.30h
STICKY M.A.
MARCH 4 – 19.30h
YUNG BEEF
MARCH 5 MATINÉ – 12.00h
CALIFATO 3/4 + PACO MORENO
MARCH 5 – 19.00h
CUPIDO + GIRL ULTRA
MARCH 6 MATINÉ – 12.00h
DERBY MOTORETA'S BURRITO KACHIMBA + LISASINSON
MARCH 6 – 18.45h
ROJUU + REBE + MARIA BLAYA
Get your ticket by clicking here.