READ IN: Español
Ballantine's Scotch Whisky and long-time partner, Boiler Room, are committed to doing their part to create a safer and fairer future for music culture through their new global event venue; True Music Studios. Building on their commitment over the past seven years to champion global diversity in music; True Music Studios will bring together a variety of artists, promoters, speakers and under-represented groups to celebrate diverse sounds, local scenes and communities, offering music fans around the world inclusive experiences both in real life and streamed from home.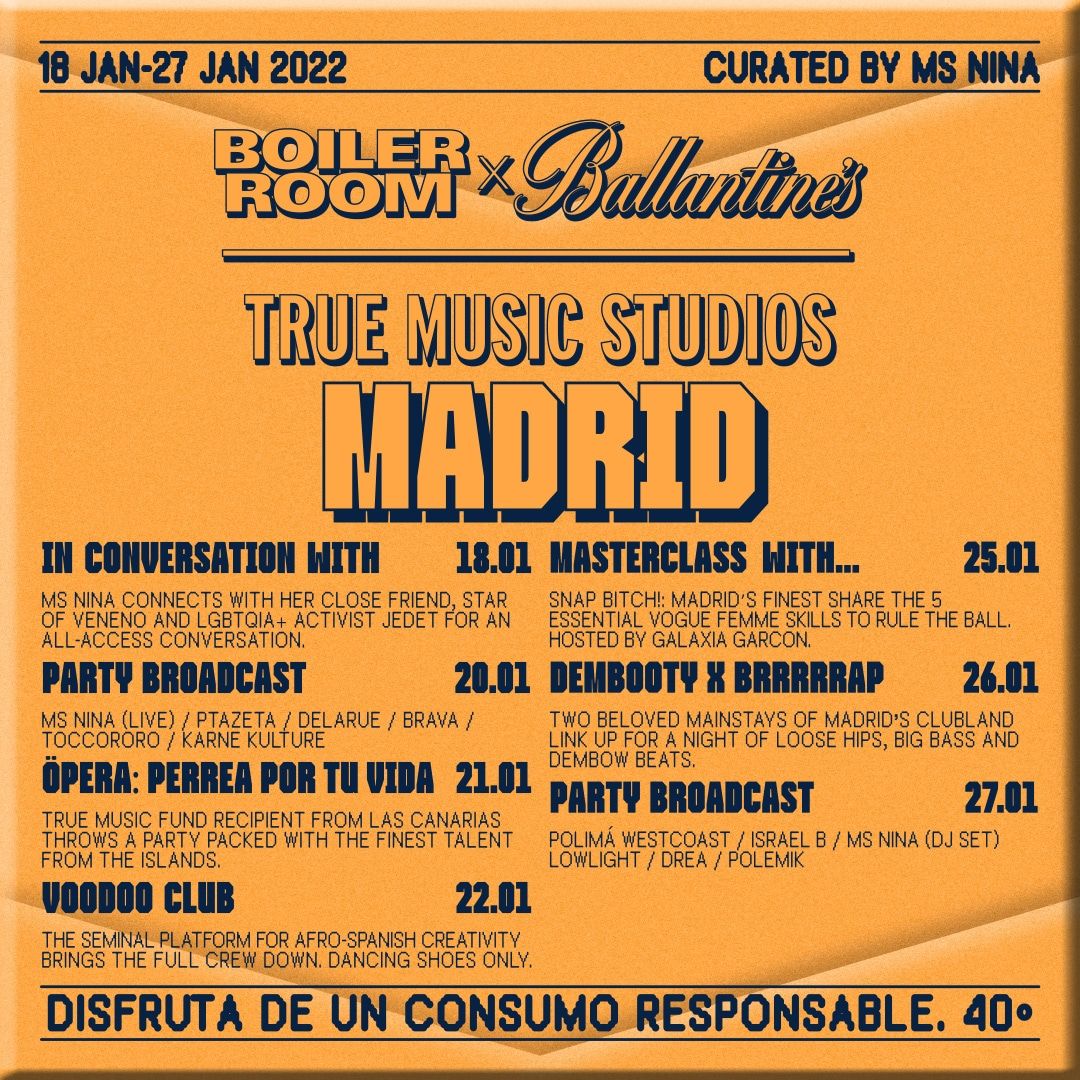 Boiler Room x Ballantine's: True Music Studios opens its doors in Madrid for ten days. From the 18th to the 27th of January we will celebrate inclusion on the dancefloors and see Ms Nina – self-described reggaeton feminist and one of the artists with the music always ready for the club with great messages about female empowerment and sex positivity – presenting the new wave of Spanish perreo and rap with spectacular shows from artists like Ptazeta from the Canary Islands, who combines the most classic rap with dembow rhythms and the flow of her homeland; or Delareu, a Madrid-based uptempo street fable rhythm in funky UK style; passing through Brava and Toccoro or the Karne Kulture collective.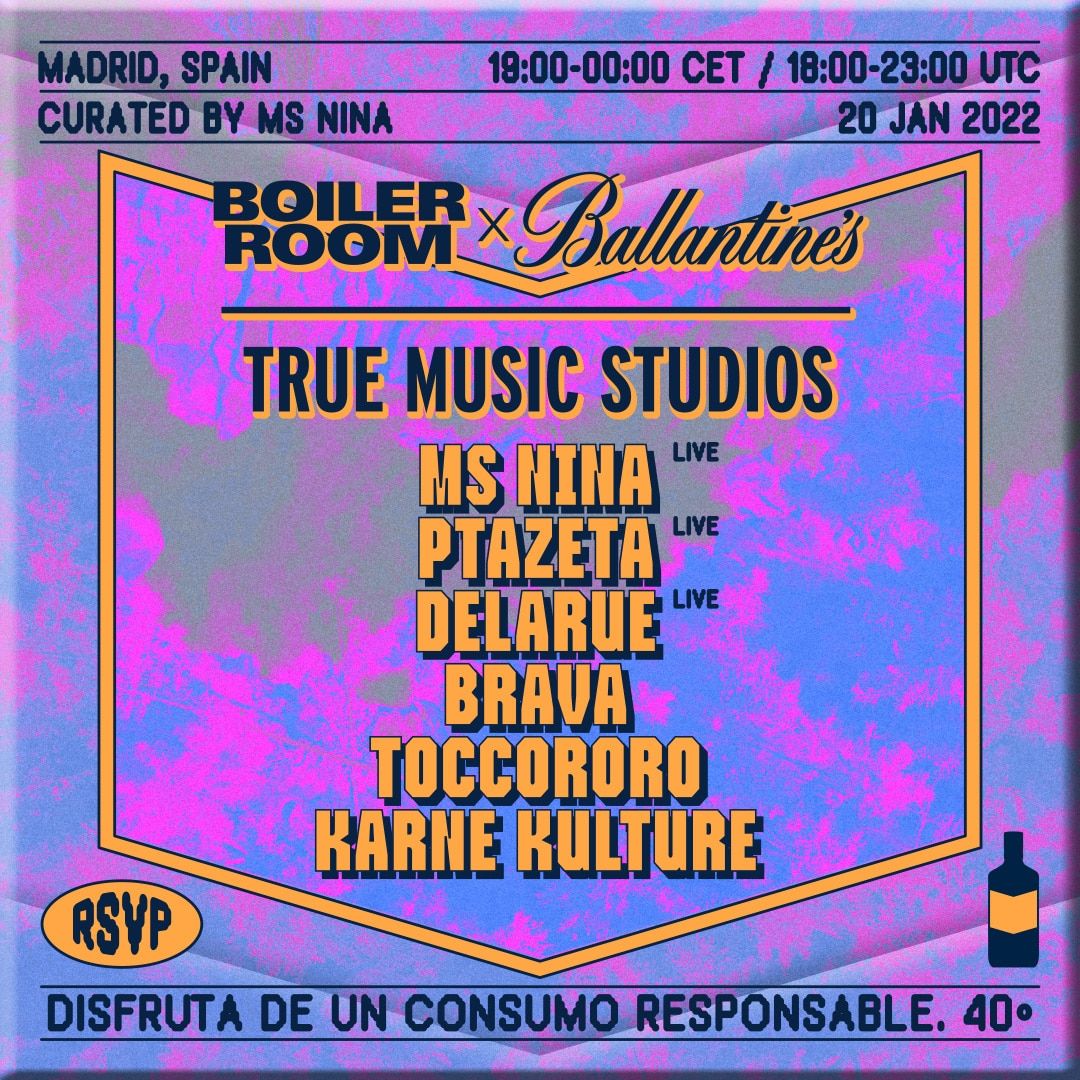 Also not to be missed are artists who represent a major cultural shift towards regional influences such as Israel B and production powerhouse Lowlight; Polemik, a key figure on the LGTBIQ+ scene; and DREA, one of the most important resident DJs on the capital's current scene. Also, as a guest artist, Polimá Westcoast, a world star of Chilean origin who has collaborated with Spanish artists. Of course, we will enjoy our beloved Ms Nina and her emblematic DJ set 'Cocinando con la Nina'.
Local promoters will also be given the keys to True Music Studios to give stage space to emerging talent, providing music sessions and creative spaces where we will enjoy music collectives such as Voodoo Club and their afrobeats talent; Dembooty x Brrrrrap of powerful basses and the winners of True Music Fund Öpera arrives with perrea por tu vida and the best artists from the Canary Islands.
In addition, the In Conversation With conferences will feature Ms Nina and Jedet, world-renowned and acclaimed for her performance in 'Poison'. And in the Masterclass Workshop, Snap Bitch will talk about how to find freedom through dance.
Tom Elton, Head of Culture and Partnerships at Ballantine's comments that "At our Boiler Room x Ballantine's True Music events we delve into local cultures around the world and celebrate the local sounds and inspirations that make individual scenes so unique. Building on the last seven years; True Music is set on the ambition to be a leading and trusted voice for diversity and inclusion within music culture. The effects of the last 18 months have resulted in a positive change in attitude and an opportunity to reboot and form a union for increasing equality in music culture. The dancefloor has always been seen as a sacred and safe place and we want to bring it back to where everyone is equal and feels part of the experience. We all have a role to play, and True Music Studios is our first opportunity to put our commitments to diversity and inclusion in the music industry into practice."
Ballantine's has long been a brand that has been a driving force for under-represented music communities, celebrating local talent through its True Music platform and its partnership with Boiler Room for the past seven years, supporting over 500 artists, at over 50 events and in 20 countries.
Juan Lopez de Turiso, Brand Manager at Ballantine's states that "Together with key figures within the industry, Ballantine's aims to shine a light on and address the issues of inclusion and diversity in music; calling on the industry and fans alike to come together to initiate change. Following the reopening of nightlife and a post-pandemic 'reboot'; True Music Studios marks the brand's own action and commitment to help drive real change in the industry. It does this through its diversity and inclusion policy that looks at the main issues within music culture; diverse line-ups, fair payouts to all talent and safe dance floors."
So, remember: Boiler Room x Ballantine's: True Music Studios is coming to Madrid from 18-27 January. The location will be kept secret until the hours before the celebration, something as intrinsic to Boiler Room as the music and dance floors are. You can get your ticket for one of the shows by clicking here.