READ IN: Español
Why do we love fashion? Because it is capable of giving us moments like the last Coperni fashion show. And Fashion Week would be nothing without a stellar moment like this one. In the middle of the Textile Hall at the Musée National des Arts et Métiers, Bella Hadid plays the role of a human mannequin for the live production of a dress using spray paint. Yes, as you read it; live and in record time.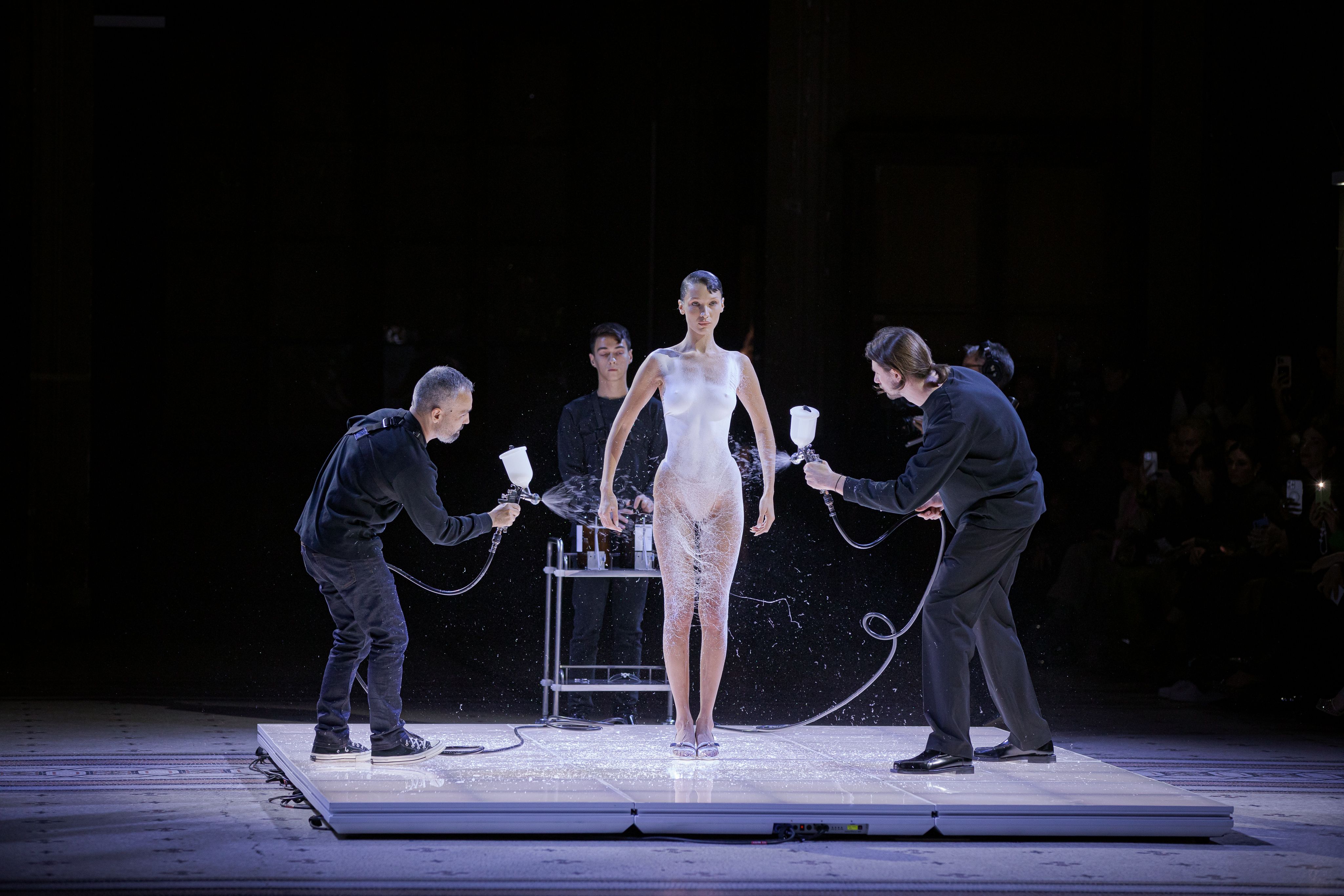 Wearing a skin-colored thong and covering her chest with her hands, Bella Hadid eenters the workshop set up on the catwalk. The model waited for the technicians to execute their plan: to spray the dress in the middle of the room. The piece was made with Fabrican Ltd, an aerosol material that hardens to become a textile. The mastermind behind this marvel of a material? Dr Manel Torres, a Spanish scientist based in London who has managed to patent this intelligent fabric. It is surprising not only that it is made with aerosol, but also that it is flexible; the piece can be molded to create the desired shape.
It's not all about technology. Coperni SS23 has also been a love letter to women. The garments in the collection liberate the body while making women feel sexy and powerful. In some pieces, the flowers are printed on a bonded lenticular fabric that adds the ultimate movement of depth to a pattern as classic as a flower. And the surprise effect doesn't stop there. The crystal that we saw last season on handbags in collaboration with the HEVEN brand now shatters into 1,000 pieces to become a truly "mesmerizing" ball gown. The iconic Swipe Bag is reimagined as a unique piece in 18-karat gold by artisan Gabriele Veneri of the SEMAR SRL factory in Italy.
Coperni is a brand obsessed with innovation, they transmit it in every campaign. So far so good, so clear; but we can not help but recognize that sometimes all these statements of intent go by the wayside. Sébastien Meyer and Arnaud Vaillant wanted to make some noise this time. The couple have gone beyond the limits of technology and have given us not only a stellar moment for the season, but also a master class in science for future generations.
With this moment lived at Coperni SS23 we can't help but be reminded of Alexander McQueen. The brand has paid a nice tribute to the historic spring/summer 1999 fashion show in which McQueen created his own version of a dress made with aerosol. An analogy that reminds us not only where we come from but where we are going, something essential to move forward and progress. Thank you, Coperni, for making this season historic and unforgettable.