Purveyors of cool, Dover Street Market launched a year ago an online t-shirt shop. The sapce sells various exclusive t-shirts from both renowned and under-the-radar brands. After a year we can confirm the consolidation of this space.
Los proveedores de novedades, Dover Street Market lanzaron hace un año una exclusiva tienda de camisetas. El espacio vende varios modelos exclusivos de marcas de renombre además de las nuevas y codiciadas. Después de un año podemos confirmar la consolidación de este espacio.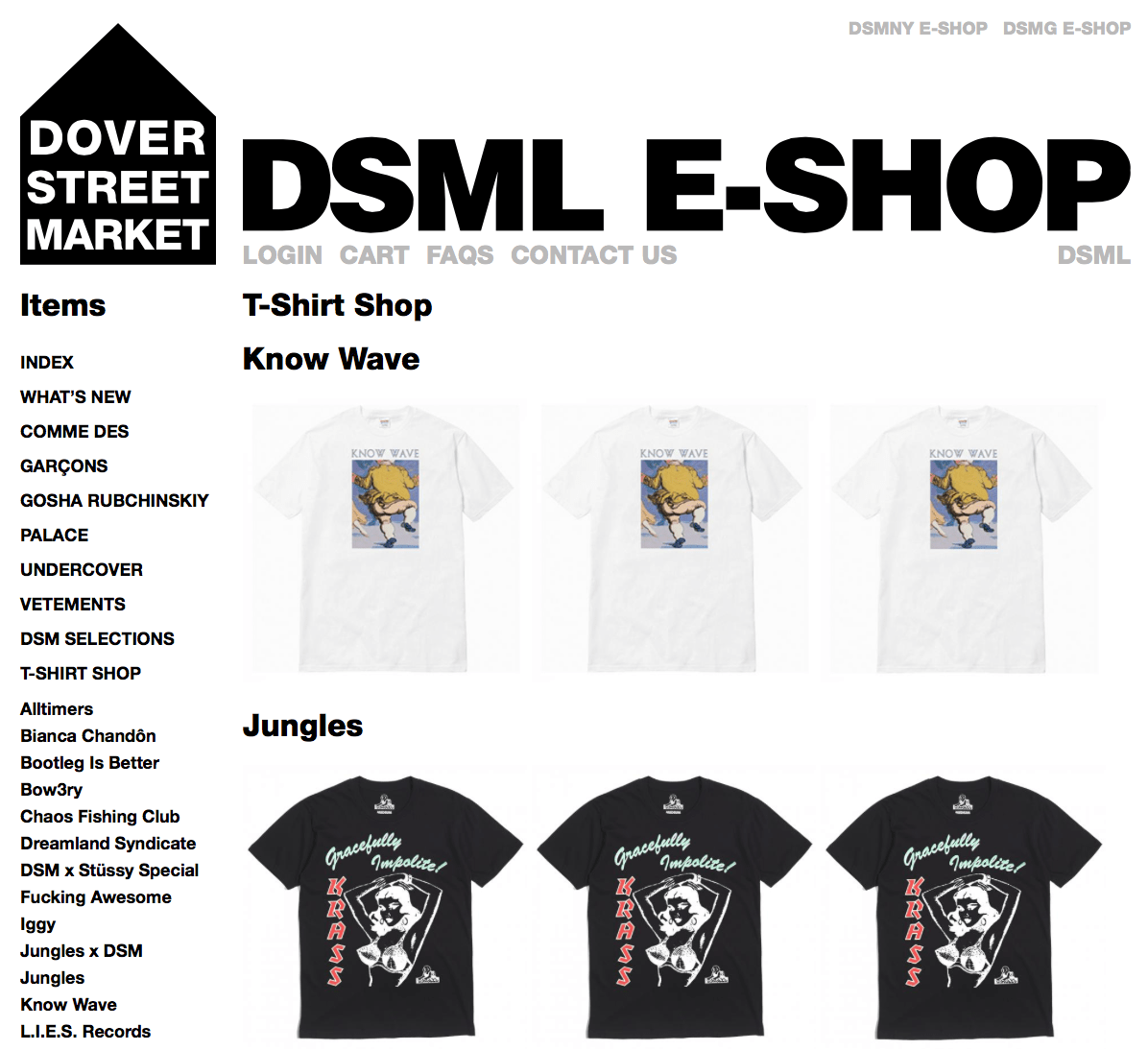 Among the brands that we can find are the underground radio station Know Wave has become known as of late for its covetable t-shirt designs, Fucking Awesome, L.I.E.S Records or Braindead among others. Each T-shirt features the brand's distinct aesthetic, immortalized in shirt form and available only at DSM,  with most T-shirts retailing around €35 EUR.
Entre las marcas que podemos encontrar está, Know Wave, la emisora de radio underground cuyos diseños son muy codiciados , Fucking Awesome, L.I.E.S Records o Braindead entre otros. Cada camiseta cuenta con la estética propia de cada marca, inmortalizando en camisetas su concepto en exclusiva para DSM, la mayoría de las camisetas se venden a una media de 35 EUR.
After 1 year, the Dover Street Market t-shirt shop has become a must for lovers of graphic tees. As I always say, be fast! because everything what DSM puts the eye is exhausted in no time.
Como podéis ver después de 1 año el "tee space" de DSM se ha convertido en un must para los amantes de las camisetas gráficas. Como siempre os decimos sed rápido ya que todo sobre lo que DSM pone el ojo se agota en muy poco tiempo.