READ IN: Español
Ecoalf's Restarted Collection was born during the beginning of confinement, a time when our daily routines changed radically and everything we knew was called into question. Within our new way of living, we began to reflect and transform as the outside world also began its transition. The planet had a moment to breathe and rejuvenate.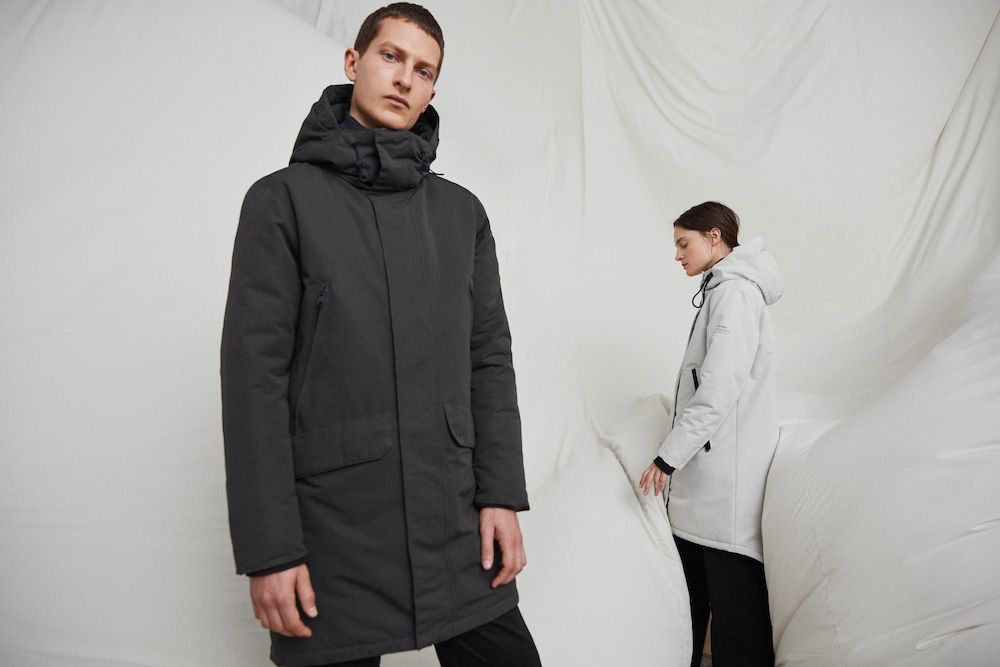 Ecoalf reflected on its values and its true essence to offer the most transparent and authentic version of itself; returning to a range of earth tones, essential designs and iconic structures, adapted to new lifestyles. The Restarted collection promotes the balance between our needs and the health of the planet, integrating quality, comfort and transparency in each piece. Ecoalf 's mission to offer high-quality garments made from low-impact materials that save water, use less energy and minimize CO2 emissions is woven into every item; bringing the brand closer to its commitment to zero emissions by 2030.
Restarted collection recycled 2.9 million plastic bottles
The outerwear collection includes Ecoalf's fall-winter basics, the Iceberg and Glacier coats, with recycled zippers and heat-sealed seams to make these coats 10K waterproof; in addition to their high resistance to the cold. This season, as a novelty, they are made with Ecoalf's sea thread, made from plastic bottles collected from the bottom of the ocean through its Upcycling the Oceans project.
92% of the collection is vegan
Outerwear includes other innovative materials, such as post-consumer coffee grounds incorporated into the Katman and Mandu jackets; which provide UV protection, odor control and quick-drying properties; without having to use chemicals, and the hemp that forms the outer shell of the Sarrau women's jacket, which actually absorbs CO2 and enriches the soil during cultivation.
These recycled and low-impact materials are not limited to the outerwear collection. The Restarted knitwear collection includes Pino sweaters, which are 100% recycled wool. New this season at Ecoalf is recycled acrylic, which joins recycled wool in the Val Sleeve and Vigo sweaters.
The sweatshirts feature retro typography and graphics with a 50% recycled cotton composition that saves 1,344 liters of water per kilo of fabric. This high quality recycled cotton is also found in the Penelope women's pants and the Pablo and Duero men's pants.
TENCELL™ MODAL, an extra-fine, lightweight cellulose fiber from sustainable wood sources, offers long-lasting, natural comfort in the Noja dress.
Another addition to Ecoalf's fabrics is its new vegan leather made from vegetable oil and grape waste to create a sleek and simple style without harming any animals in the process. This material is used to create the Eliot Grape sneakers for both men and women, which are fused with a 95% recycled TPR (thermoplastic rubber) sole and are 100% recyclable.
Fabrics designed for the future
In addition to new materials, Restarted has new accessories to merge the past with the future, such as the Baku wallet and the Nica Bum bag. Both have a retro design and style, but are made with fabrics designed for the future; recycled nylon and SORONA®, a material made from corn crop residue. Every activist can carry their belongings while carrying the message BECAUSE THERE IS NOT PLANET B with the men's Take Shopper Bag and the women's Leandra Bag, whose profits contribute in part to the Mediterranean expansion of Ecoalf's Upcycling the Oceans project.
"There is nothing worse than going back to business as usual. We have to take advantage of this time to reflect and see it as an opportunity to manifest our new mentality, one that takes into account our future and that of the planet as well." Juan Goyeneche, founder and president of Ecoalf.
The Restarted collection is for those who are ready to embrace the lives they experienced in the old normal, with the conscious thinking and sustainability aspirations we have developed in the new normal. The time has come to reboot our way of life,to live sustainably and make it the normal.
Be a part of the change #becausethereisnotplanetb.
Para más noticias sobre moda y actualidad, visita nuestra web.