READ IN: Español
'UPA Next', the new ATRESplayer PREMIUM series, has announced its new protagonists. It has done so at the UPA NEXT Reveal Party, a large gathering broadcast via Twitch, organised by Atresmedia and with the support of Mahou.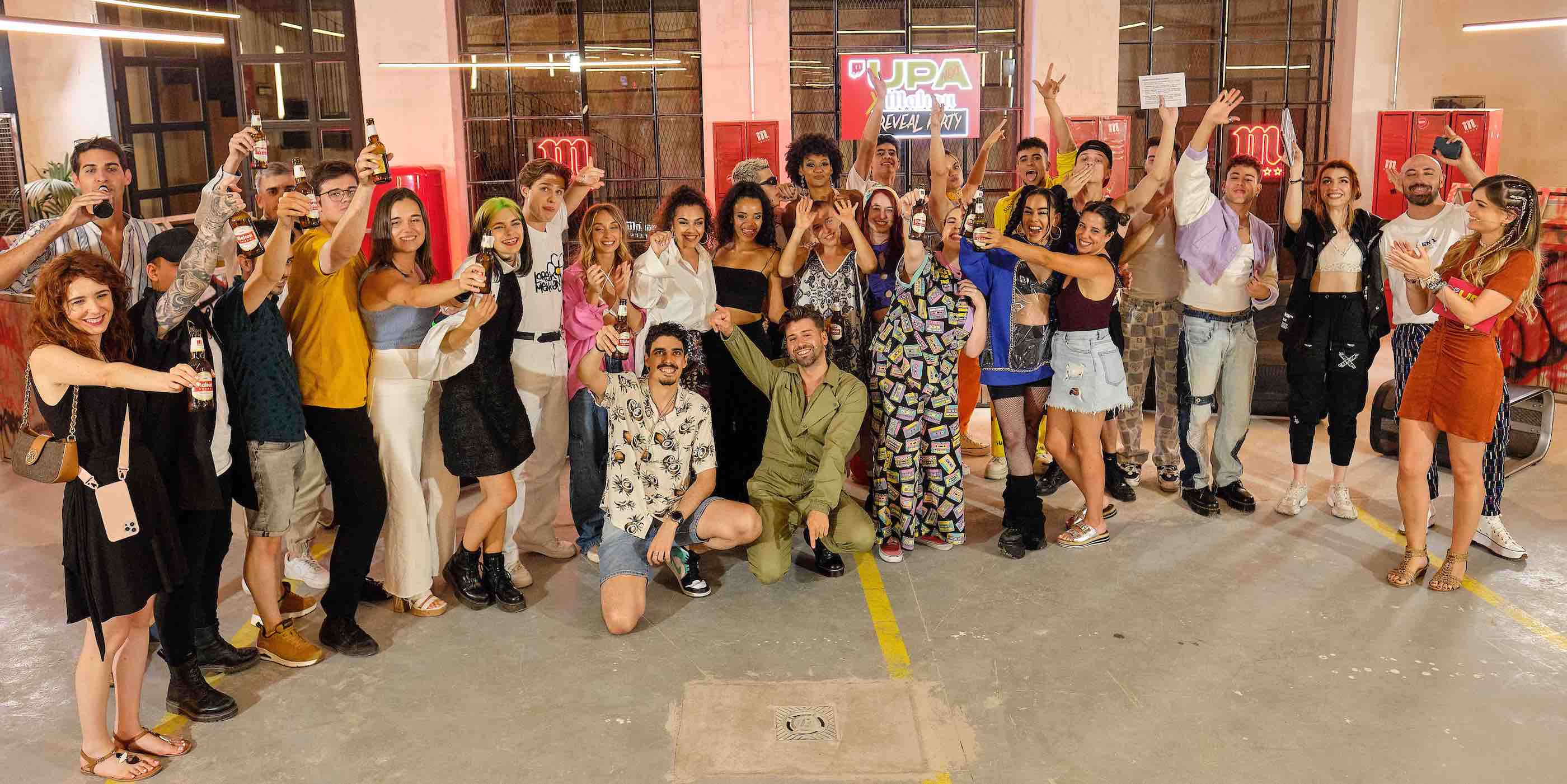 Quique González, Mónica Mara, Marc Betriu, Claudia Lachispa, Almudena Salort, Marc Soler, Karina Soro, Alex Medina and Nuno Gallego will star in ATRESplayer PREMIUM's new original series; a new generation of young actors with great abilities and training in acting and dance, who will bring to life the students of Carmen Arranz's school.
In this new stage of the series, Miguel Ángel Muñoz, Mónica Cruz and Beatriz Luengo will return to give life to their popular characters: Rober, Silvia and Lola. This time, however, they will do so as teachers at the school. The cast also includes actors Lucas Velasco and Marta Guerras, who will play teachers Luiso and Sira, respectively. In addition, the new ATRESplayer PREMIUM series will also feature special episodic appearances, including that of Lola Herrera, who will once again play the legendary Carmen Arranz.
In 'UPA Next', music and dance are the absolute protagonists in each episode. The choreographer and dancer Toni Espinosa will be in charge of the choreographies, and the audiovisual collective Manson will be in charge of the production of the musical numbers. They have been responsible for music videos for artists and groups such as Rosalía, C. Tangana, Katy Perry, Rauw Alejandro, J Balvin and Prodigy.
'Un paso adelante' was a revolution in the panorama of Spanish series with the introduction of the musical genre in fiction. ATRESplayer PREMIUM recovers, almost two decades later, the fiction that was a reference for a whole generation and made television history on Antena 3. It was watched by an average of 3.6 million viewers over six seasons, with episodes with more than 4.7 million followers. 'Un paso adelante' was a phenomenon that returns with new episodes.
The event UPA NEXT Reveal Party, in which the cast of the series was announced, counted with Cristinini and Carolina Iglesias as masters of ceremonies; and with the participation of Beatriz Luengo representing the first generation of 'Un paso adelante' and who will also be part of 'UPA Next'.
Fans of the fiction have been able to meet exclusively the new generation of actors and the characters they will play. A meeting full of energy and emotion, where music and dance were the stars. UPA Next Reveal Party has also counted with the participation of Toni Espinosa and the streamers Elesky and Elisawavess.
The event was organised by Mahou, which, true to its belief that encounters between people are essential for a better life, offers fans of UPA NEXT meetings with the main characters. Thus, the UPA Next Reveal Party was just the first of many other moments of connection that Mahou will carry out between the actors of the fiction and its fans.
The pupils
ANDREA (Mónica Mara)
Andrea lives with her father in an affluent neighbourhood. She lacks nothing, is fashionable and very sporty. Her mother, who died when she was little, taught her ballet. That is why she wants to devote herself body and soul to dance. Cheerful and extroverted, she is not aware that deep down she is a classist. Sweet but strong. She does not give up easily.
omar (quique gonzález)
Of Cuban origin, Omar lives in a poor area of the city with his mother and younger siblings. He has scarce economic resources, so he has to work carrying boxes to help with family expenses. Music and dance are his refuge, especially urban dance. He is a good friend, a hard worker and a family man.
LUCA (MARC BETRIU)
Luca has become independent and does not maintain much of a relationship with his parents. He has a gift for music and is always accompanied by his guitar. Liberal when it comes to relationships, he lives in the present without fear of tomorrow. At the beginning he finds it difficult to make friends, but later he is the most dedicated. Cheerful, extrovert, without complexes, irreverent, sharp-tongued but with a big heart.
elvira (claudia lachispa)
She is not aware of it, but she has a great talent for singing and a lot of self-confidence. She helps her parents in an antique furniture shop. She has never left her neighbourhood and is therefore somewhat naive, which endears her to people.  Suddenly, the opportunity arises to change a life that was going to be the same as that of her parents and grandparents. Sincere, honest, spontaneous, charming and affectionate.
sergio (marc soler)
Sergio has been living with his mother in the United States until now. Since he was a child, he dreamed of following in the footsteps of his father, who was a dancer and whom he has not seen since he was a child. Although he is not the most talented, he works hard and gives his all to stand out, even if it means playing a trick on his classmates. There is something dark in his eyes.
LALA LAZY (ALMUDENA SALORT)
Rapping is scary for this rapper. With a mother in prison and without much family, she has had to pull her own chestnuts out of the fire. With a strong and independent character, she is a firm character with a troubled background, which makes her a leader on many occasions. But underneath this façade hides a very empathetic and protective person.
tara (karina soro)
This otaku girl who sports a K-POP aesthetic is a social media success while working in a shop selling manga comics and Japanese geeky products. She has always loved dancing and is great at it. Outgoing, direct. She says everything she thinks, but without malice. She is natural, transparent, affectionate and very attentive to her loved ones.
suso (alex medina)
Suso is an expert dancer, specialising in urban dance. He takes great care of himself physically, but has anxiety problems that lead him to resort to drugs to relax, although he does not suffer from addiction. Friendly and kind, everyone likes him.
darío (nuno gallego)
Marked by a spectacular physique, he is textbook handsome. He goes through life as a real man. On an artistic level, he controls the more technical side of sound, plays guitar and keyboard.
The teachers
rober (miguel angel muñoz)
Rober owns the rights to UPA and returns to Madrid from the USA with the idea of reviving the brand and putting on a musical based on the legendary group. To do this, he will have to convince Silvia and Lola. He still maintains his attractiveness and that charisma that makes him stand above everything else, but he hides a more ambitious secret that nobody knows.
silvia (mónica cruz)
Silvia has been the director of the school since Carmen Arranz retired, but the business is not going well at all. She has been estranged from her colleagues for years, with whom she ended up arguing for different reasons. Now, she refuses to mount the musical so as not to be reunited with them. But she soon realises that a casting call for this purpose could attract students and save the school.
lola (beatriz luengo)
Lola is separated and has two daughters aged 5 and 7 who live with their father in Barcelona. She left school due to disagreements with Silvia and continued to triumph as a choreographer for artists. Now, she will return to collaborate in the musical UPA, with the idea of proving that she is still a star. The quarrels of the past will put her friendship with Silvia to the test.
luiso  (lucas velasco)
Luiso is Silvia's current partner and right-hand man at Carmen Arranz's school. He is a man who likes to challenge his students. Personally, he is reserved and has a certain aura of mystery. He had a previous relationship with one of our protagonists that ended badly and has repercussions for the future. He will also have an attraction for one of the new students.
sira (marta guerras)
Sira is one of the new teachers at the school. No complexes, direct and natural. She likes adventure, trying new things and getting out of her comfort zone. She has a romantic relationship with another of the school's students, a relationship that is not going through its best moment at the moment.