READ IN: Español
Even where the urban universe doesn't sleep, there are portals that isolate you from the traffic of Manhattan's yellow taxis. A roof converted into a nature center to present Gypsy Sport's new SS 2020 collection for New York Fashion Week.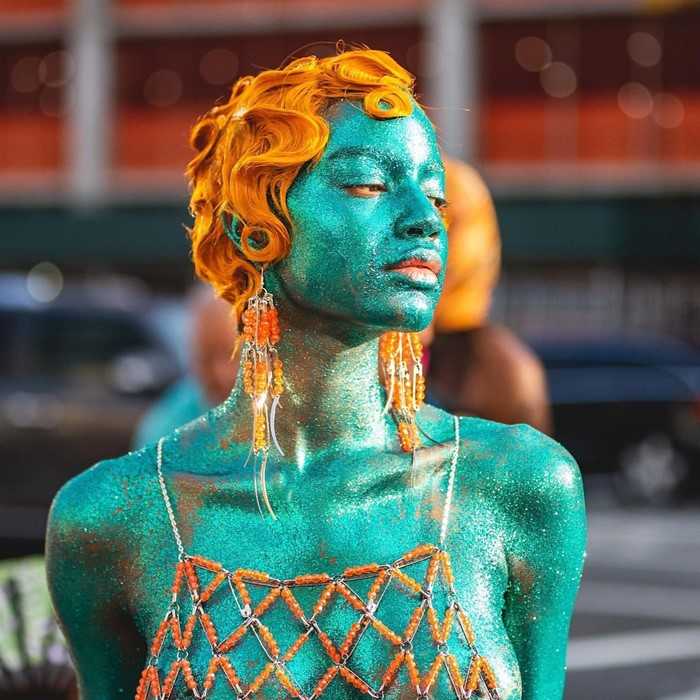 In each of the shows that have starred in his pieces, Rio Uribe sets himself apart from circumstantial fashions and draws its own path in his own way. A reflection of his bold personality and his fixation on science, travel and fashion art.
Uribe has given the audience a passage to a wild nature; to the heart of the most remote places on the planet: jungles, volcanoes and the depths of the oceans. Because everything that surrounds a collection must inspire, unite the perspective of the designer with that of the assistant who observes. A roof full of tall palm trees, like the skyscrapers of the streets of New York, a few meters below, which give no other options but to look ahead.
Gypsy Sport presents itself as the future of the genderless fashion.
A total of thirty looks and two collaborations. The fantasy eyewear brand ISLYNYC has designed the accessories for the Gypsy Sport collection. On the other hand, the bags made of recycled materials and jeans have been created by PMW Studio. 30 models, both men and women, have mimicked a beauty look inspired by Kiss, the punk-rock band. Gypsy Sport presents itself as the future of New York's genderless fashion. Sport aesthetics and avant-garde in both senses.
A collection for next year's Spring-Summer of reconstructed and sustainable pieces. Jeans with hand-painted flames and lots of wild animal prints, along with tropical hibiscus flowers. Loose garments, with a lot of movement and fluidity, with asymmetrical lines. Sandals with modernist socks and nets. Vivid colors, oranges in their multitude of tones against the softness of beige and black.
A bold and wild catwalk, a great definition of Rio Uribe's new collection for his brand Gypsy Sport.