READ IN: Español
From the Valencian promoter Cero en Conducta, Leïti Sene presents his first tour with 13 dates throughout Spain. A small foretaste of the artist's changing universe, where we will begin to see her evolution from a trap sound to a sound that seeks to return to her African roots. All this accompanied by dancers, special guests and even some exclusive merchandise… Not to be missed.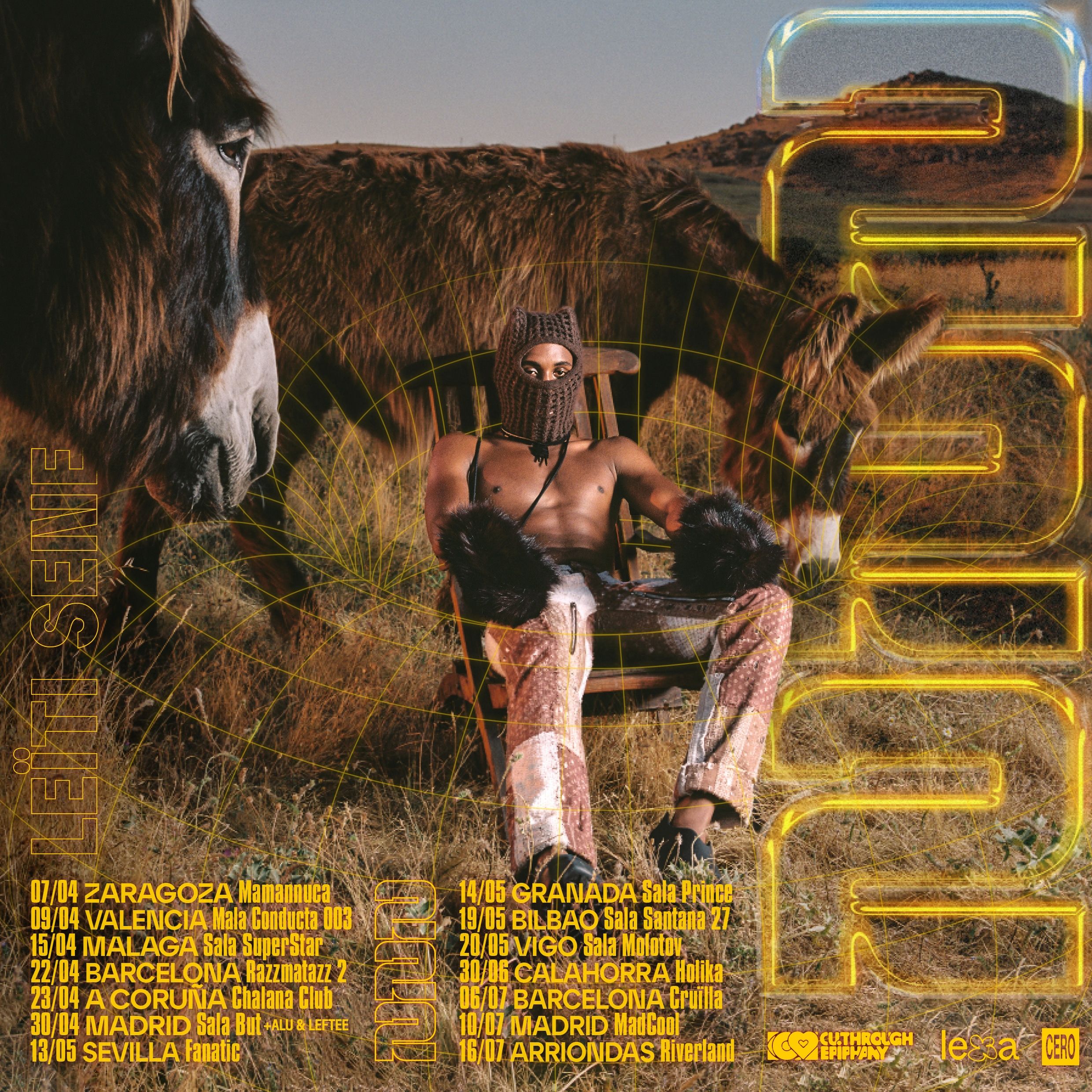 Leïti Sene is already known as one of the most promising talents on the current urban scene. His musical style is easily recognisable; he navigates between trap, hip hop and pop with hints of psychedelia.
At 23, he has already lived a few lives; he started out as a dancer, went on to become an actor in the Catalan series "Benvinguts a la familia" and in Netflix's international hit "Élite" and, while he was doing his best in these two disciplines, he spent most of his time doing what he loves most: music.
He began his musical journey in 2019 by founding the Barcelona collective SAMxSEN with Sam Davies; singing in Catalan, Spanish and English and creating the underground sound of the moment in the city. He later embarked on his solo work with the EP JOËL and TATIMU Mixtape, from which he released the single 'Mmm Tkm' with more than two million listens on digital platforms and 'Galarina' with more than a million and a half streams on Spotify. He has collaborated with important exponents of the urban and underground industry such as Cecilio G, Aleesha, Bexnil or Enry-K.
Leïti Sene has always been faithful to her values and to her inner circle. In her eagerness to develop new projects, she founded Cutemobb, a collective of vocalists, producers and composers who jointly released the mixtape 'Cute Tapes'. All these experiences have led him to appear on billboards such as Nits del Fòrum, the summer cycle organised by Primavera Sound; the interdisciplinary Loom Festival or the annual festivals of the city of Barcelona, La Mercè, and in clubs with programmes as select as Razzmatazz in Barcelona or Cha Chá The Club in Madrid.
In 2021 Leïti started a new path with "JÖM", a collaborative mixtape with which she sought to reconnect with her Senegalese roots. JÖM includes tracks such as "T-Rex", a song that introduced a more mature and solid sound, "#Spanisfeet" and "Lilo & Stitch".
This year, Leïti starts a new adventure with Dale Play Records, a label that is home to artists such as DUKI, Nicki Nicole, Bizarrap, among others. With this new label, Leïti is looking to expand her South American project and finally establish herself internationally.
Get your tickets here.