READ IN: Español
Lil Miquela (@lilmiquela) is the virtual it girl configured through photography and rendering, raxet codes and updated software in a futuristic version. The bot has created a musical genre, 'glitchy, auto-tuned pop', and defends the racial rights and the LGTBIQ collective to the end. But this is just the beginning of the synopsis.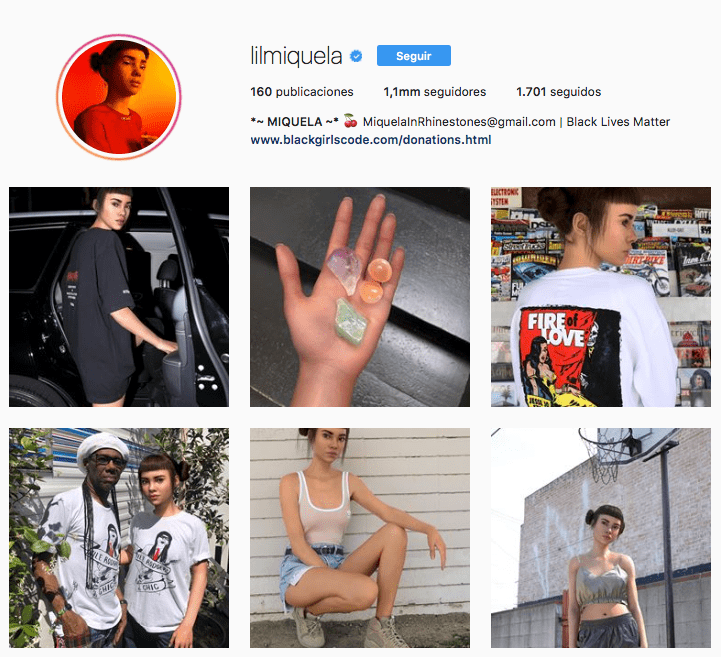 Experimenting with reality and identity is now part of the visual age, which focuses on the ego and the superficial. And that is precisely what Lil does, to eliminate the limits of the physical and virtual world to create a parallel, technological reality. What isn't she doing? Following the role of basic influencing, or hypersexualized stereotypes and canons of beauty.
Miquela is like a 2018 SIM card run by someone (mysterious) who manages and powers it. In fact, first and foremost, her profile rises to that of an artist. Last year she became a singer and released her first single on Spotify, 'Not Mine': a downtempo pop single or R&B fusion that went viral in August of 17. This is precisely the career she wants to be perceived, blurring the superficial qualities. Who's behind it is a mystery but it is speculated that it could be the graphic artist Nicole Ruggiero (@nicoleruggiero).
The pop singer/virtual model -with 1 million followers- is 21 years old and lives in Los Angeles. It is the fav of many brands and creative directors who want to promote their designs, as well as hire her to attend avant-garde events. In this way, he appears in Instagram collaborating for Supreme, Chanel, Vetements, Stussy or Acne Studios. Can it be more cool?
The futuristic influencer is also exhibited with other avatars of the same crew, such as 'Blawko' (@blawko22), , created in sad boy format with urban/skater style. But, apart from sharing all those raxet looks, his profile shows a strong ideal of activism. She is an advocate for racial rights through Black Live Matters and the LGTBIQ collective, not only through Instagram but also through her Twitter.
In her account combines selfies, streetstyle, nudes and memes. Stroll through contemporary art museums and attend anti-racist demonstrations. She skateboards. She appears on the covers of fashion magazines like V Magazine. He's a fan of Blood Orange and Frank Ocean. She goes on party with current artists and models…. Will it be the it girls of the future? After all, what problem does it make if it's not real? Are the influencers of Instagram real?
Artistic identities have long since ceased to belong to someone real, with virtual characters like Damon Albarn and Jamie Hewlett in 'Gorillaz' hacking into our perception of reality. They are also a new way of accessing visual/digital art, which is completely limited in museums. Because Miquela is the future of art and the post-Instagram era. #mustfollow