READ IN: Español
Its name says it all, the festival is cool enough for people to travel or stay in Madrid for a weekend in the middle of summer. Specifically, from 12 to 14 July.
For some time now the capital has been bringing together interesting people and attracting many artistic projects, becoming the creative epicentre of the country. This is the ideal setting to host a festival like this, where art is the protagonist, not only musically. All kinds of exhibitions and events will take place at the venue, wich this year is bigger, focused on illustration and photography.
The very best of Mad Cool 2017
In just 3 years, the festival has been gaining importance until it has become one of the most important musical events at a national and international level. A lot of musical styles that merge and oscillate between Electronic, Alternative Rock, Synthpop, Indie, Hip-Hop and many others shake hands in one of the festivals with the most variety of sounds in the whole panorama. Mad Cool (@madcoolfestival) offers a place for everyone, and that's an opportunity to discover new groups and environments that we can't pass up.
But let's get down to business: Who's coming this year? Well, the most internationally successful artists of the momento -it´s nothing!- and with styles as different as Perl Jam, Dua Lipa, Post Malone, Artic Monkeys, Justice or Depeche Mode. We leave the poster here so that you can keep an eye on it and make your own schedule, because the list of people we want to see, and we will not be able, is the same or longer tan the concerts that we have already written down in our agenda.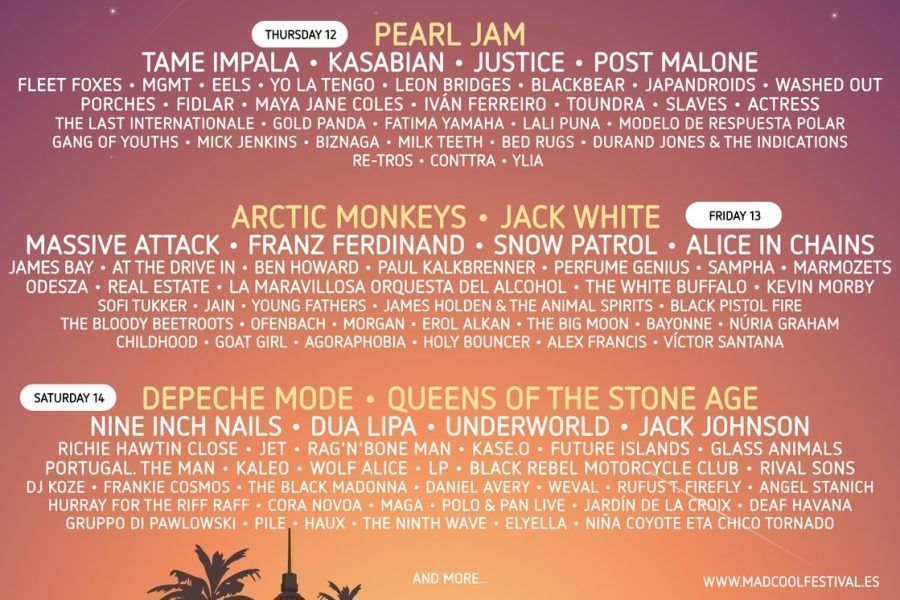 Here we leave their websitewww.madcoolfestival.es for you to get one of his last day tickets, because, unfortunately, the 3 day tickets have been sold out for months. Get ready to enjoy the best musical event of the year. And, of course, don't forget to wear your coolest outfits.
We'll see you there!