READ IN: Español
Delve into the fascinating mind of Sir John Galliano (@jgalliano) while browsing this high-concept artisanal collection. Described as "the raw, raw, undiluted essence, the parfum," of the house, the Maison Margiela (@maisonmargiela) Autumn/Winter 18 couture collection was everything chez Margiela exposed.
From seemingly unfinished pieces, bare stitches and cutouts, the mind is left to the imagination for what each piece is 'intended' to be. Katerina Jebb's X-ray print photographs of garments, were superimposed on other garments, and in the realm of "garments on garments", skirts were reversed as tops, and clothes were worn as what appeared to be, backwards.
Upon first glance one feels and essence of claustrophobia and entrapment within the layers of nylon hosiery fabric, organzas and neoprene, but "Creating your own world within a world that's very troubled at the moment" was how Galliano envisioned this collection. "Nomads and tribes" and certainly an extraterrestrial aura seen a variety of times since Galliano stepped in as creative director, took part in this "otherworldly tribe- like" runway.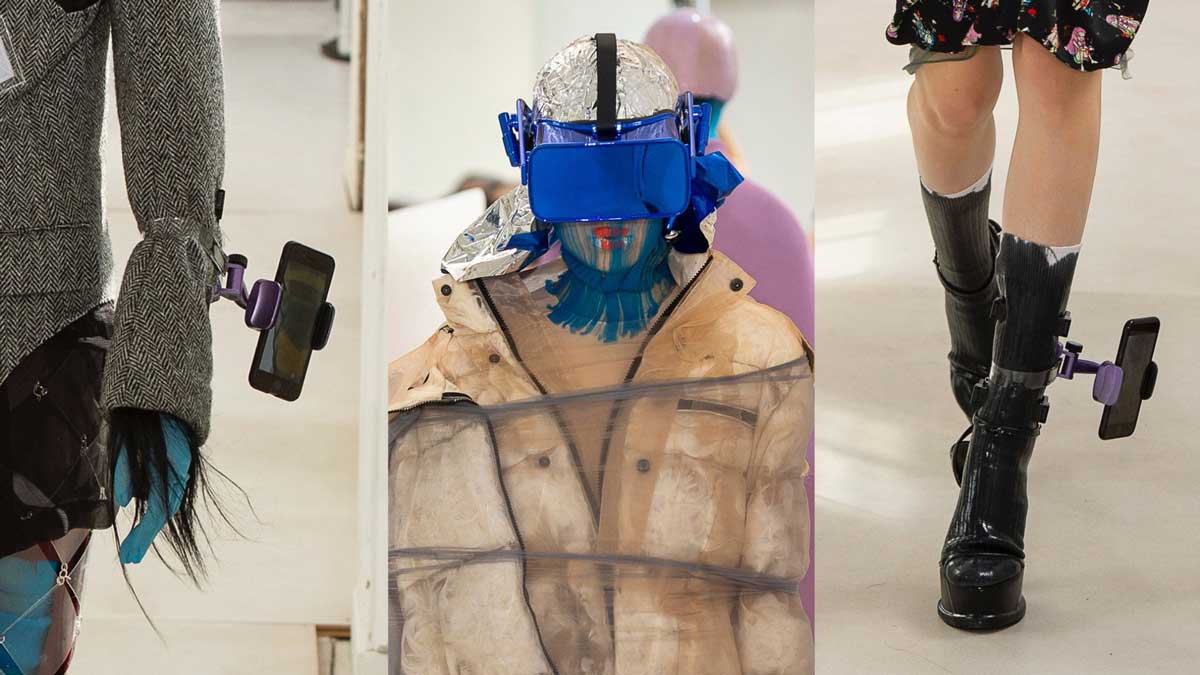 Inspired by the young interns and assistants at the house – classifying them "neo-digital natives" – who depend heavily on technological ways, a riffing notion to this "carrying your world with you" of today was presented through industrial clasps to the arms and ankles, with iPhones set to video mode, as to film the front row in real time. Models stomped on grotesque silicone platforms, and sported traditional men's jackets and coats in form of capes resembling late-19th-century visites that fashionable women once shrugged over their bustled gowns to pay their calls.
Margiela's A/W18 
It seems an ode to his controversial Clochard collection for Christian Dior Spring 2002, Galliano forever finds inspiration in marginalized people who "don't want to live within the confines of society" and who dress in layers with "their most precious possessions on them."