READ IN: Español
The stars Teo García, Óscar Casas, Andrea Duro and Alberto Jo Lee; along with the rest of the XTREMO team, presented the new Netflix movie in an adrenaline-filled and surprising night.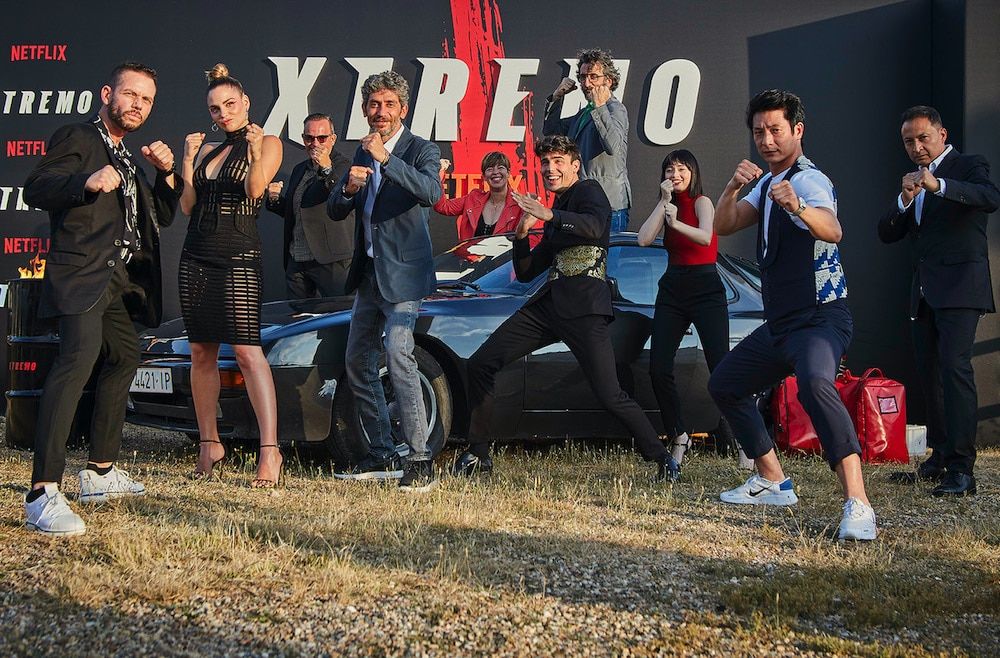 Last 3rd in the evening Netflix presented XTREMO at the Autocine Madrid RACE with its director Daniel Benmayor and a large part of the main cast (Teo García, Óscar Casas, Andrea Duro, Luis Zahera, Isa Montalbán, Alberto Jo Lee and Cesar Bandera). All of them, together with producers Vicente Canales and Julieta Videla, and part of the creative team, were in charge of presenting the film to an audience of specialized press and guests who were looking forward to an eventicized screening. There was music, fire, fights and lots of action, while respecting security measures and anti-COVID protocols.
In addition, friends, family and other familiar faces of Spanish culture came to support the XTREMO team; an action thriller that arrives on the platform today, June 4; and which represents a major commitment of the service to strengthen the link with the Spanish action genre. Among the most famous faces were Mario Casas, Begoña Vargas, Lola Índigo and Angy Fernández. After the screening, the night ended in style with the performance of singer Robie and DJ Paco Pil, who marked the end of a party in the purest XTREMO style.
The film tells the story of Max, who is ready to execute his revenge two years after his brother Lucero betrayed his family, killing his father and leaving him almost dead. His carefully planned plan is brought forward when Lucero's men mercilessly kill the family of Leo; the teenage boy he had taken as a protégé. With nothing left to lose, Max takes on Lucero's henchmen one by one until he finally reaches his final target.
As stated by the film's producers Vicente Canales and Julieta Videla, "XTREMO is born as a commitment to action films made in Spain. A film conceived for the global market but with the character and originality of Spanish cinema".
Visit our website and don't miss the latest news about movies, music, fashion, sneakers and current events.