READ IN: Español
Si nos remontamos a la Antigüedad y la Edad Media, el rosa era símbolo de poder.
"Boy it's cool if you got blue, we got the pink, huh" sings Janelle Monáe at PYNK. We are in a time of breaking prejudices and questioning clichés, of letting go of the negative connotations of the feminine and sympathise with androgyny, but the truth is that pink continues to be considered a color of women. Although it has not always been like that.
If we go back to Antiquity and the Middle Ages, this color was a symbol of power. Getting the pigments was expensive and its use was highly demanded, so it was restricted to the higher spheres and the clergy. Throughout the years, man begins to reject color in his clothing and personal objects and is considered an exclusively feminine color. It was at the end of the 20s when this transition had its definitive roots and society promoted the chromatic distinction of gender roles. For boys, blue, for girls, pink. Later, during World War II, the Nazis marked homosexuals with a pink triangle. The love for the pink was dead.
The color pink has had different readings by fashion. Depending on the tonality, it is sometimes associated with excess and bad taste; others, to sweetness and romanticism. But pink has also been pop (thanks, David Bowie), provocation (Schiaparelli and her shocking pinkor the pussyhatof anti-Trump feminist movements) and, of course, punk, by designers like Comme des Garçons, Vivienne Westwood or Rei Kawakubo.
Its journey through fashion is exciting, and this has been echoed by different institutions and museums. The pink is the star in the new temporary exhibition of the Museo del Traje of Madrid: 'La vida en rosa'. The exhibition delves into the history of this color and the different uses, connotations and symbolisms that it has adopted throughout history. A compendium of unique and exceptional pieces by great fashion designers that will be available until March 3, 2019.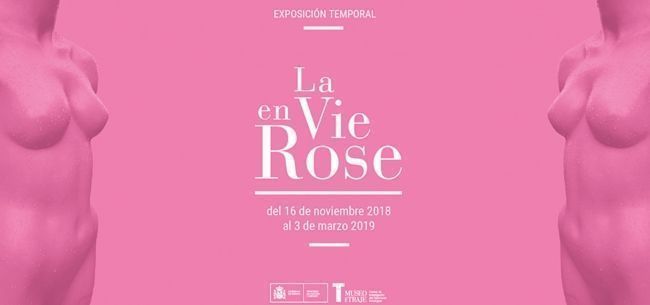 The FIT Museum in New York also dedicates an entire exhibition to this color. 'Pink: The History of a Punk, Pretty, Powerful Color'can be enjoyed until January 5, 2019. More than eighty pieces of clothing from the eighteenth century to today. And if visiting it seems impossible, FIT director Valerie Steele has published a book with the same title that can be purshased online.

Barbie pink, baby, gum, pastel. There is even the millenialpink, a soft tone that has its main showcase in applications such as Tumblr or Instagram. Different tones, but all associated with women for years. It is precisely this ultrafemininity to which pink has been associated the direct cause of its stigmatization, since it is generally conceived as a color "not very serious". A good indication of how women are seen.
Today, with a slow but firm step, the pink is no longer strictly linked to femininity to become a neutral, androgynous color and away from the corny appearance that has persecuted so far. It is time to break prejudices against the pink, reflect on our misconceptions and break the cliché.