READ IN: Español
The duo Miuccia Prada and Raf Simons continue to build an exciting creative dialogue for the hypermodern era. Something they once again reflected in Prada's latest spring-summer 2022 collection presented simultaneously on the runway in Milan and Shanghai.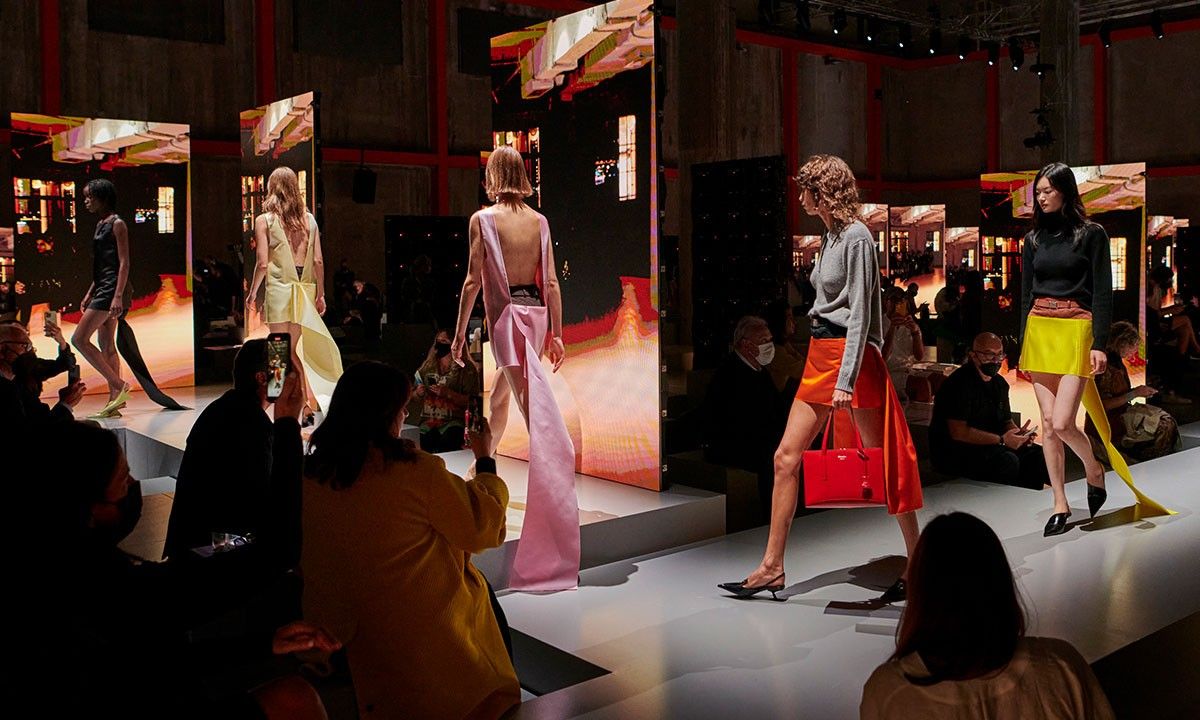 The aesthetic and expressive contamination between the co-creative directors once again creates stories that transcend and reinvent fashion. In this sense, the show was held for the first time simultaneously on two continents; twin catwalks with synchronized models wearing the same looks at the same time, as a kind of ode to community and togetherness.
The collection itself became an "investigation of what seduction means today", a "seduction through reduction", according to the show notes. The result declined into an exhibition of the art of striptease, in the sense of reducing the garments to simpler, more natural forms.
THE ART OF SARTORIAL SEDUCTION
The dialogue between the body and clothing as the very nature of sensuality wove the narrative of the proposal through tailoring and jackets fastened with loose laces on the chest that gave a glimpse of the beauty of the body. In the same imaginary, mini skirts constructed with silk rails and knitted jumpers gave shape to the piece with corsetry details incorporated.
But the fluidity of the garments also coexisted. Above-ankle sack dresses, minimalist satin miniskirts with trailing tails, or XXL blazers gave power and meaning to the collection with its focus on concise fashion.
This whole succession of evening gowns, bra cups and tailoring from the past was re-examined by the designers to give it a contemporary meaning. But who better than Simons to shed light on it: "These things that are historically beautiful are interesting, but we want to disturb them. An evening dress, no matter how beautiful, looks like an unreality. Her intention was "to make them feel relevant to the 21st century, to the women of today. We want to enjoy beauty, but in a way that is not about the past. It's about today […] These clothes can get complicated: evening gowns, historical costumes. We wanted to make it uncomplicated, easy. Make it feel modern. And he succeeded.