READ IN: Español
Reebok has teamed up with Nerf to launch a collaborative capsule of three silhouettes: the Pump Omni Zone II; the Kamikaze II and the Kamikaze II Low. The famous toy launchers have served as the source of inspiration for the design and key elements of these three colorful reissues.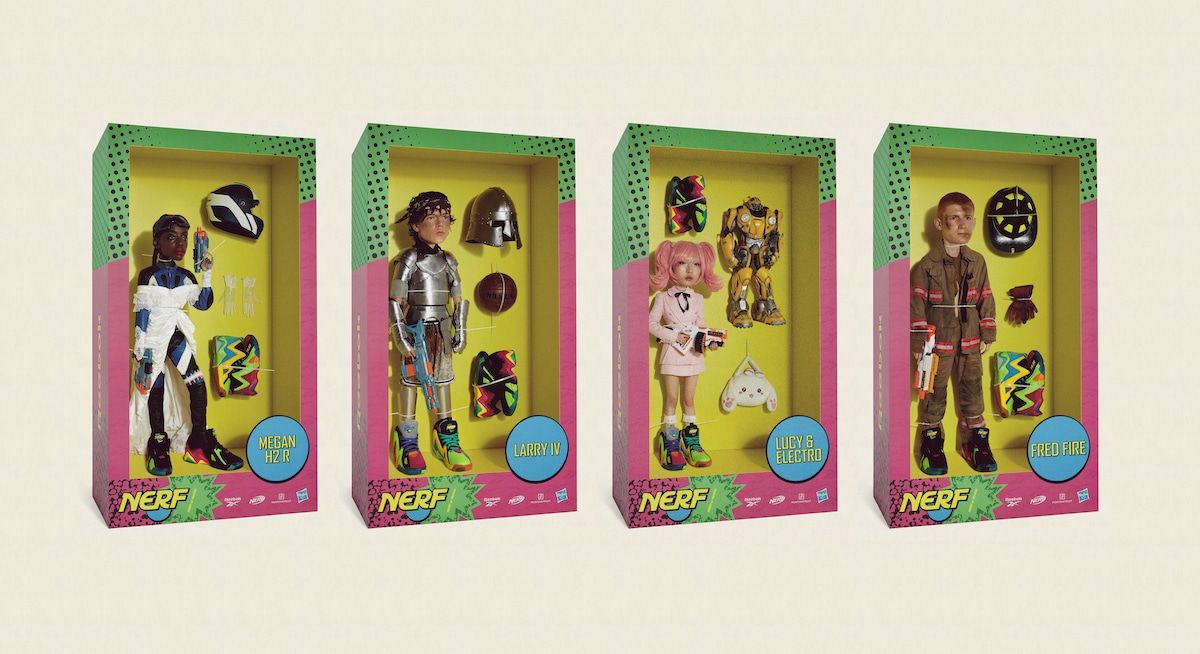 To celebrate, at FOOTDISTRICT we have brought to life four unique characters, ready for battle. The anti-doll Megan H2R, the girlfriend on the run; Larry IV, the retro-futuristic basketball player; Lucy & Electro, the fashion lolita and her inseparable robot; and finally, Fred Fire, the flaming fireman. Together, the four of them make up this extraordinary Nerf Squad. Each of them is presented in an authentic toy cardboard box with the distinctive Nerf logos and colors. However, these apparent dolls do not exist: they are nothing more than real people who have been "customized" to kidcore effect.
In addition to this fun editorial, they have teamed up with youtuber Wismichu to raffle two Reebok x Nerf packs exclusive to FOOTDISTRICT and through the Instagram accounts of @wismichu and @footdistrict. This is a special kit that includes the Reebok x Nerf Kamikaze II shoes, a Nerf Elite 2.0 Commander RD-6 Launcher and 12 official darts. This limited pack has also been sent as a special gift to some talents from different parts of the world.
The three Reebok x Nerf sneakers are available starting today, June 25, at footdistrict.com & reebok.com.
It's time to take action!
Crédits
Photography: @enanei
Creative Direction: @gothic__sport & FOOTDISTRICT
Styling: @gothic__sport
Set: @citoballesta
Make-Up: @miky.valles
Hair: @serpiente.es
Styling Assistants: @alfred.vivas @miguelbecer
Toys: @jorge.lgf @vidxl_rm @papriikkaa @adjivog
Visita nuestra web y entérate de los últimos lanzamientos.