READ IN: Español
Rio Babel announces the full line-up of musical artists and presents two new features for this edition: "ArtBabel" and "Babel Comedy", with graphic artists, NFTs and comedians such as Inés Hernand and Ignatius Farray.

The festival will be held from 30 June to 2 July at the Caja Mágica in Madrid, and has already announced its full line-up full of surprises. This year, it goes further than ever by expanding its offer with the union of comedy and the largest digital art exhibition in Spain, along with music. With this proposal, Rio Babel becomes one of the cultural events of reference in Madrid thanks to a very complete programme.
As for the new musical confirmations, it will feature Parov Stelar, Macaco, Zahara, Ginebras, Querbeat, Miss Bolivia, Muerdo, Travis Birds, Tu Otra Bonita, Emlan, Anabel Lee, Chill Chicos, Ambkor and Cheti. All these names join those already confirmed: C. Tangana, Residente, Dani Martín, Rayden, Tanxugueiras, Molotov, Fat Freddy's Drop, Muerdo, ZOO and Ciudad Jara.
As a novelty in this edition, the festival will have a specific stage: Babel Comedy. A proposal dedicated to comedy with the most outstanding comedians of the moment: Inés Hernand, Iggy Rubín, Eva Soriano, Ignatius Farray, Carolina Iglesias, David Suárez, Lalachus, Valeria Ros, Pablo Ibarburu, Daniel Pistola, Carmen Romero, Asaari Bibang, Nacho García, Galder Varas, Yunez Chaib, Bianca Kovacs and Miguel Campos.
Digital art and NFTs will also be protagonists of the event with ArtBabel, where the graphic works will be inspired by the concept of rivers and water, a creative and characteristic concept of Rio Babel, and will be auctioned by NFTs once the festival is over. With this new proposal, the public will be able to enjoy the most outstanding artists of the national digital scene; Zigor, Mirarruido, Paloma Rincón, Laprisamata, Dsorder, Oscar Llorens, J Rodríguez, Microbians, Mirampersand, Buba Viedma, Isaac León, Tavo, PJ Saavedra, Flan Ilevick, Alessiogarciai or Pleid St. John.
The vindication of digital art and humour through music
Rio Babel is thus committed to bringing together different creators in the same space, with music as the great nexus of union. It will turn the city into a great cultural meeting point where the public can enjoy different creative disciplines from the same place.
According to the festival's management, Madrid is the city chosen to catalyse all these proposals because of its multicultural and welcoming character that makes anyone who chooses to live or enjoy it a Madrileño. There are many Madrileños in the line-up, but also many adopted Madrileños who feel the city as their second home and artists who visit it frequently because of its artistic potential.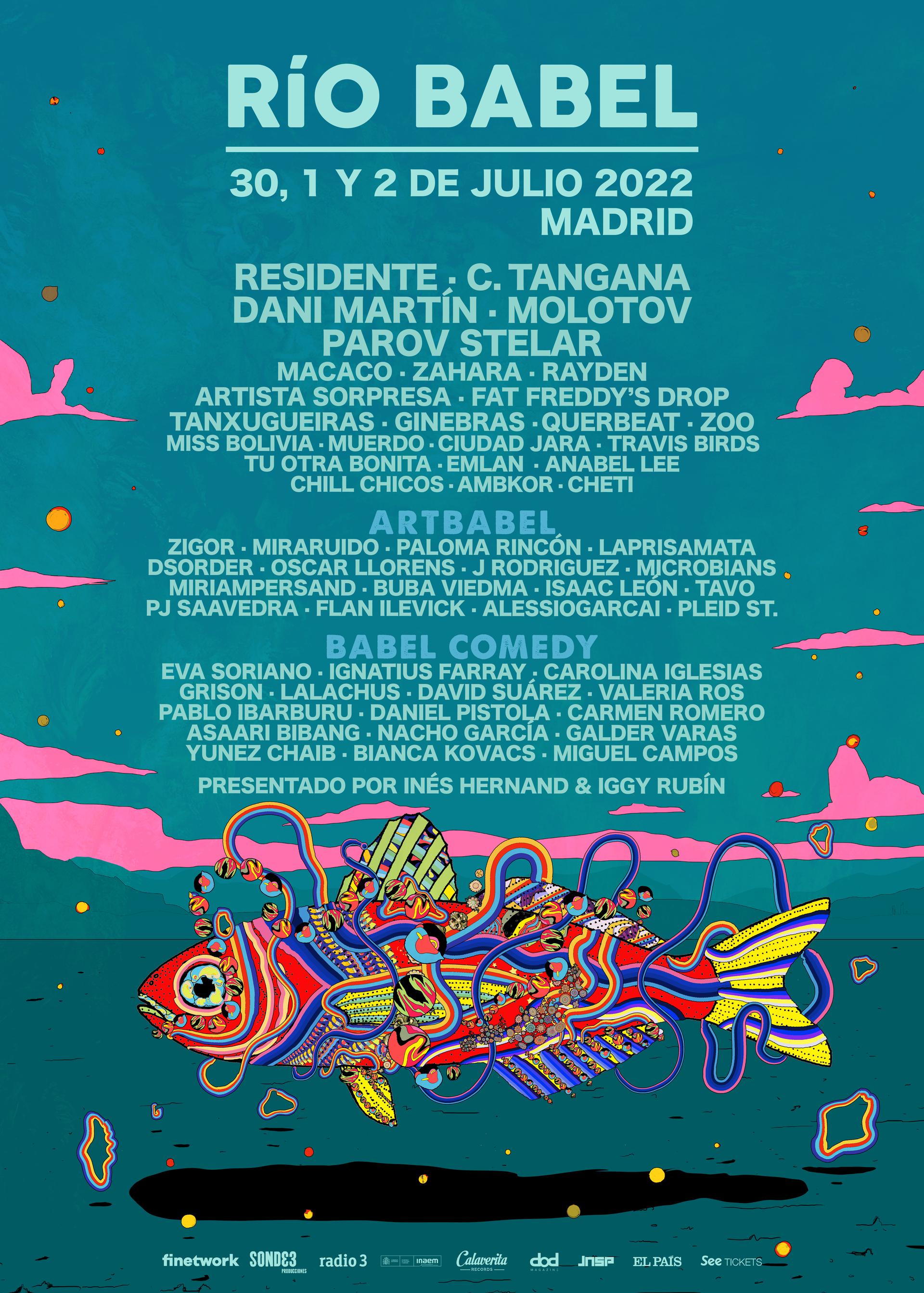 You can find more information by clicking here.