READ IN: Español
For months we have been waiting for the announcement of the final poster of what will be the 25th anniversary of the festival of festivals: SONAR
Now we have the final line-up, and therefore the final countdown has begun. In addition to the big names, including: Thom Yorke, Diplo, Richie Hawtin, LCD Soundsystem, IAMDDDB, Modeselektor and Bonobo; SONAR also promises to show us the best of our national scene of which we are big fans.
Final Line-Up
Among the names that have most caught our attention are: Rosalía who presents her new sound – Pharrell 🙂 -, Cora Novoa and Clip who will make a live that will give a lot to talk or the most demanded and quoted producers of the new national wave Alizzz and Steve Lean.
As far as international projects are concerned we love, the proposal of the Italian Liberato – an interesting concept based on anonymity and the resurgence of the most underground Naples -, Nathy Peluso who will make us dance to the rhythm of his mix of soul, rap, jazz and salsa and the now habitual Laurent Garnier. In addition, this year, the DESPACIO project of the brothers Dewaele (2 Many Djs) and James Murphy will be added again, offering us their club experience at SONAR day #must.
*UPDATE
You can now check the programme by days and times of performance on the festival's website.
More than 130 performances will be spread over the 10 stages that make up the festival. A festival that has many ways of being lived and each one is unique; that makes it really special!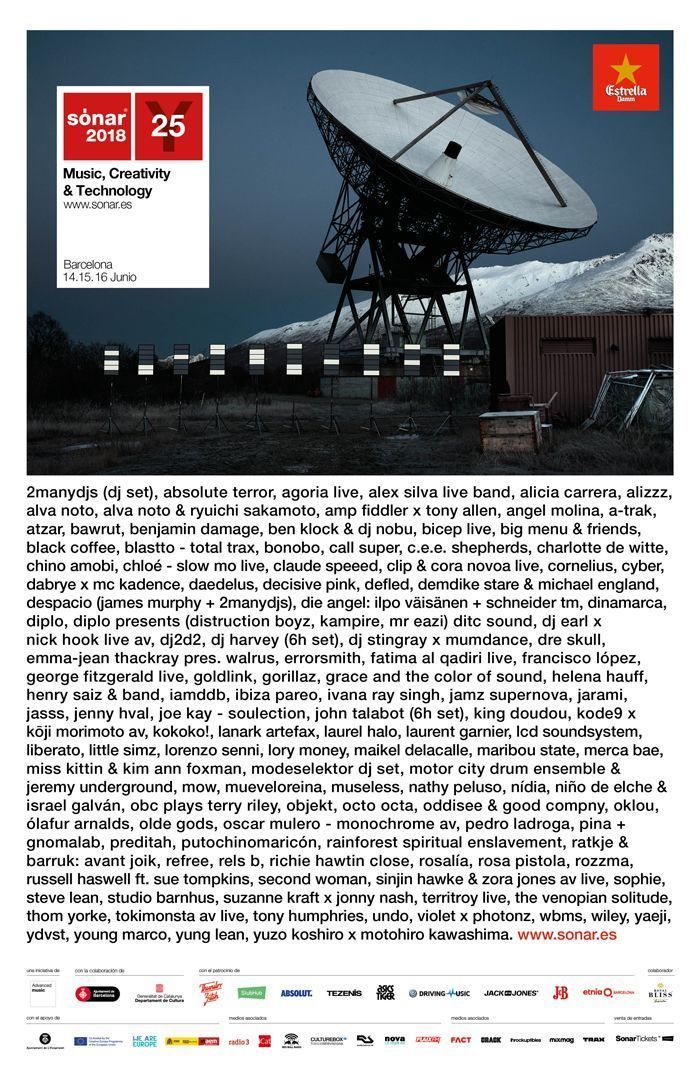 The 25th anniversary promises not to disappoint – it never does-. We're already counting the days to start walking around the Village looking streetstyles and discovering new ways of expression and new sounds. To keep you warm we leave you the official playlist of SONAR 2018. Tick tock….
–
SÓNAR 2018
14, 15 y 16 de June de 2018 – Barcelona
TICKETS
sonar.es