READ IN: Español
The Chemical Brothers, The Blaze, Arca, Oneohtrix Point Never, The Blessed Madonna, AJ Tracey, Channel Tres, Serpentwithfeet, Richie Hawtin, Princess Nokia, Charlotte de Witte, Polo & Pan, DJ Python, Skee Mask, Morad, Joy Orbison or Ms Nina, among the more than 100 performances scheduled for Sónar 2022.
Sónar presents today the first 32 artists of the festival program that will take place in Barcelona on June 16, 17 and 18, 2022 in its usual venues of Fira Montjuïc and Fira Gran Vía.
Sónar 2022, the most anticipated edition of the festival, will feature legendary electronic heroes The Chemical Brothers, presenting their new music and music show. At the same time, there will be new live shows from The Blaze, Arca, Oneohtrix Point Never, Princess Nokia, Chanel Tres, Serpentwithfeet, Joy Orbison, Louisahhh and many more.
Among the first scheduled artists also stand out the new shows of AJ Tracey, Polo & Pan, Tomm¥ €a$h, Sega Bodega, Morad, Lafawndah, Ms Nina, Locoplaya or Recycled J.
Y entre los primeros DJ sets que se anuncian hoy, figuran estrellas como The Blessed Madonna, Charlotte de Witte, Richie Hawtin, Dj Marcelle/Another Nice Mess, Eris Drew B2B Octo Octa, DJ Python, Skee Mask, Jayda G, Lechuga Zafiro, Jamz Supernova, La Fleur, Chico Blanco y Jyoty.
In the coming days Sónar will announce the dates when tickets for Sónar Barcelona 2022 will go on sale. Starting today, spectators who wish to secure their tickets before the sale can sign up here.
In the coming weeks the program of the two new festivals that Sónar presents for the fall of 2021 in Barcelona will also be unveiled: Al and Music Festival -October 27 and 28- and SónarCCCB -October 29 and 30-. Both festivals, which will be face-to-face and with a high digital component; will contain all the spirit and energy of Sónar through more than 60 activities including concerts and sessions; conferences; workshops; debates and presentations of Sónar+D. The organization proposes a larger format than last year, relying on the progressive recess of the pandemic and the good progress of vaccination.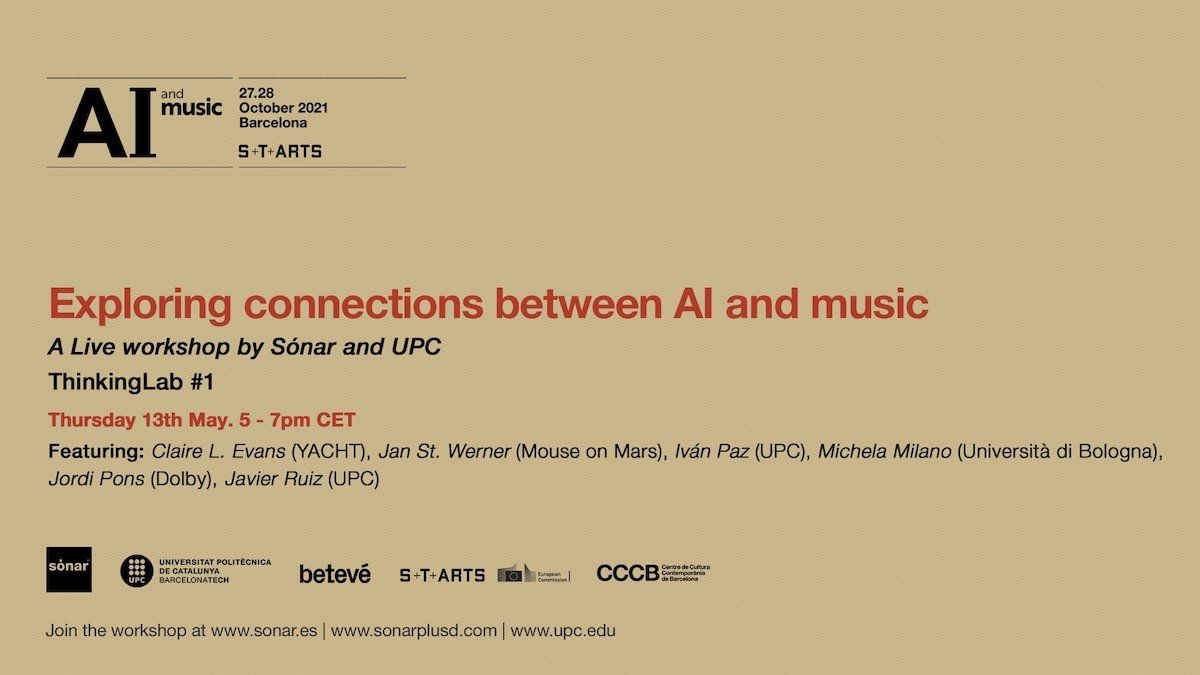 Sónar also expands its presence during this 2021. Precisely tomorrow, Thursday May 13, from 17:00h to 19:00h (CET) will take place the first activity of the Al and Music Festival; an initiative of S+T+ARTS, Advanced Music, Universitat Politècnica de Catalunya (UPC) and betevé. This is the streaming of the collaborative workshop "Exploring connections between Al and Music" in which a panel of pioneering artists –Claire L. Evans from YACHT, Jan St. Werner from Mouse on Mars and Iván Paz– will meet with experts in Artificial Intelligence –Michela Milano (Università di Bologna); Jordi Pons (Dolby) and Javier Ruiz (UPC)-; in order to expose and discuss the impact of music and the creative challenges that open up. For more information and to attend the workshop, click here.
As always, all the activity and upcoming news of the programmed festivals can be followed through the Sónar website. You will also find information through the hashtag #ThisIsSonar on the social networks of Sónar and Sónar-D.
You can find more musical news on our website.