READ IN: Español
The SSSTUFFF x diadora Mythos 280GB trainers pay tribute to the opening ceremony of the Games. In particular, the torch: The lenticular material imitates the glow of the torch, while the gold details bring the sparks of the flame to mind. The black mesh, on the other hand, represents the Barcelona sky at night and the stadium's running tracks can be found hidden beneath the heel.
Trainers that are not just for wearing (and for looking at): on these Mythos 280GB, the red fringing can be cut and arranged on the card included in the packaging to create your own DIY torch. If you've got any questions, you can follow the instructions on the right sole. (Yep, you read right!) And when the boredom gets too much, the left sole has got you covered: the games printed on it will keep you company.
To make sure you don't ignite something you shouldn't, there's a sheet of paper inside the box that has all the instructions on it 😉
A special mention also goes to the packaging made by SSSTUFFF: The box is inspired by the welcome pack that the participants in the opening ceremony receive as a gift. By purchasing the Mythos 280GB, you'll get a sun-shielding mask, a medal – already bitten, of course – and a DIY flag to support your favorite team.
Last but not least: This release also includes an additional four garments – a jersey top that is somewhere between a football shirt and a marathon vest top, a marathon medal, a tracksuit and a cap.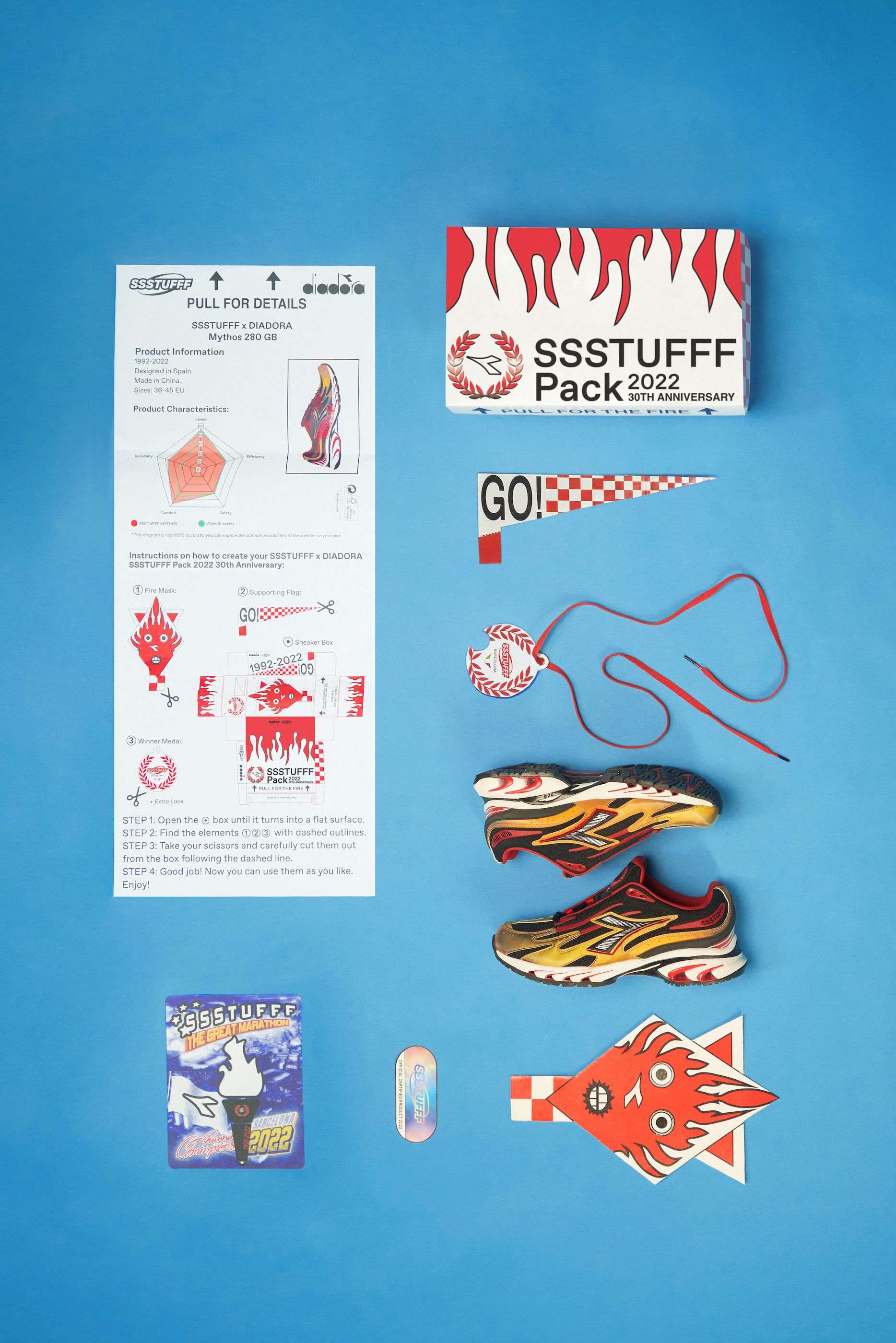 The SSSTUFFF x diadora collab will be available from 24 September on SSSTUFFF.com and diadora.com and is part of a larger project designed by the sports brand to celebrate the Barcelona '92 Summer Olympics.
Stay tuned!