READ IN: Español
Loris Messina and Simone Rizzo have always presented their fashion shows in unusual spaces, to say the least. But this time they have gone further, with a cultural and urban project that will continue after the presentation of the collection. The pair of designers have achieved the renaissance of Milan.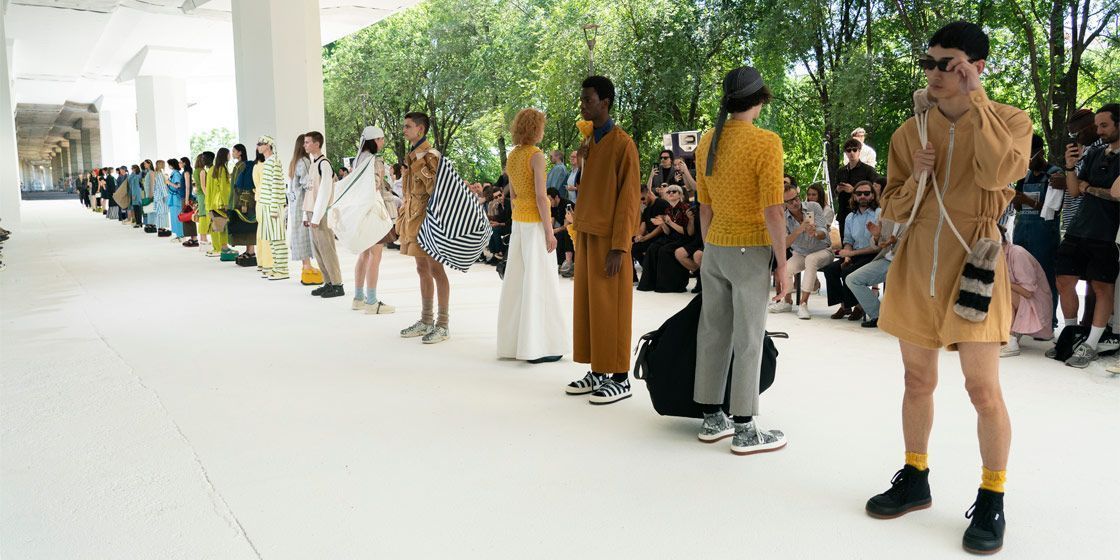 Sunnei SS20
Sunnei presented its SS20 show under an immaculate white giant bridge in the Rubattino district. A groundbreaking and original bet that for the label has been a key step that it has always wanted to take. The space has been christened 'Bianco Sunnei' and will host concerts, installations and artistic performances and multidisciplinary events together with the Altrove collective. Sunnei has definitely been a before and after for the metropolitan city with its show.
Simplicity and elegance with concept have been the basis of this new bet SS20, one of the most commented of the Milan Fashion Week and a demonstration that Sunnei, with only five years, is one of the brightest brands in Italy. Bulky proportions, oversize silhouettes and XXL appearance have been the common pattern of each garment. The gabardines reached to the floor and the trousers increased in width, with cargo silhouettes with pockets and giant zippers. The large accessories, such as sandals with maxi platform or huge bags, have completed the looks by consolidating the oversize touch.
The game of layers and superimpositions has also been one of the great protagonists, always prioritizing functionality and effortless aesthetics. Hypergraphic garments, 3D knitwear and that mixture of horizontal stripes with vertical total looks have been especially highlighted. The colour palette has progressively changed from white to darker tones, passing through yellow, green or blue, something that Sunnei has declared to represent a complete state of mind. In addition, this season the brand has also created a collection of jewellery.
With this SS20 collection, Sunnei has shown that transgression is not just about talking about polemics. The brand has managed to break molds with elegance, creating a space for art in the city and reaffirming that unique ability to reinvent itself each season.
Sunnei SS20