READ IN: Español
Haider Ackermann, creative guest to design the new Jean Paul Gaultier SS23 couture collection, managed to captivate the great spheres of fashion with an eclectic and heavenly work with which he elevated couture to a new artistic dimension.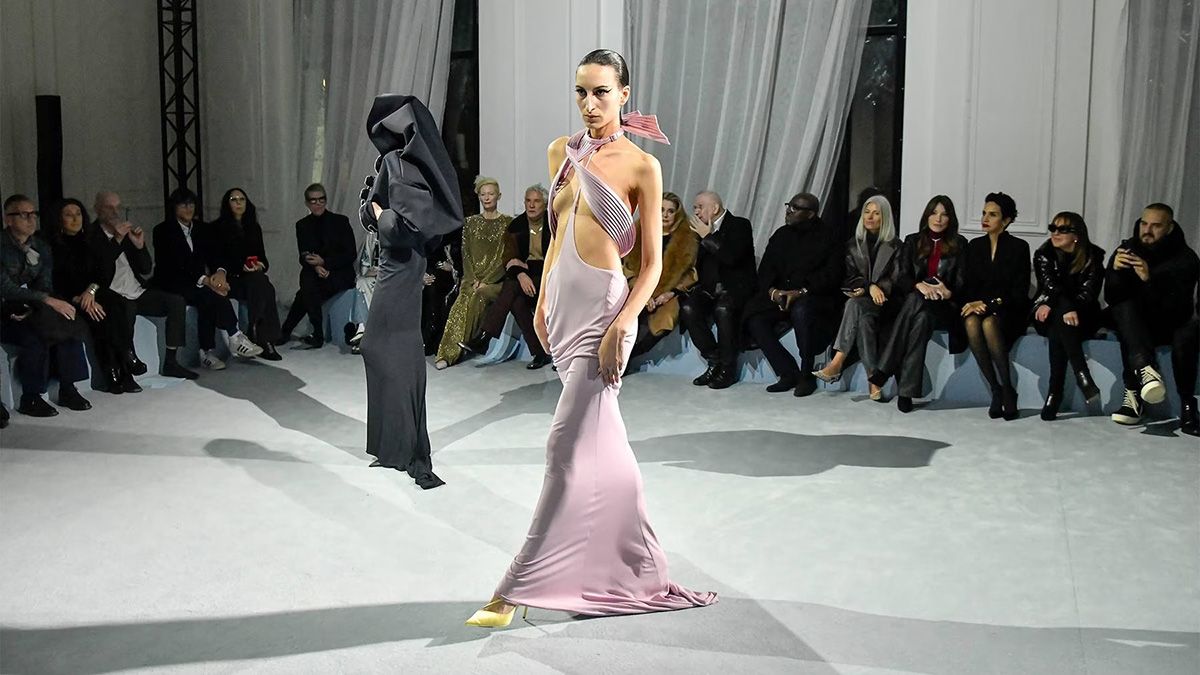 From eye-catching satins to signature tailoring, the Colombian-born designer presented 35 looks created in honor of Gaultier's career and his eternal impact on the fashion world. An ode to his archive and identity with which he channeled dreamy looks such as origami-inspired pleated tailcoats paired with stilettos, pointed bustiers or layered shirts with feathery, wing-like feathers.
A TRIBUTE TO THE GAULTIER ARCHIVE
The art of origami or folding was extended to other types of pieces such as a Tiffany blue top or a beige dress accented with dark blue details. It also highlighted the exploration of form, color and silhouette, through praxis such as the oval shoulders of monochromatic ensembles In this sense, vibrant or eccentric colors, representative of the designer, colored the whole sequence of sculptural pieces embellished with sequins, feather ornaments or bright flashes with which Ackermann showed different visual effects.
Beyond the material, an emotional or poetic depth prevailed with which the designer ascended us to a high ground with which to pay homage to JPG's heritage, as we can appreciate in the incorporation of bustiers or bodices associated with Jean Paul's woman. Beyond that, the work of Adrian, Hollywood's favorite couture designer, was alluded to through iteration of the pleated yellow high-necked, long-sleeved dress.
Finally, a sculpted series of black dresses was staged by choreographer Pat Boguslawski in the manner of a classic photo by Irving Penn or Richard Avedon. A whole universe of references and empirical codes with which the cast of models moved through the space at a slowed-down pace, to the beat of an experimental soundtrack between murmurs or bursts of ambient noise until it led to a song written for Mahsa Amini, the woman whose death in police custody triggered the current turmoil in Iran.