READ IN: Español
Taylor Swift and Kanye West have been fighting for 11 years. It's a conflict that has kept the entertainment industry on tenterhooks since the first moment. Today, a phone conversation leaked out that puts things in place. One of the most intense soap operas of the decade that today writes, perhaps, its most important chapter.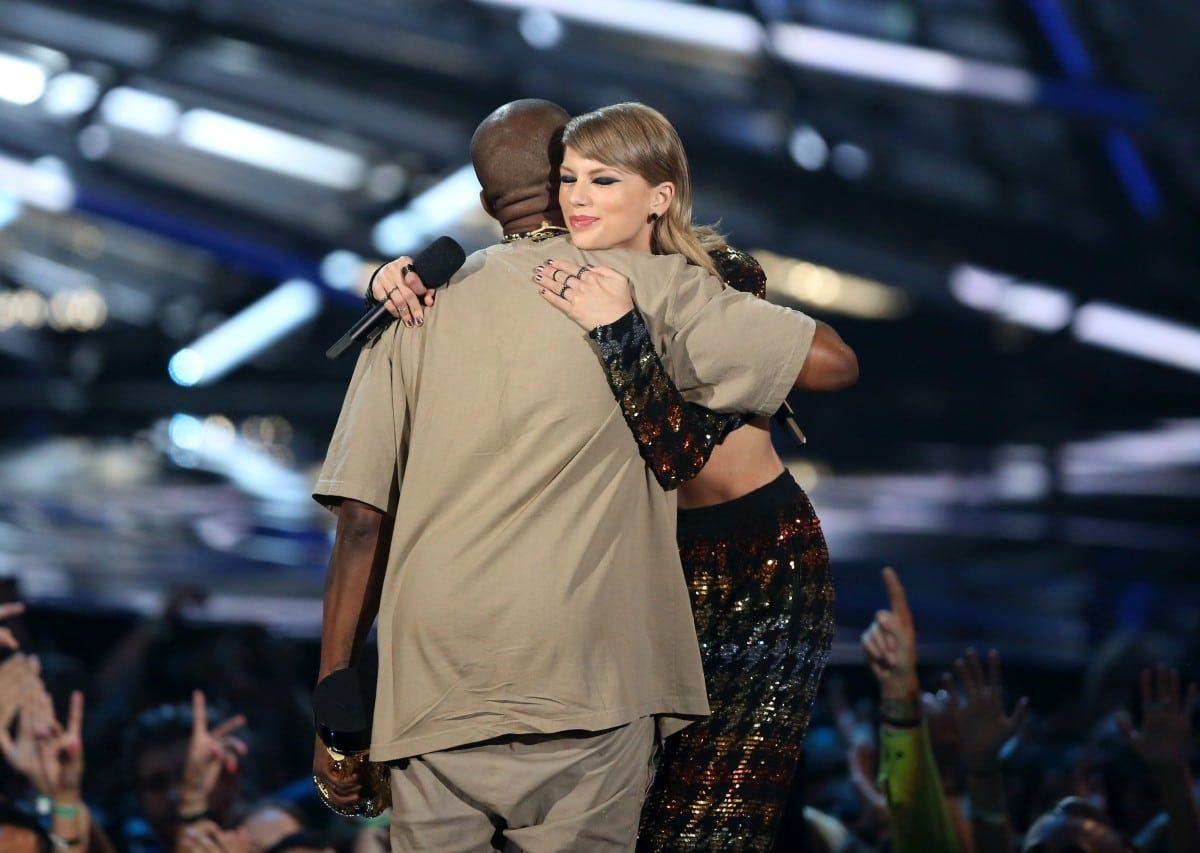 The call in question took place before the release of Kanye's song "Famous", in which he drops the bars, "I feel like me and Taylor might still have sex / Why? I made that bitch famous (God damn) / I made that bitch famous."
After the song came out, Swift repeatedly said she felt disrespected. In response, Kim Kardashian leaked a fragment of a phone call between Swift and Kanye that showed that the singer had informed Swift first. Kardashian then tagged her as a "snake" for pretending her innocence.
Below we have prepared a summary of the story so that you can understand the importance of this call.
KANYE VS SWIFT
2009: Kanye attacks Taylor.
At the 2009 VMAs, a 19-year-old Taylor Swift and her "You Belong With Me" track beat Beyoncé in the Best Female Video category. While collecting her award, Kanye jumped on stage and interrupted her mid-speech. He declared, "Yo Taylor, I'm really happy for you, I'ma let you finish, but Beyoncé had one of the best videos of all time! One of the best videos of all time!"
Everything was so uncomfortable and rude that even Beyoncé felt uncomfortable. Later that night she broke away from Kanye's message by inviting Swift on stage to "have her moment". This violent situation also caused Barack Obama to call Kanye an "idiot".
2010: Kanye apologizes and deletes his Twitter account.
2010: Swift publishes "Innocent" and Kanye retracts his apology.
Swift's track references West in the lyrics, "Thirty two and still growin' up now / Who you are is not what you did / You're still an innocent." According to the BBC, Kanye then backtracks on his apology and accuses Swift of using the VMAs moment as a publicity stunt.
2013: In an interview with the New York Times , Kanye blamed "peer pressure" for his previous apology and stated, "if anyone is reading this expecting some kind of full and complete apology for something, they should stop reading right now."
2015: Kanye, Kim Kardashian and Swift were photographed hugging each other at that year's VMAs, making headlines that the dispute was finally over.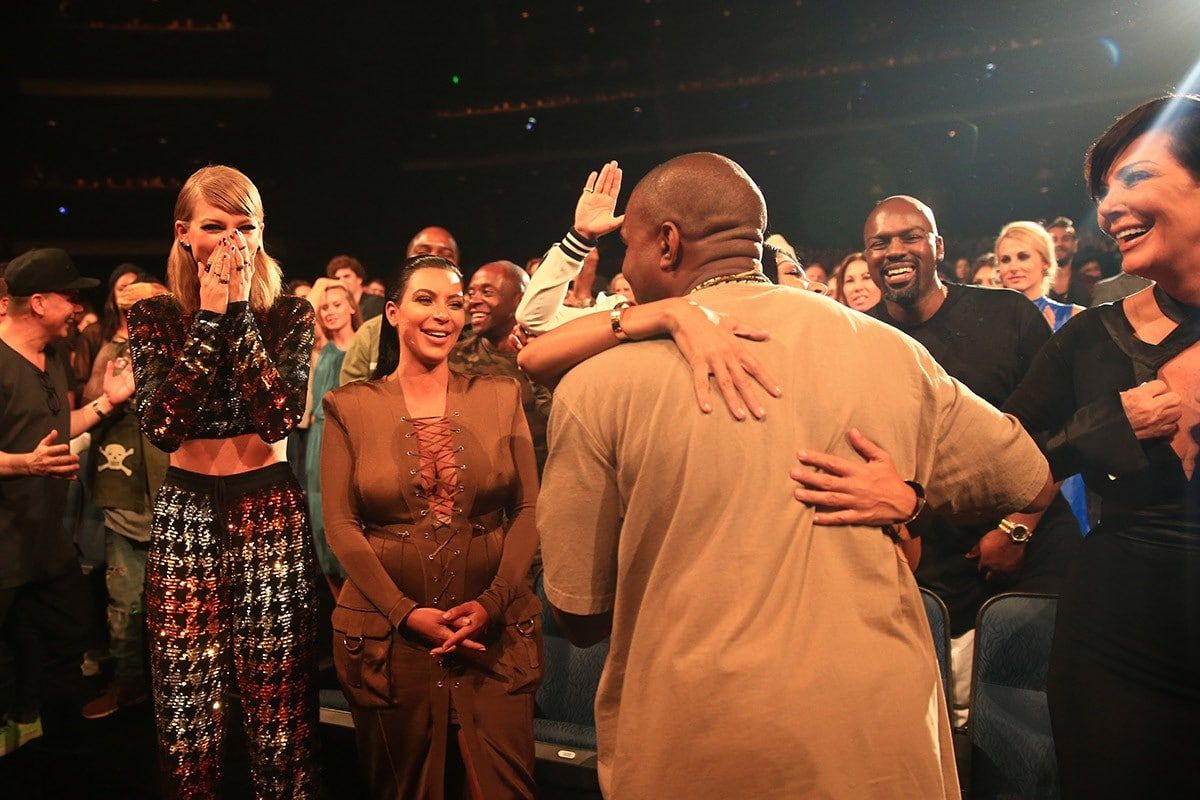 2016: Kanye releases "Famous".
A year later, Kanye dropped the track "Famous," in which he spits the bars, "I feel like me and Taylor might still have sex / Why? I made that bitch famous." The song drew a wealth of criticism for disrespecting Swift, which Kanye countered by stating that he "called Taylor and had an hour-long convo with her about the line, and she thought it was funny and gave her blessings."
Swift's representatives countered that she had "cautioned him about releasing a song with such a strong misogynistic message" and had not been told about the "bitch" line.
2016: Swift slams Kanye in her Grammys speech.
"There are going to be people along the way who try to undercut your success or take credit for your accomplishments or your fame – but if you just focus on the work and you don't let those people sidetrack you, someday when you get where you're going, you'll look around and you will know that it was you, and the people who love you, who put you there – and that will be the greatest feeling in the world."
Kim Kardashian says Swift approved of the line and news of the phone call recording surfaces.
Talking to GQ in July 2016, Kardashian said that Swift had approved the lyrics and then pulled a 360 once the track released. "She wanted to all of a sudden act like she didn't [approve]" Kardashian said. "I swear, my husband gets so much shit for things [when] he really was doing proper protocol and even called to get it approved."
Kardashian then revealed that the call between Kanye and Swift had been recorded and claimed Swift's lawyers had told them to destroy it.
2016: Kanye Drops "Famous" video featuring Swift in a giant bed, naked, surrounded by other famous figures.
2016: Kardashian releases a recording of a phone call and refers to Swift as a snake.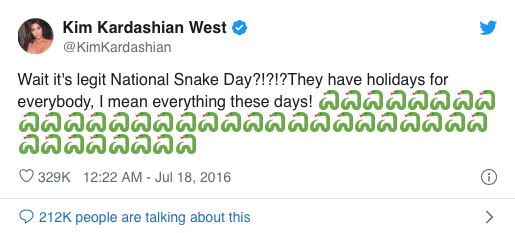 Through Snapchat, Kardashian leaked a fragment of the conversation in which Kanye tells Swift the sex lyrics of "Famous" and Taylor can be heard responding positively.
2016: Swift calls the actions of Kardashian and Kanye a "character assassination".
According to Rolling Stone, in a series of since-deleted posts, Swift asked, "Where is the video of Kanye telling me he was going to call me 'that bitch' in his song? It doesn't exist because it never happened. You don't get to control someone's emotional response to being called 'that bitch' in front of the entire world."
2017: Swift presents "Look What You Made Me Do".
Swift recorded several scenes that allude to the incident in her song "Look What You Made Me Do", in which snakes appear, lots of naked bodies referring to West's video "Famous", and lyrics like:
"I don't like your little games, Don't like your tilted stage / The role you made me play, Of the fool, no, I don't like you / I don't like your perfect crime, How you laugh when you lie / You said the gun was mine / Isn't cool, no, I don't like you (oh!) / But I got smarter, I got harder in the nick of time, Honey, I rose up from the dead, I do it all the time / I've got a list of names and yours is in red, underlined. I check it once, then I check it twice, oh! / Ooh, look what you made me do."
2018: Swift goes on tour with an inflatable cobra named Karyn – clear reference to Kim -.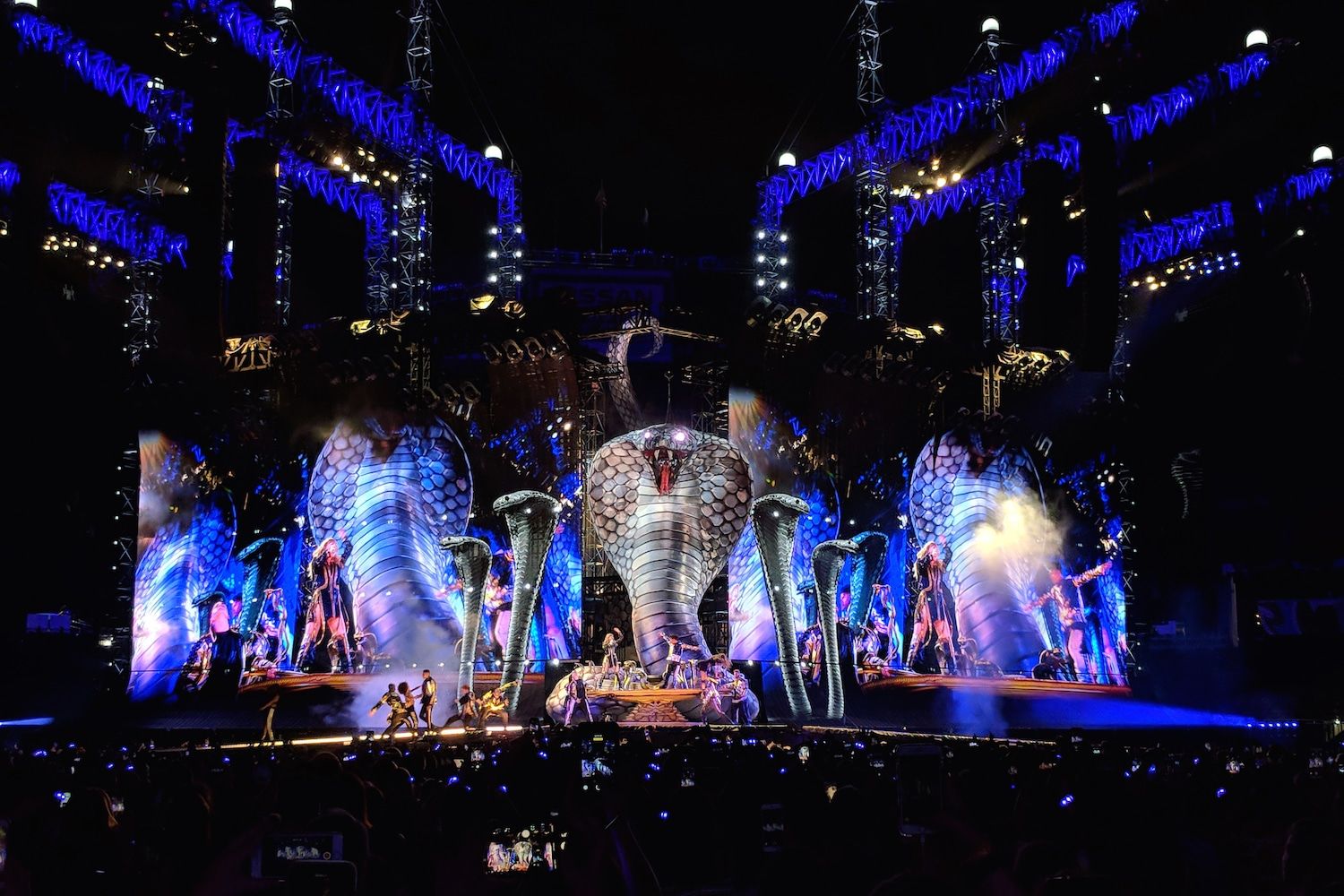 2019: Swift calls Kardashian and Kanye "thugs".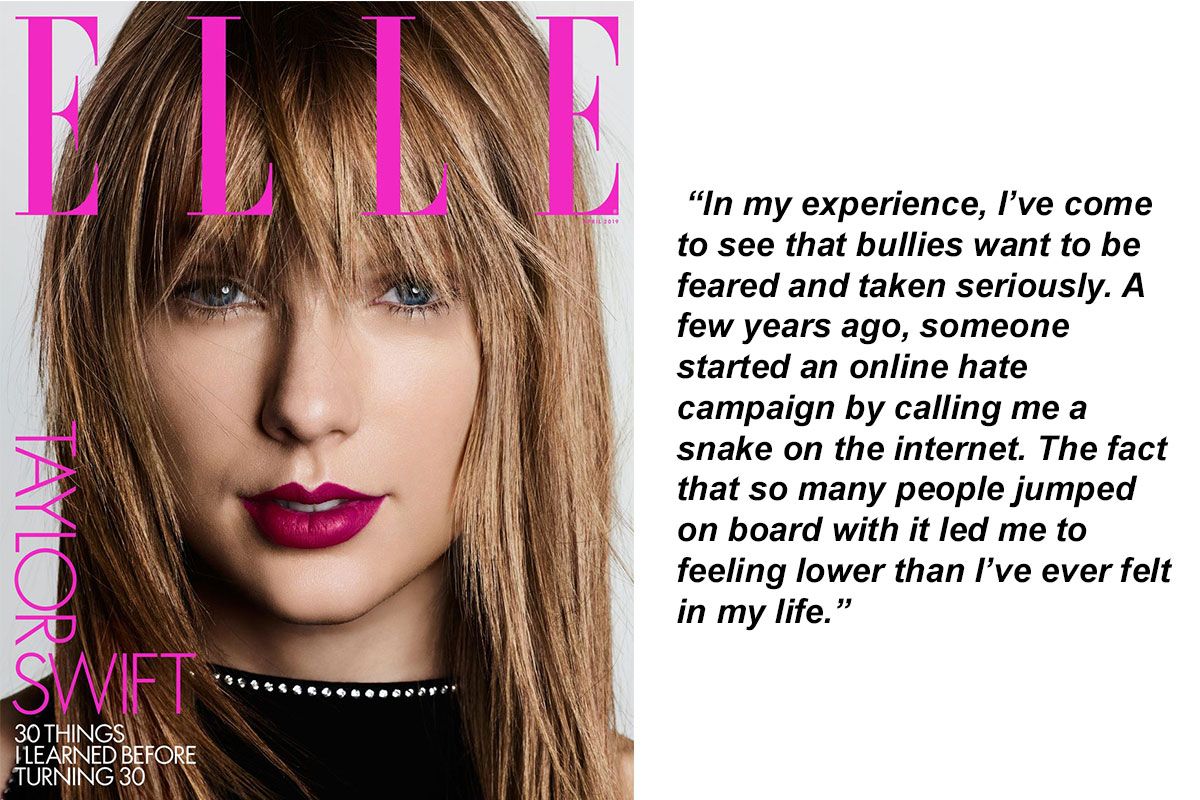 She told Elle, "In my experience, I've come to see that bullies want to be feared and taken seriously. A few years ago, someone started an online hate campaign by calling me a snake on the internet. The fact that so many people jumped on board with it led me to feeling lower than I've ever felt in my life."
On Tumblr, Swift wrote, "Like when Kim Kardashian orchestrated an illegally recorded snippet of a phone call to be leaked and then Scooter got his two clients together to bully me online about it. Or when his client, Kanye West, organized a revenge porn music video, which strips my body naked."
2020: The entire call is filtered.
Earlier today, March 21, 2020, an extended cut of the phone recording appeared online. Turns out the leaked Kardashian clip wasn't exactly the full story. The new leaked clip shows that while Kanye passed the lyrics to Swift, he never told her he was going to call her a bitch… Kanye, you lost.
The video…