READ IN: Español
The Tree-Kånken is a tribute to the design of the first Kånken from 1978. The years have passed, but the design has hardly changed and retains its characteristic simplicity and functionality. That is why the Kånken has become popular all over the world.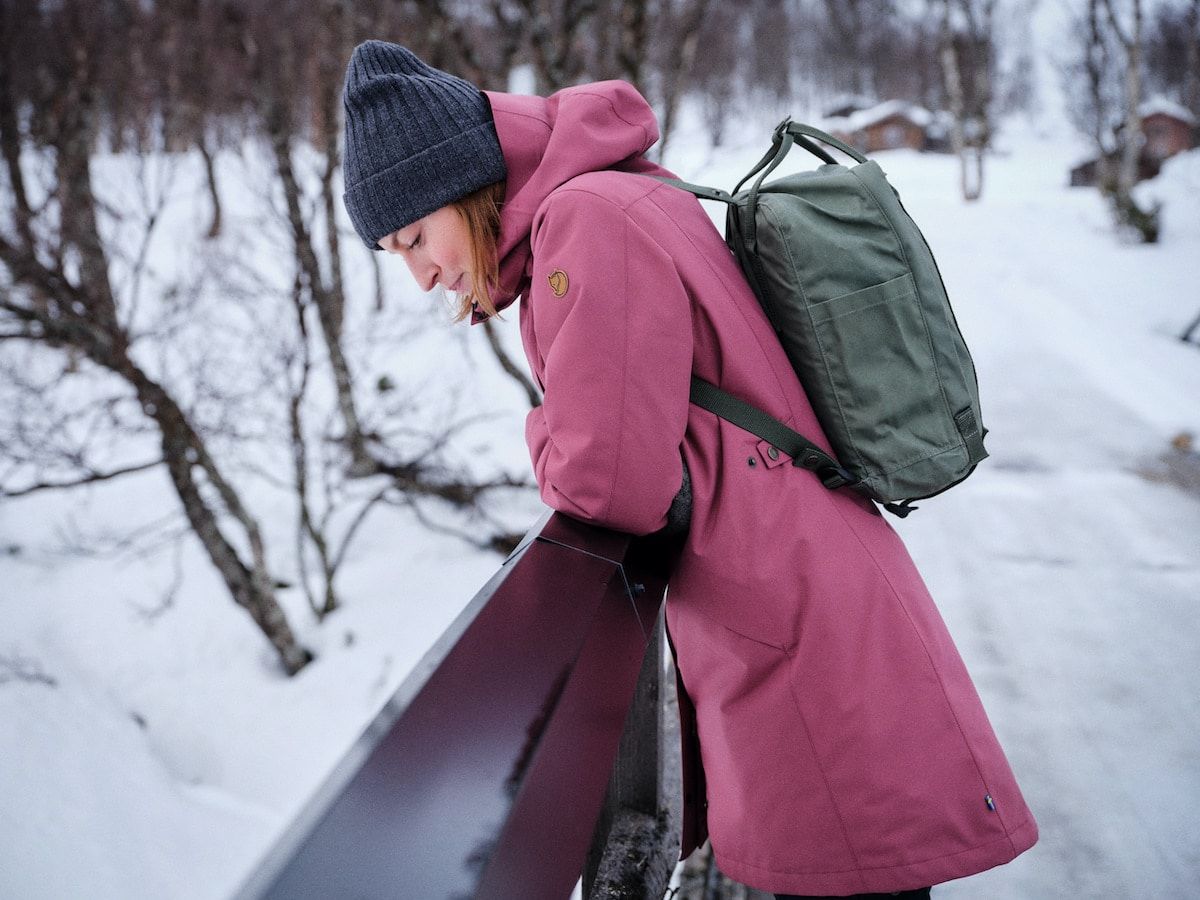 The Tree-Kånken is not exactly identical to today's Kånken. Firstly, because its design is inspired by the original, which had handles sewn along the front and no visible front pocket. In addition, the Tree-Kånken is made of a recycled material that represents an alternative to fossil-based materials: Pine Weave.
Pine Weave: a fabric made from non-fossil raw materials
The Tree-Kånken is part of Fjällräven's ongoing research into more sustainable ways of creating durable, functional and timeless items. The main fabric and lining of this new accessory is made from Pine Weave, a new material exclusive to the brand that is made from filament fibres and offers optimal strength and functionality.
In the words of Johanna Mollberg, product developer, looking for ways to use materials that do not come from finite fossil resources is a crucial task: "The development of the Pine Wine fabric helps us to control things better, to explore new and better ways of manufacturing and sourcing raw materials. It is a project where we are constantly trying to improve our environmental footprint. Pine Wine fabric is part of this project. We have learned a lot along the way, among other things, to face the challenges we encounter with humility. We strive to improve, but we have to avoid that improvements in one area represent challenges in other areas, such as the balance between bio-based materials and biodiversity".
From pulp to fibre; from yarn to cloth
Fjällräven has adapted and improved the entire production process to make the Pine Weave fabric stable, wear-resistant and water-repellent. Mollberg explains: "In a nutshell: we boil the wood shavings to obtain a cellulose mass that undergoes the lyocell process – a kind of solvent spinning technique. Once dissolved, the cellulose pulp is passed to the spinning machines where it is washed, dried and spun. The yarn is then woven into a plain weave and coated with a PU/wax mixture to prolong its life and make it more durable than lyocell fabrics already on the market".
Pine Wine raw material origin
Fjällräven's wood raw material comes from a certified cultivated forest outside Fjällraven's home town of Örnsköldvik in northern Sweden, never from virgin forests.
The industrial process currently used to convert wood into pulp is unable to distinguish certified and traceable wood from other sources of wood. This is why the pulp used at Pine Weave is mixed with the total amount of wood that goes into the pulp production process. This is referred to as the "mass balance" method. Although traceability from the bag to the tree is not possible in a closed system, we do at least contribute to meeting a growing demand for traceable and certified wood in these industrial processes.
"We are constantly exploring how we can use even more environmentally friendly materials in our products, but we also have to continuously improve and find better ways of sourcing."
The Tree-Kånken
Inspired by the past to explore the future, the Tree-Kånken backpack pays homage to the design of the first ever Kånken. But this time, it uses the new Pine Wine fabric and the result is a backpack that fuses Fjällräven's heritage and future.
It is still the perfect accessory for everyday use, as it has all the practical details that Kånken fans know and look for. Other new solutions include front loops for attaching a bike light, straps at the base for carrying a jacket or mat and a reflective logo.
Take a look at the gallery below and discover the new Tree-Kånken: