READ IN: Español
Maren H. Anscheidt | We've wrapped up NYFW, flown through LFW and are now halfway through MFW. The new collections are all we can talk about, beautiful designs, unique concepts, entirely new things coming from designers left and right, and Zara already has half of those pieces being recreated and manufactured as we speak.
Ah yes, the pleasure of being an artist; your blood, sweat and tears put into designing, sourcing materials, and handcrafting your own pieces of work. SOLD on zara.com for $3.99 with no guarantee that it won't fall apart in a few months, but hey don't worry, they changed your beautiful quote to "Taco Tuesdays" so it isn't technically the same.
Zara's original business model was to create similar styles to high end companies but at an affordable price. It's parent company Inditex expanded in doing the same with brands Bershka, Pull&Bear and Stradivarius. H&M and Forever 21 go by the same concept. So what is the big deal? I myself have been in the position of wanting to dress a certain way and not having the budget for it. Companies like Zara took it into their hands to solve this issue delivering really cheap, and REALLY fast. Well, the list is endless, from environmental issues to legal issues, this article would never end if we dissected it all.
We're here to focus on one thing today, and that is the blatant reproduction, emulation, carbon copies of real designs made by these fast fashion companies.
For years replication of runway and high fashion pieces has occurred, but in the last couple of years, it's become no less than astonishing. Looking into the newest arrivals from 2018:
Missing out on that Céline and Vetements? Get it at the Bershka or Mango near you! Stop by Zara to find some Alexander Wang, Jacquemus, Rick Owens, Raf Simons, Gucci and Alyx, too!
We've seen Zara, Mango, etc, imitate runway/high-end pieces for years, It's almost nothing new. It becomes more frustrating when we see large corporations rip-off small designers, and their reasoning behind it is simply, because they can. Looking back at over a year ago in mid-2016 when artist Tuesday Bassen (@tuesdaybassen)  began taking legal action against Zara, for stealing her cute and quirky pin designs. We began to see here how deep Zara began digging for ideas to churn out consistently throughout the year.
Fast fashion companies release almost 18 collections yearly, a disturbing amount to satisfy our consumer 'needs'. Unfortunately, since then, Bassen isn't the only Indie artist who has been ripped off, it continues year after year and poses the big question, how can artists released their work, without the fear of big corporations taking credit?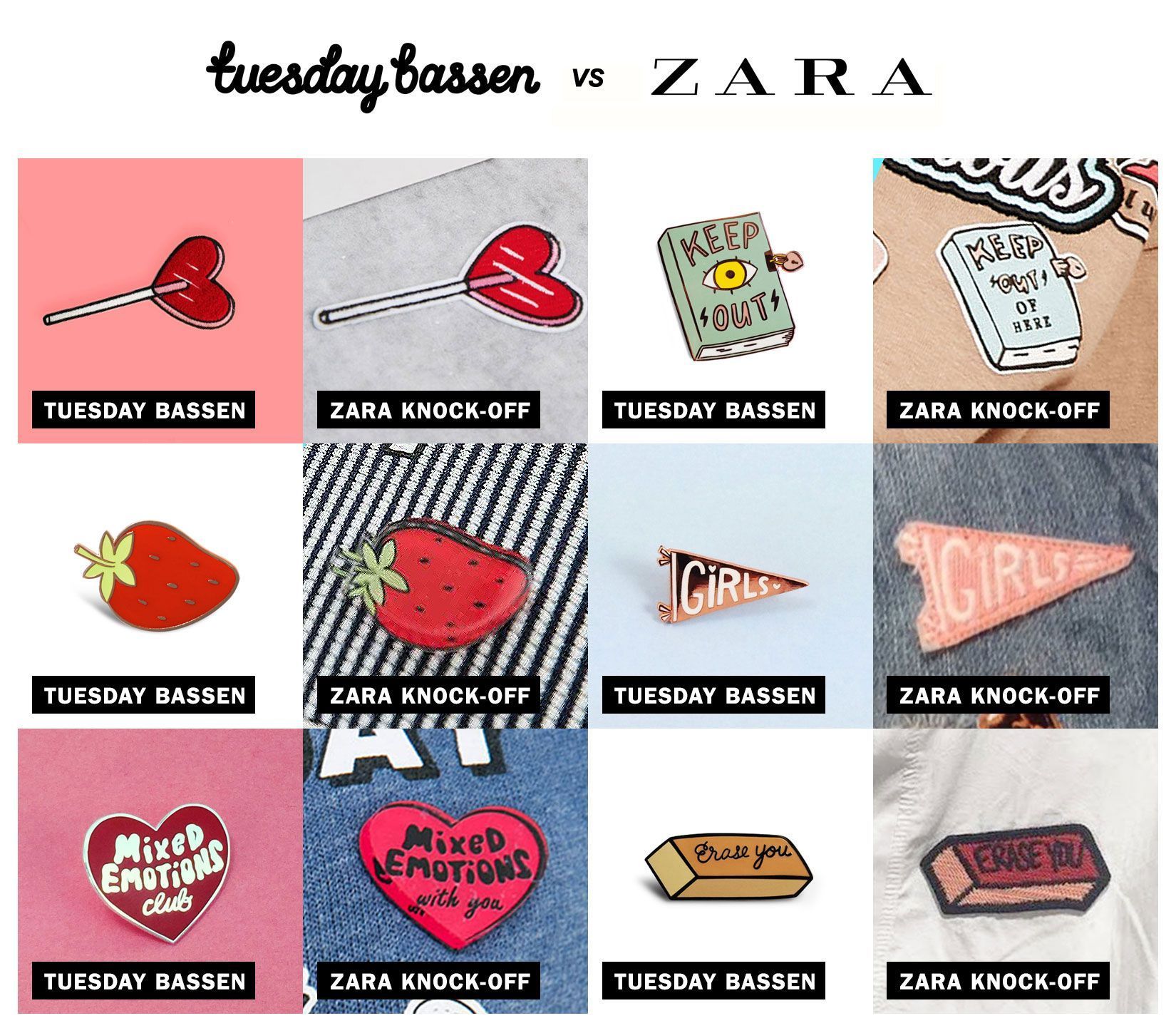 A copy of Off White's industrial belt, and some Vetements jeans just seems like a cruel joke, but when it's an independent artist, it hits home a little harder.