READ IN: Español
This fall, Vault by Vans is proud to announce a collaboration with streetwear brand Aries. Founded as a celebration of subcultures, female-centric streetwear and modern creativity; Aries combines modern graphic storytelling with a vintage Americana feel and nostalgic sportswear staples.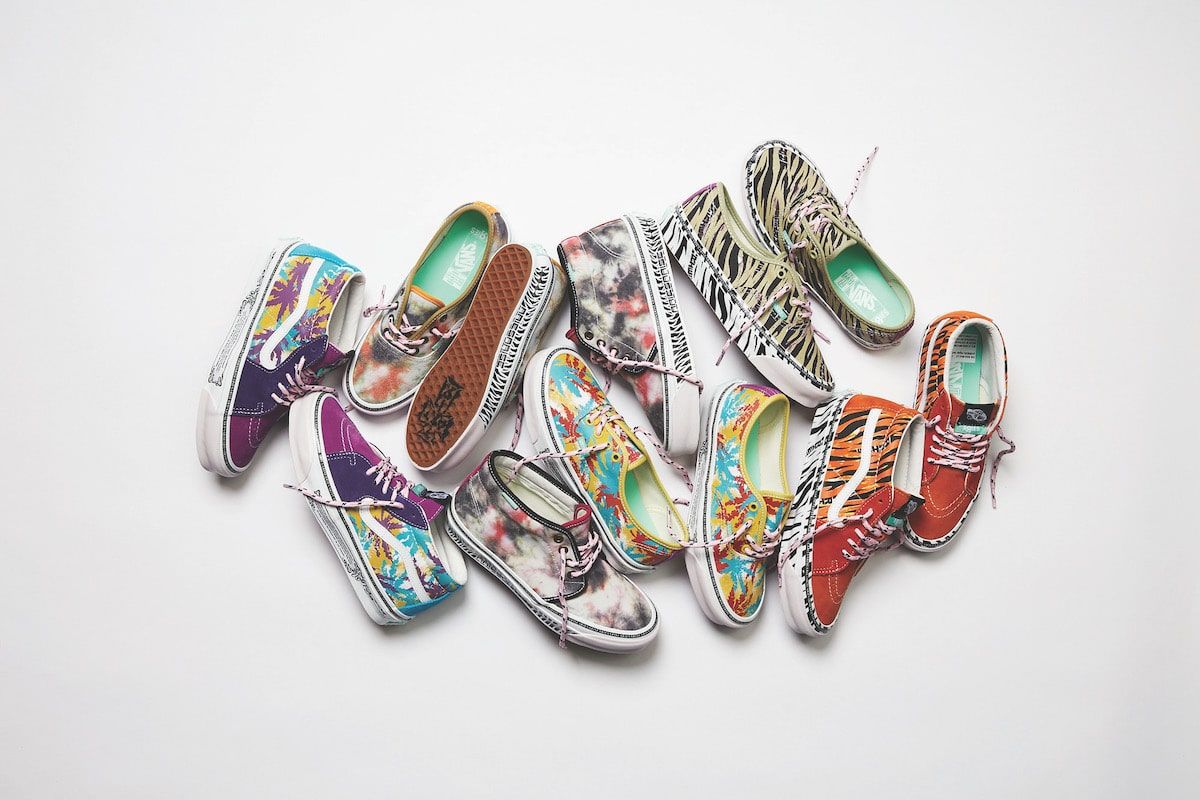 While studying fashion at the famous Central Saint Martins, Italian-born Sofia Prantera discovered her passion for rave culture and other communities that eschewed traditional fashion rules in favour of their own creative expression. That was the inspiration for Aries, which Sofia launched in 2010 as a continuation of her first brands, Holmes and Silas.
"When we were working on Slam City Skates we had a vintage 'customise your own Vans' poster that seemed to allow you to mix and match prints from every part of the shoe. We wanted the collaboration to follow this accidental recipe; the same colours don't quite match as if they were made from found pieces of material; the graphics and logos are inconsistent; random apocalyptic stories appear on the soles; while the phrase 'Go Your Own Way' and 'Art Trip' reinforce the message of individuality and rule-breaking that both brands share," says Sofia Prantera.
The Vault by Vans x Aries capsule draws on a retro and DIY aesthetic that celebrates original style; with a collection of six trainers plus a selection of specially curated apparel and accessories.
Leading the footwear collection is the OG Authentic LX; Vans' first trainer in two vibrant colourways. The Weed Muted colourway features a multicoloured marijuana leaf-inspired print on the upper with pink, black and yellow striped laces; a typographic Aries brand stripe; yellow colour blocking on the vulcanised sole and art nouveau text on the sides.
The Tiger Muted style features a black tiger stripe on the upper; a white sidewall; yellow colour blocking on the sole; yellow black and white striped laces; and a 100% Aries orange typographic fox stripe. A fuchsia stripe on the heel and "Off The Wall" logo add additional touches of colour; while Aries branding is captured by subtle lettering on the tiger stripe.
The collection also includes the OG Sk8-Mid LX in brighter versions of the Weed and Tiger colours. Also the Authentic LX and OG Chukka LX in Tie Dye with the Aries tiger stripe on the sides.
The Vault by Vans x Aries Art Trip hoodie features a bold '80s-inspired typographic cross, with a hybrid of the Vans logo and the iconic Aries signature temple emblem. A multicoloured, short-sleeved tie dye tee also features the collaboration logo on the chest; with a large, inverted iteration on the back. A jacquard knit cap completes the head to toe look, with an added twist: the Vans logo is inverted for an "against the grain" touch. All models are screen-printed and made in the USA and Italy.
The Vault by Vans x Aries collaboration will be available from 11 September in Vault by Vans stores.