READ IN: Español
Music is the most powerful bond there is. Jägermeister knows this and is therefore organising the most awaited party of the season: live performances, guests you'd like to meet and lots of fun. We won't miss it… And you? Do you want to come? We'll tell you what you have to do to experience it with us.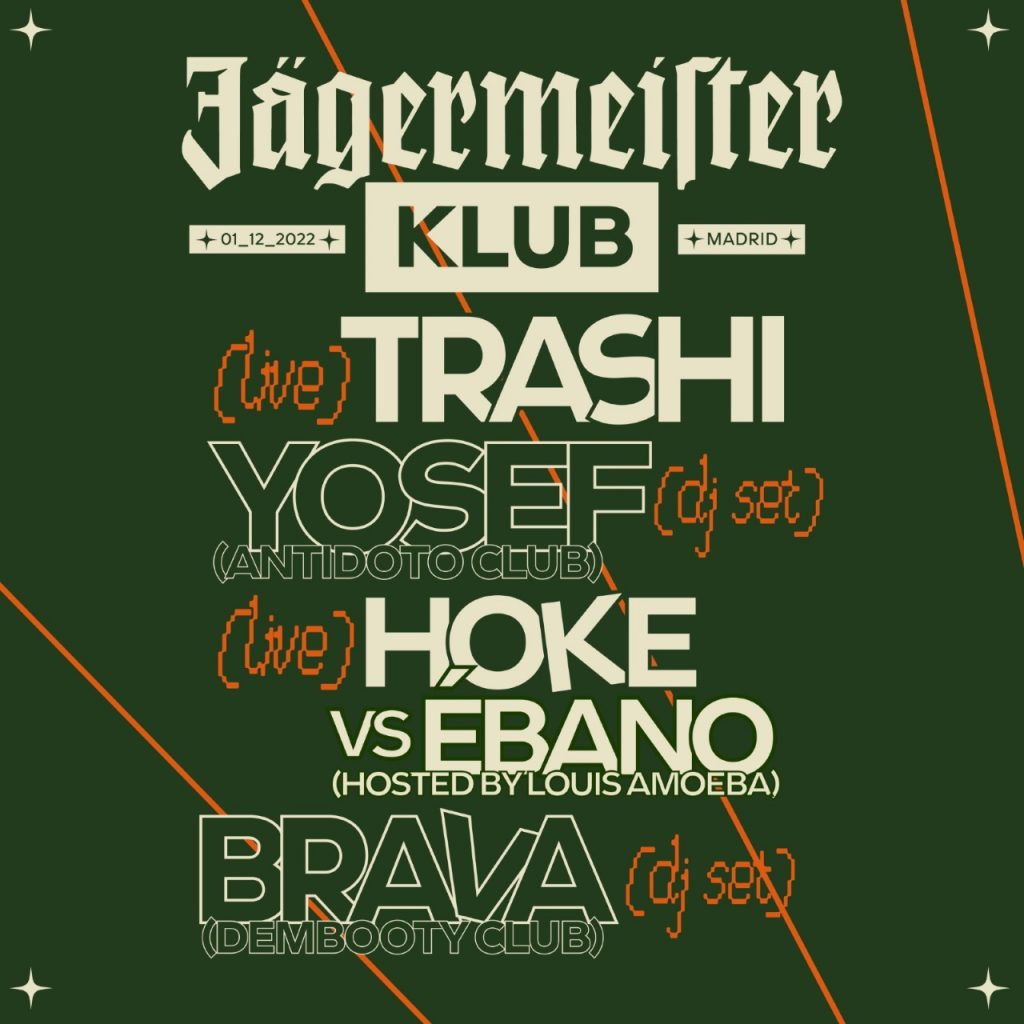 Through an ephemeral space whose duration is limited to a single night and located in a secret location, Jägermeister Klub arrives to celebrate in style that music is the engine that moves the world. Different areas under the same roof, designed to give life to an unconventional Klub, will witness the most special meeting with which we will close the year in style.
And what awaits us at the Jägermeister Klub? The unexpected. An afternoon/evening where some things are not what they seem, where there will be good music and where you will take away good memories. We start with Hoke & Ébano aka Louis Ameba, who are shaking up the current music scene with hardly any promotion or record label support with their album 'BBO', which has become a musical phenomenon.
As every year, Jägermusic, Jägermeister's music programme, makes a selection of musical groups with the aim of accompanying them on their way to becoming professional musicians. Trashi is one of the bands that make up this roster, becoming one of the revelation names of Spanish pop in 2022 and we will also have the opportunity to see them live together with Brava, the eclectic dj who will delight us with one of her hilarious dj sets.
But the night doesn't end here. The finishing touch will be the dj set by Yosef, creator of Antídoto, one of the most important parties in Madrid, which, thanks to its exclusive posters and showcases, has become a reference in the city's nightlife, as well as the very special community it has managed to create.
Jägermeister Klub is the club for those who let themselves go. It's not a place, it's not a room, it's not a party. And to enjoy it first hand, you only get one chance. If you want to join us and be part of this historic event, all you have to do is answer the question we'll be posting on our Instagram stories: How many ingredients make up the original Jägermeister recipe?
If you guess correctly, you can win a double ticket and come with whoever you want. Easy, isn't it?
Are you ready for an unforgettable experience at the Jägermeister Klub?