READ IN: Español
Dom Sebastian has been able to build his own visual universe in a very short time. A universe that has positioned him as a different artist/designer capable of breaking the barriers between fashion and art through the textures.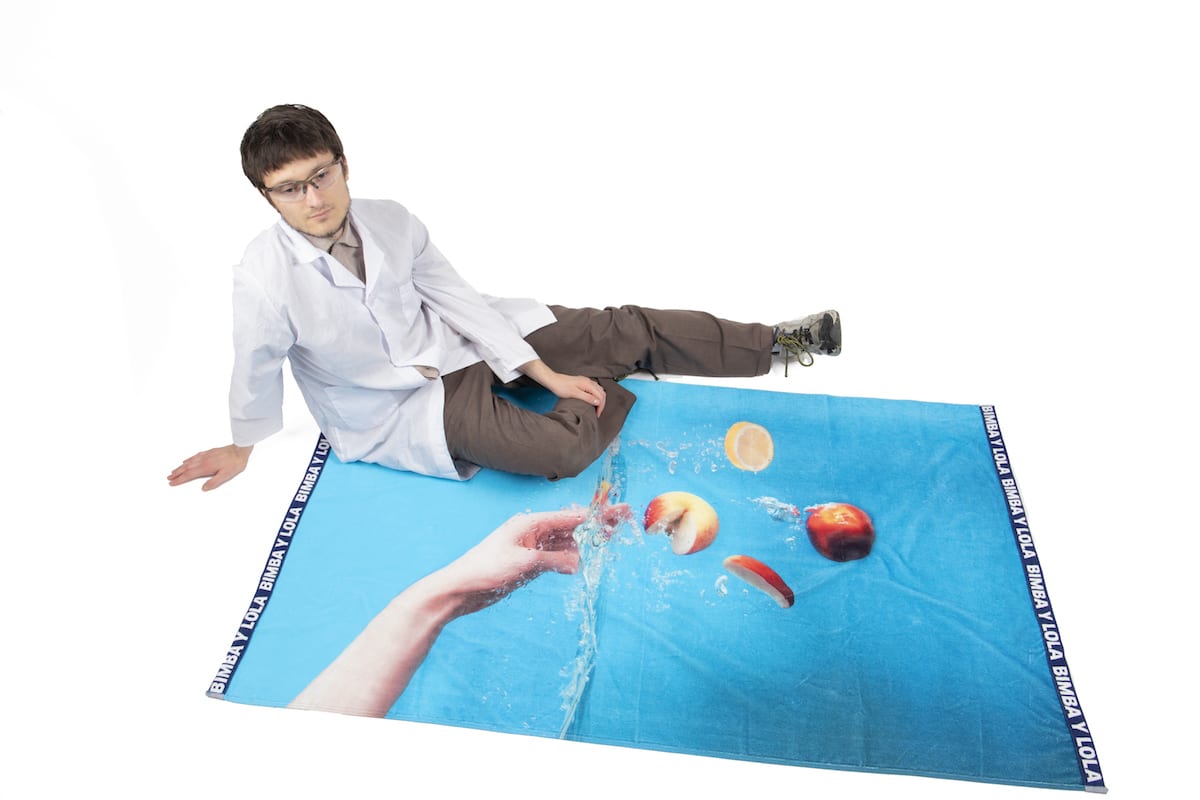 On the occasion of his recent collaboration with Bimba and Lola we talked with him about his understanding of fashion, his inspirations and much more.
–
HIGHXTAR. (H)–  You graduated 2 years ago from Saint Martens – one of the best fashion schools in the world – with a collection that gave a lot to talk about… How has the incorporation to the real Fashion System been?
Dom Sebastian (DS) – It's been a long process really for me to change the way I work and think. For my graduate collection all I was thinking about was concepts and experimenting; not thinking about functionality at all. So it took me a while to get into the headspace of functional fashion.
H – The use of paints, silicones, viscosity… is something very characteristic in your designs… Where does this obsession come from?
DS – I've had this obsession with silicone since 2015. I experimented a bit and just became instantly fascinated by the versatility of the substance. There's a real sensuality to it. I feel like I can use it as a vehicle to convey a sense of atmosphere.
H – How important are the seams in pieces whose maximum exponent is the print?
DS – You have to let the print control the narrative of the shape and the seams. And try not to let any part of the technical construction overrule the print. There's a balance that has to be found.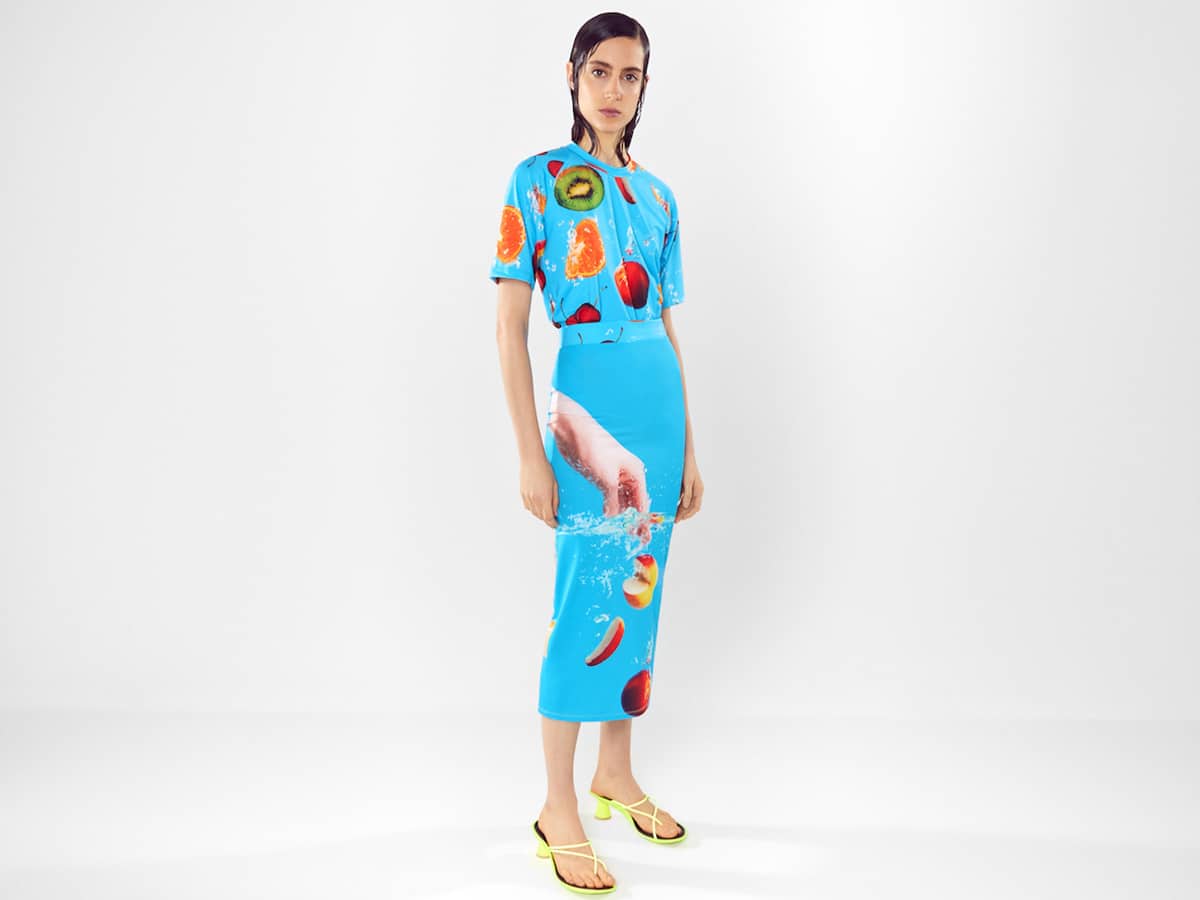 H – We have seen that the proposal you made with Bimba and Lola is very faithful to your DNA. How did this collaboration come about?
DS – I like the challenge of interpreting external ideas whilst keeping faithful to my own style. The collaboration came about in regards to my graduate collection , Bimba y Lola told me what they liked from my work and I started to interpret these ideas for the collaboration.
H – In your case the boundaries between art and fashion are really blurred… What inspires you to create? And in particular in your collection for Bimba and Lola, why did you choose water, tropical fruits…?
DS – Yes, I really like the ambiguous nature of wearable art. I'm inspired by everyday life,  subversion and surreality. Anything extreme that holds my attention. We are in an era of information and media overload, It's hard to capture people's attention.
For the collaboration, I was given a few ideas and boards for reference and I wanted to capture the 'summer feeling' – refreshing, tropical, hot as well as chilled – a mixture of elements that would add up to create this atmosphere.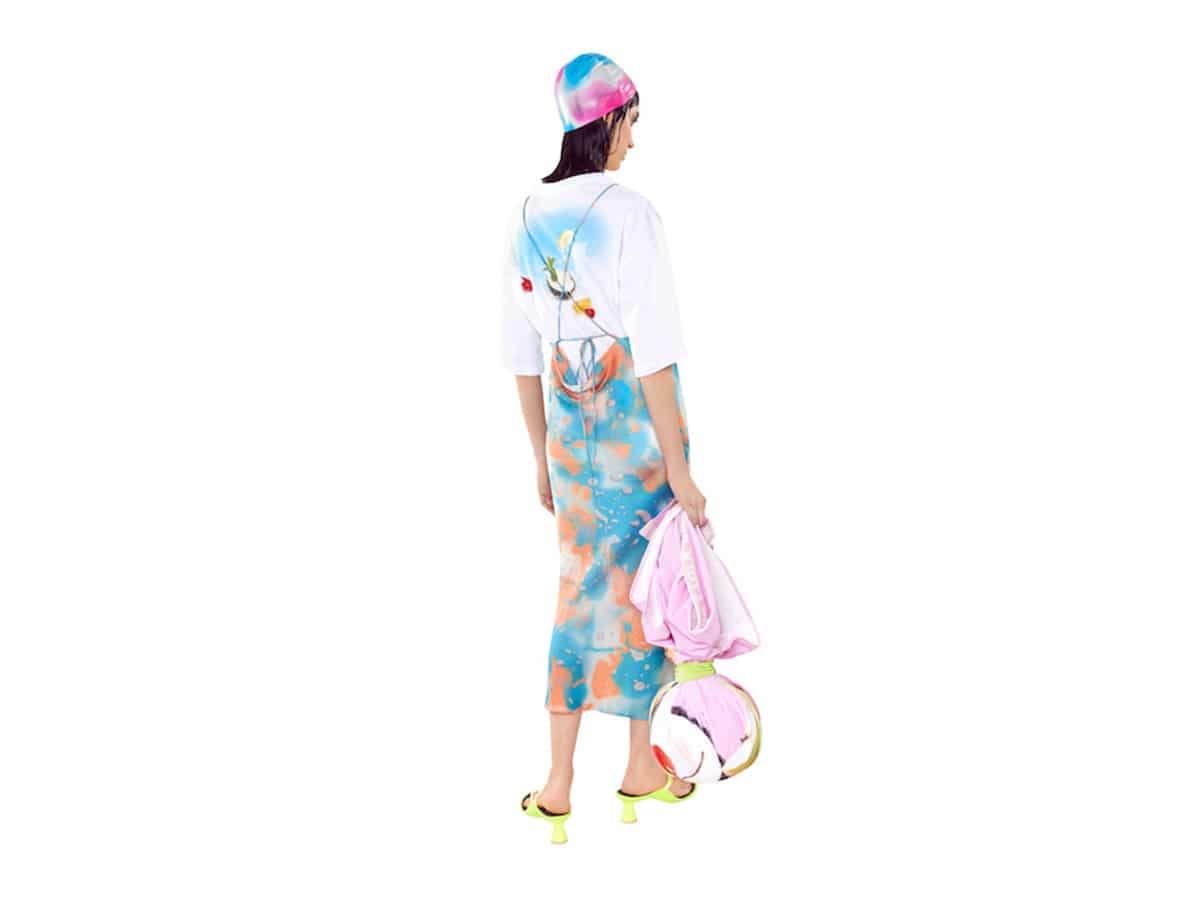 H – What is Dom's creative process like when creating a collection?
DS – It varies from project to project , but I like to create an atmosphere or feeling and build on that , really just exploring freely and working instinctually letting it develop naturally. Overall, I want to create a surreal yet clinical atmosphere. I'm hyper aware of how I'm feeling at all times, so of course that has an influence.
H – Nowadays London Fashion Week has been carried out in a "strange" way and it seems that the same thing will happen with Milan, Paris, etc… Do you think that fashion needed to go through this experience (covid-19) to reflect and change some aspects?
DS – I think the pace at which collections are released can feel quite distasteful. I kind of realised after I did my first show (SS20) , that the traditional 'schedule' wasn't going to work for me; I'm somewhere between artist and designer, I have to take my time with my work.
I think we will start to see an end to the traditional 'seasons'. the experience of the pandemic has forced designers to think of alternative ways to present collections, and not just stick to the traditional runway show format.
H – You are a creator of the digital age – from Tumblr to Fashion Week – how do you think this has influenced your conception of textile design?
DS – I think really it allowed me to create my own path and control my narrative… to have a world of information at my fingertips; and to see textile design as something exciting and experimental.
H – Do you think that soon we will be able to see a second part of Bimba and Lola x Dom Sebastian?
DS – Yes… I can see that in the future!
#mustfollow – @domsebastian