READ IN: Español
Motofumi Kogi, better known as Poggy (@poggytheman), is one of the most influential people on the fashion world circuit and Japanese streetwear. His charisma and vision have led him to grow within the company UNITED ARROWS, to position himself, deservedly, as Director of the UNITED ARROWS & SONS  (@unitedarrowsandsons) concept project.
Poggy, known all over the world for his sophisticated style that he mixes with the purest streetwear and of course for his wide-brimmed hats, has given us a space from his busy schedule to answer some questions about him and about the current panorama of the fashion world. #mustfollow
–
Highxtar (H) – How would you define your work at UNITED ARROWS & SONS?  What would be your ultimate goal within the project?
Poggy (P)  – My title is "Director". When I was a student, I was influenced by street fashion from Uraharajuku in Tokyo. I was keen on brands like GOOD ENOUGH, A Bathing Ape, and NEIGHBORHOOD.
UNITED ARROWS founded in 1989 is specialized at Men's clothing such as suit, which is the opposite of street fashion. I entered the company at age of 20, and have learnt traditional style fashion for about 20 years. As same as the philosophy of UA&SONS (the new concept label derived from UNITED ARROWS brand), my own goal is to deliver fun of dress up in a suit particularly for young people who is now rarely wearing suit. I wouldn't say that young people should wear suit, but I want to tell them that there are so much fun to wear a suit or a jacket and mixing them with street fashion.
H – You are in constant contact with brands and firms all over the world, from your point of view. What can we expect in the coming seasons?
P – I think that 19SS season will be a big turning point for men's fashion.
H – At a time when collaborations occupy almost all the protagonism – UNITED and You know a lot about this – On the one hand… What do you think makes a collaboration special? On the other hand… Don't you think they have fallen into a banal and undervalued terrain due to the abuse of certain brands?
P – Perhaps I think that the word collaboration began to be used in Uraharajuku in 90's. From the first half of the 90s to the middle, Uraharajuku brands were producing basic items by themselves. But when it came to something complicated or items have to be more real, they put some improvement on the original product rather than making from scratch. For example, they added embroidery on American classic varsity jacket. The embroidery motif was SKATE THING's graphic specially made for the brand. Recently, however, these jacket makers have become to partner with agency, so that we have got to say that products are "collaboration". This could be one of the reasons that we now hear the word collaboration more than before.
Also in Uraharajuku in 90's, the word collaboration also had meaning of "respect". Because each brands has its own specialized field. If it was something about motor bike, that's NEIGHBORHOOD, and if it was about Toys, that's BOUNTY HUNTER. Something like that. And they had respects each other for those whose fields which are more detailed than their own. So collaboration was to get in touch with someone's specialty. (I do not think brands were not the first one to said collaboration, but fashion magazines. They used the word so that easy to understand)
It used to be that big maison didn't mention who actually made their cap or hats. It was natural to give out under their maison name. Then it was changed around the time that KENZO collaborated with New Era and VANS. More and more announce of collaboration. And recently, I can see that main purpose of collaboration is becoming for buzz, rather than showing respect… That's exactly your pointed.
H – Any dream collaboration pending to be realized?
P – I'm working on collaboration with a brand which I really like since high school. This is an honor and I'm really excited about it. Coming out soon!
'China has the most powerful market at the moment, so I think that big movement should come out from there too.'
Poggy
H – We're buying more and more online and going to stores less and less. What do you think the future holds for multi-brand retailers like UNITED ARROWS?
P – I would say, a store is more required to exist as one of the media.
H – I don't know to what extent you know Spanish fashion… If you have had contact with our scene… What do you think about it?
P – I've been to Ibiza once, about 5 years ago. That's my Spanish experience so far. I just remind that I found good shoes which never seen in Japan. And those were locally popular for long time.
H – Sometimes we have the feeling that fashion has fallen into a repetitive and somewhat boring loop, in your opinion what brands do you think are destined to break this loop?
P – Maybe not a brand, but new genre or people from outside of the fashion will break the loop and open the door to new ear. But there will always be some points to look back. So there will be a time (trend) that sticks thoroughly with tailoring coming back.
H – The 90s, Post-Soviet, Normcore… What do you think will be the next big movement in the industry in terms of trend?
P – In Japan, post-normcore generation seems to be very in to fashion. They mix various genres, filled with originality and good looking. China has the most powerful market at the moment, so I think that big movement should come out from there too. For the next a couple of years, Luxury Street will keep booming. I'm happy about the trend because I originally liked street fashion. However at same time, to be honest, I keep questioning that is this ongoing situation truly good for fashion. I do not know how many years later, but I think that it will definitely come again when the straight (yet innovative) fashion breathes back.
H – In our culture there is big respect for all the projects that come from Japan, such as Undercover, WTAPS, Neighborhood, Wacko María, etc…. Aren't they mainstream brands… Don't you have the feeling that they are aimed at a more educated public in the world of fashion? Do you think Europe understands the philosophy behind of these projects?
P – It's my opinion. The reason people see those brands with respects in Europe is because it is starting from the opposite way of thinking in Europe.
There are more people who think that "made in Japan" is good.
But in the past, since we cannot overcome the history of Europe by making things (craftsmanship), we adopted street culture, which absolutely not to be defeated worldwide to fashion. That's the 90's. People were fascinated about exclusive items and collaborations. (Even before that, COMME des GARÇONS and Yohji Yamamoto was known worldwide)
In the late 80's, SLAM JAM introduced Stussy, and later on they also brought Tokyo street brands like UNDERCOVER to Italy. In England, GIMME FIVE (Kim Jones was there at that time) has been spreading the attitudes of such brands. Now, New Guards Group and Supreme is focusing & globally spreading about Japanese style at that time. This also helps for people to understand Japanese things even more.
H – This can't be missing :-)… What do you think of the hype culture?
P – It's sometimes good and sometimes not good.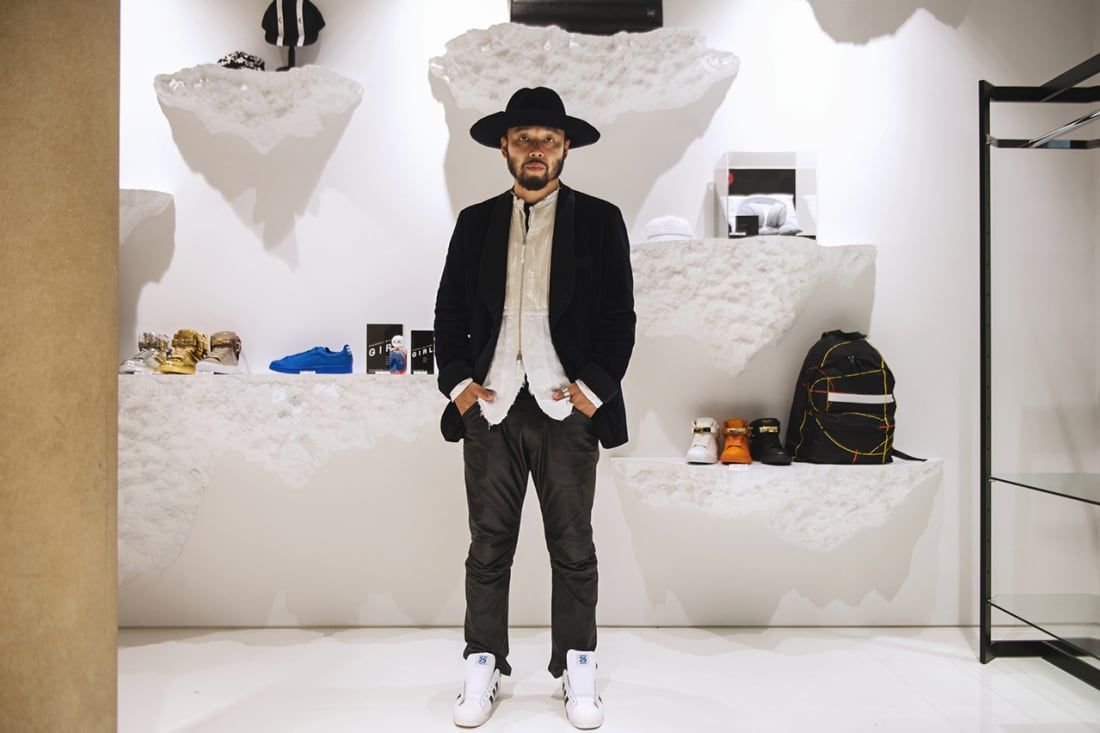 'For the next a couple of years, Luxury Street will keep booming […] to be honest, I keep questioning that is this ongoing situation truly good for fashion.'



Poggy
H – Many times you have been named one of the best dresses by different publications, we also think so… How does Poggy decide what he wears each day?
P – I decide what to wear for the next day before going to bed. Usually consider who to meet and where to go. Maybe it's the best to wear what I like, but I always try to think about the people I meet. (Even I don't look like that, I try to ; ) )
H – ¿How do you define your style? and…  Where does your passion for wide-brimmed hats come from?
P – At the very beginning, I wanted to add classic taste to my style, so I started to wear hats.
But now most of the time people wouldn't recognize me without hat… maybe that's the reason to wear a hat now, haha.
Having no style has been the world trend. However for me, I have and will keep enjoying my own style. Even a plain T shirt could look very you and same as a suit. Style is the things to show one's character (inside). Dressed in my own character is the most fun part for me.