READ IN: Español
David Méndez (@davidmendezalonso), Alejandro Gallifa (@alesdiv) and Alberto Perancho (@albertoperancho) are three friends who decided to join forces and talent to do "their things" and it turns out that now it is something a little bit of everyone: Outsiders Division (@outsidersdivision).
Their collections are pure color, texture, character and much of what good fashion should have, but above all, freedom. These are the ingredients for the fact that only one year after the beginning of their adventure, they have been awarded in two editions of Mercedes-Benz Fashion Talent and the recognition of their work increases exponentially. We talked to the trio to find out what lies behind the inspirations and aspirations of the brand. #mustfollow
—
Highxtar (H) – A brand composed of three creative directors is not common. How did the decision to work on a joint project come about? Is it a strictly professional relationship or does it arise from a more personal bond?
Outsider Division (OD) – It is a personal relationship from which a professional understanding emerges. We were friends before all this started. It comes naturally after spending a long time in an office doing a job we didn't love. We decided to put an end to it and start doing "our things" being ourselves and our own bosses.
H – Apart from being three, you come from different disciplines such as fine arts, graffiti or graphic design. How does this influence your creative process? Would you like to collaborate with someone from a different discipline than design?
OD – All three of us come from the discipline of DIY. We have no special creative process. We collect influences, impulses and ideas on a daily basis and then concentrate them into collections in the most humble way possible. We are open to anything that can happen, we try not to be too prejudiced.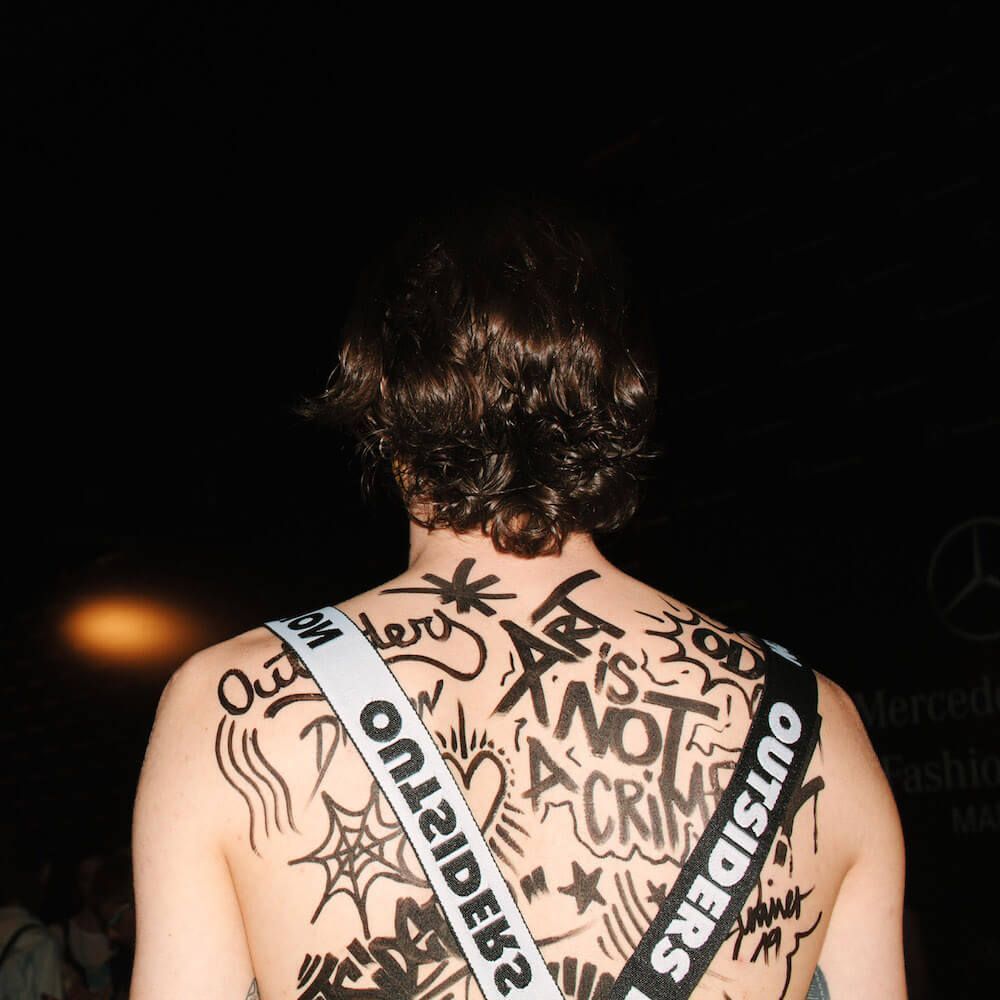 H – From this romance with the world of art and design we can appreciate elements such as graffiti or underground comics, aesthetics that drink from punk or hip-hop. What do urban subcultures mean to you?
OD – Apart from all the sociological and symbolic meaning, they mean a different look and a different way of understanding reality. The subcultures are within our influences, the only reason we refer to graffiti, punk and hiphop is because these currents are part of us in some way. Outsiders Division is a fashion project, we design clothes, shape collections, develop products, take photos, etc. and we are constantly collaborating with other artists. Graffiti, punk and hip-hop is something else.
H – From the exclusive design of caps, the company has evolved and expanded its equipment to produce complete collections, many more caps, belts, bags and even shoes. Do you make any difference between the way you design your accessories and your clothes?
OD – We pay special attention to accessories and it's hard to imagine a finished look without them. The three of us have designed many accessories in the past, but right now we are trying to pay the same attention to the garments. We believe that time will mark the way forward; for the time being we want to continue making complete collections.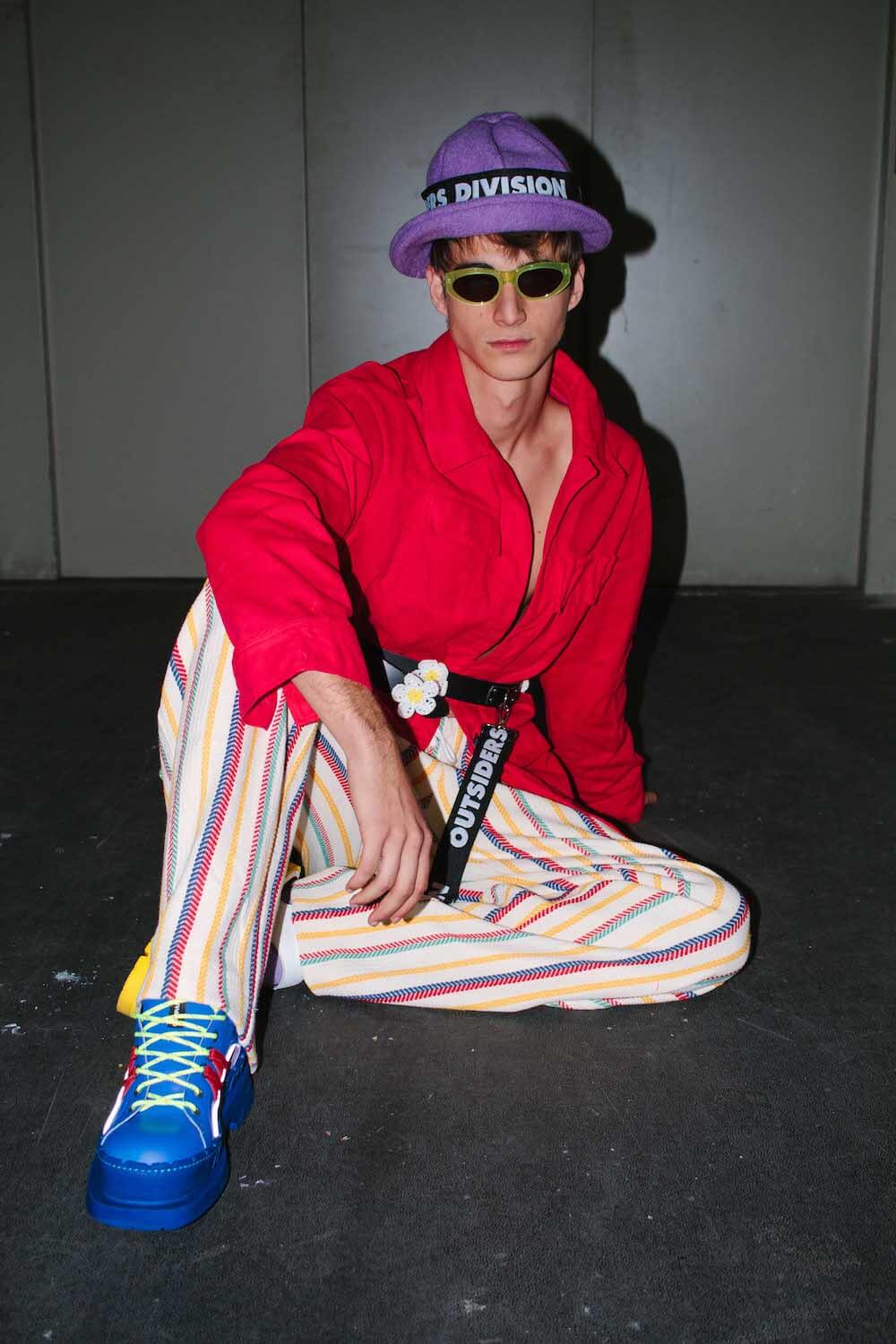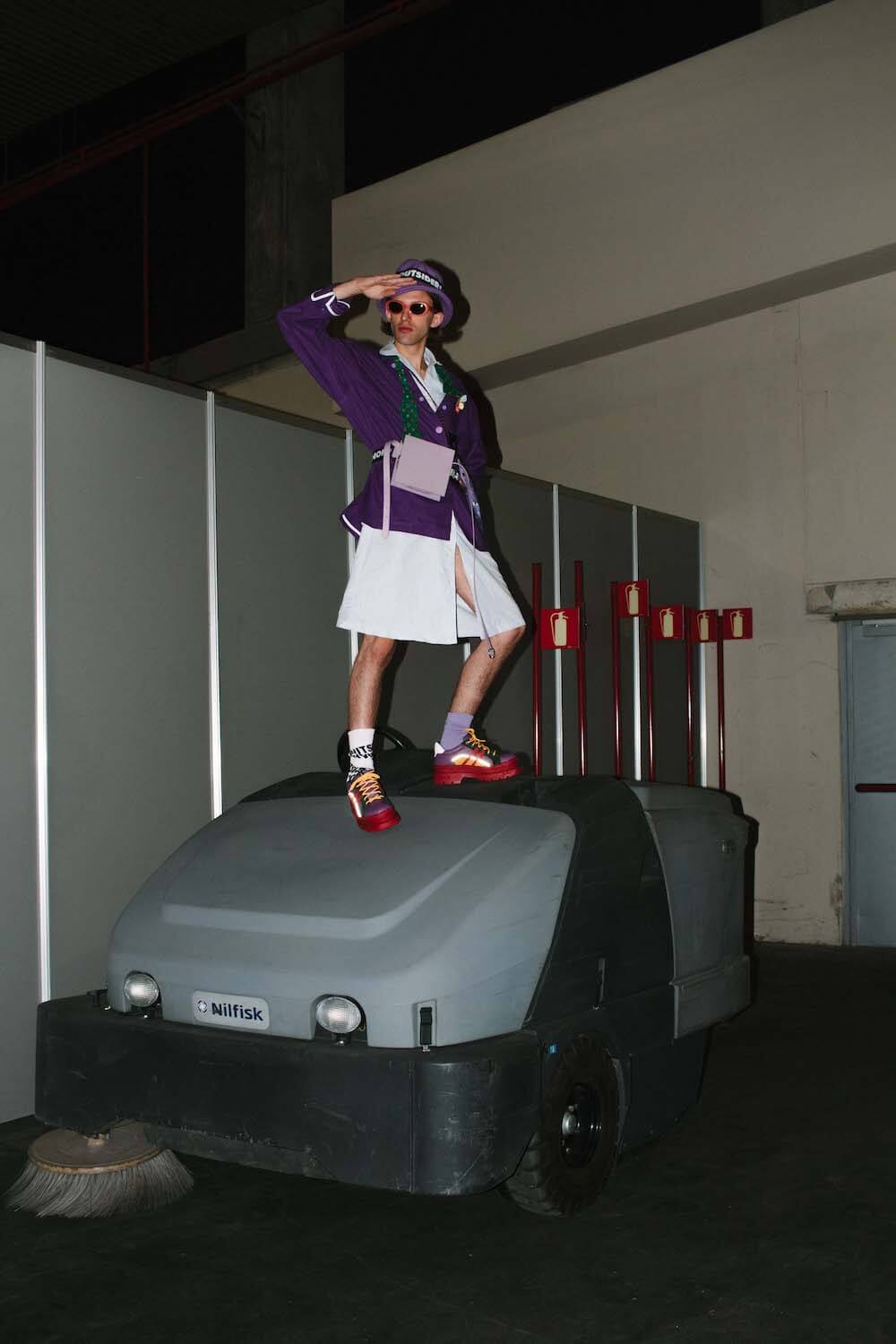 H – Vibrant colors, oversize silhouettes, geometric patterns and artistic facial makeup. The first thing that comes to mind when I see some of your designs is clowns, but does all this have something to do with the circus character?
OD – None of us have ever been to the circus, and in this case it is not part of our imagination, by using basic spot colors you could associate it with a clown, but it is not our intention at all.
"Outsiders Division helps you to find the best version of yourself"
Outsiders Division
H – Clowns, but with that sordid stroke, it's actually closer to the feeling left by a chapter of Don´t hug me I'm scared -that hairy head- Is it your intention to create some kind of uneasiness?
OD – We try to work with opposing concepts to create a nonsense and tension that makes everything coherent. Nothing should be placed where it is, clothes always have a double reading. As for Don´t huy me I´m scared, we all love it.
H – In addition, we can also find childish elements -a teddy bear, pijamas, some accessories and even the bib that appears in Peter Pan. What attracts you from that universe?
OD – We do not consider ourselves childish, even though we are labelled as childish. We don't try to design like children, but we reject maturity and try to relativize as much as possible. If growing up means becoming bored, monochromatic and without the capacity to be surprised, we prefer to live in Never Land. We are prepared to make mistakes as many times as necessary. Our fears are different. Never grow up, it´s a trap!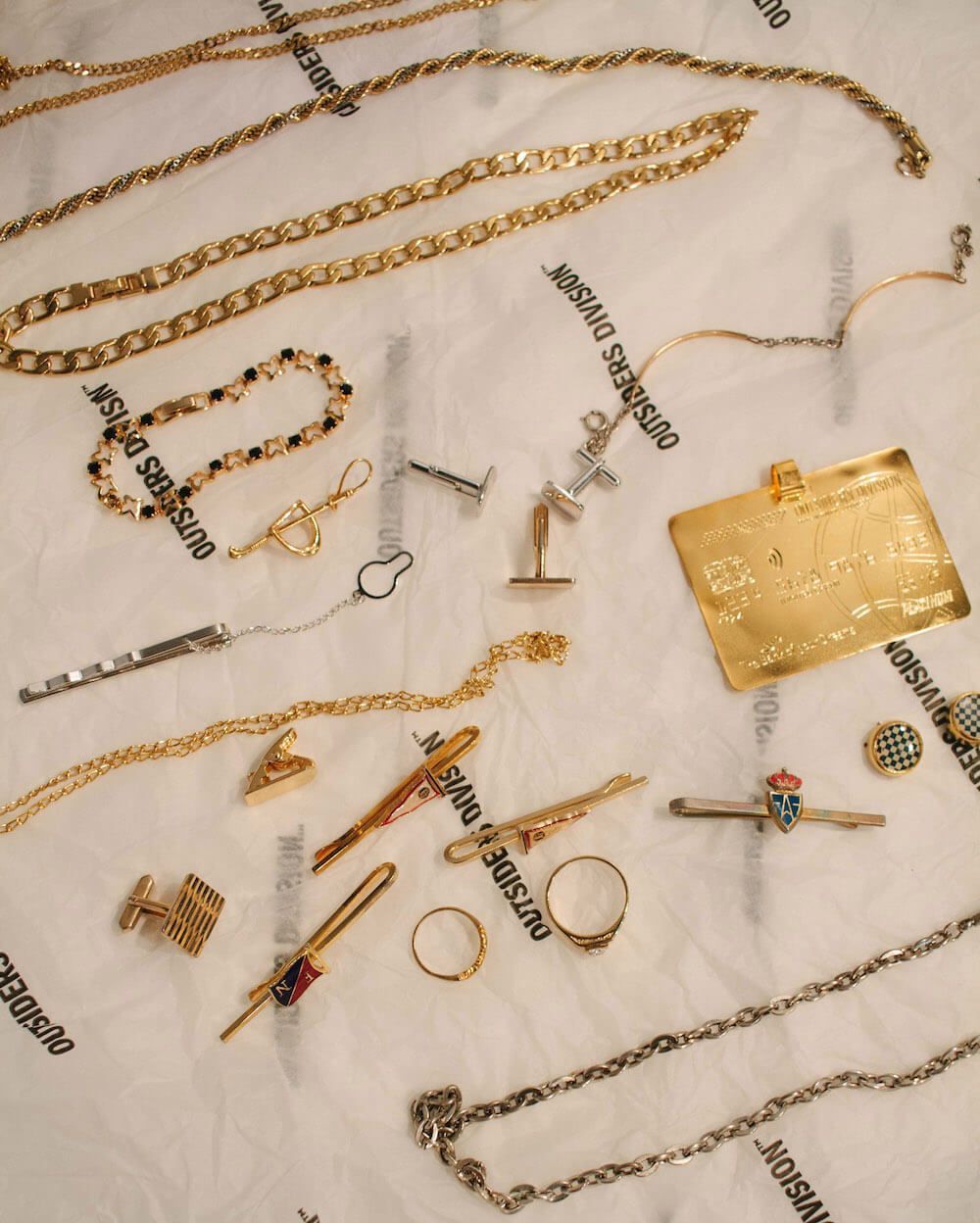 H – Patchwork is a characteristic feature in your work, and you explain it as'a resource that serves to define what you are as a label, a lot of united references that should not have to go together but, when they do, they vibrate. Besides that, the use of fabrics for recycling in fashion is a very positive upside value, what is your position on this?
OD – We always say that Outsiders Division is a huge flag formed with all the pieces of all the flags in the world. Offshoring the brand and adding the subname "Worldwide" is very interesting to us to reinforce this idea.
As for the use of patchwork, we do it because we like it and it gives the garment a technical difficulty that we appreciate so much. We have the feeling of painting pictures with the pieces of fabric, which create a mess and a beautiful chaos that is reflected in the finished garment.
As for the harnessing of fabrics and materials, we do not use patchwork to save or recycle, in fact it makes the cost price much higher. We try to be as honest as possible with our production processes, since we produce in Spain, we do everything we can, but as you know, fashion and the environment have never gotten along.
"

If growing up means becoming bored, monochromatic and without the capacity to be surprised, we prefer to live in Never Land

"
Outsiders Division
H – You like to present yourselves as sensitive boys, and that's actually the title of the spring/summer 2018 campaign. What does it mean in your daily life to show off this sensitivity that is not usually so accepted in men?
OD – It means verbalizing our emotions, understanding ourselves better, being prepared to feel and tell stories in our collections. We're sensitive boys, we live with it, there's nothing wrong with hiding it.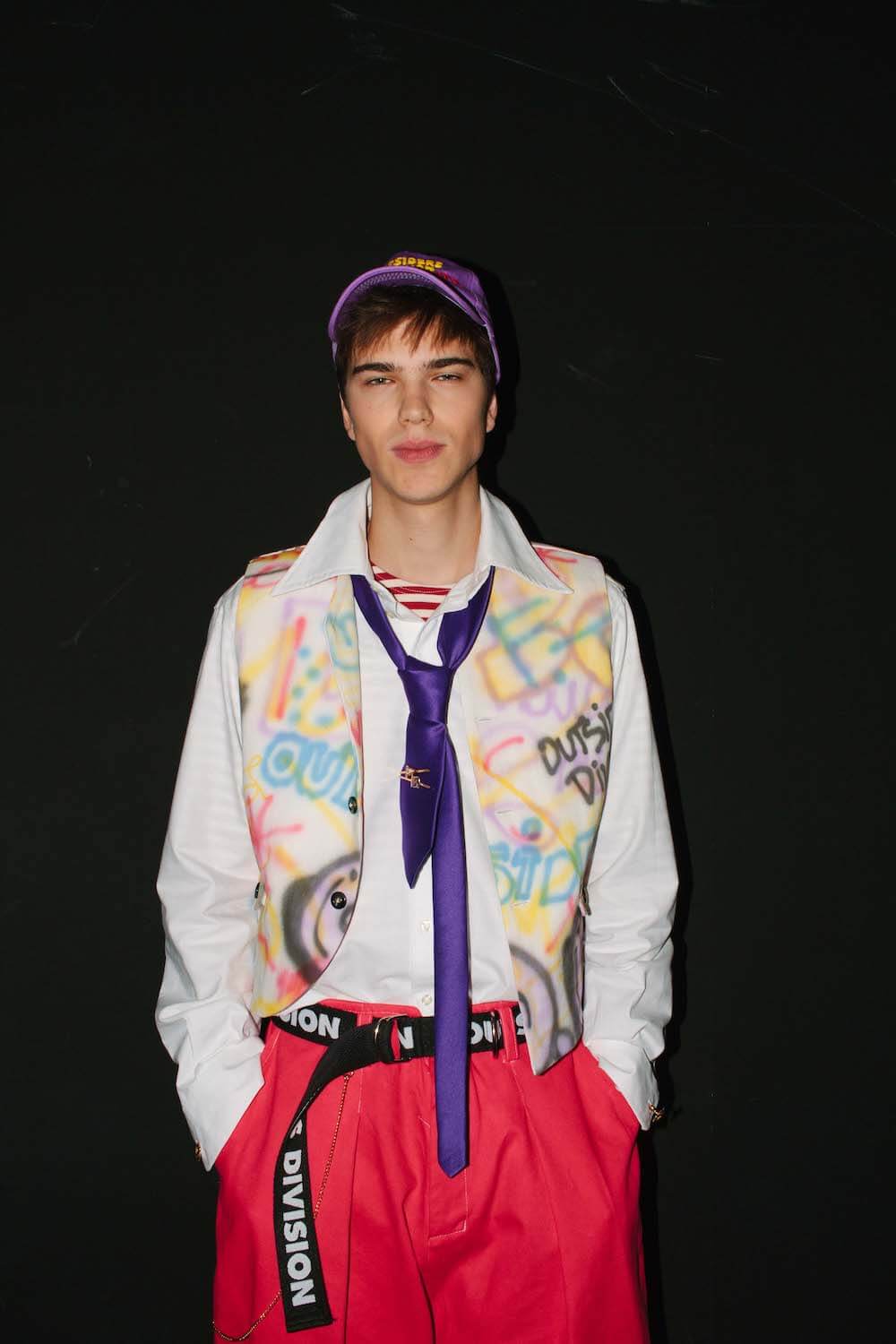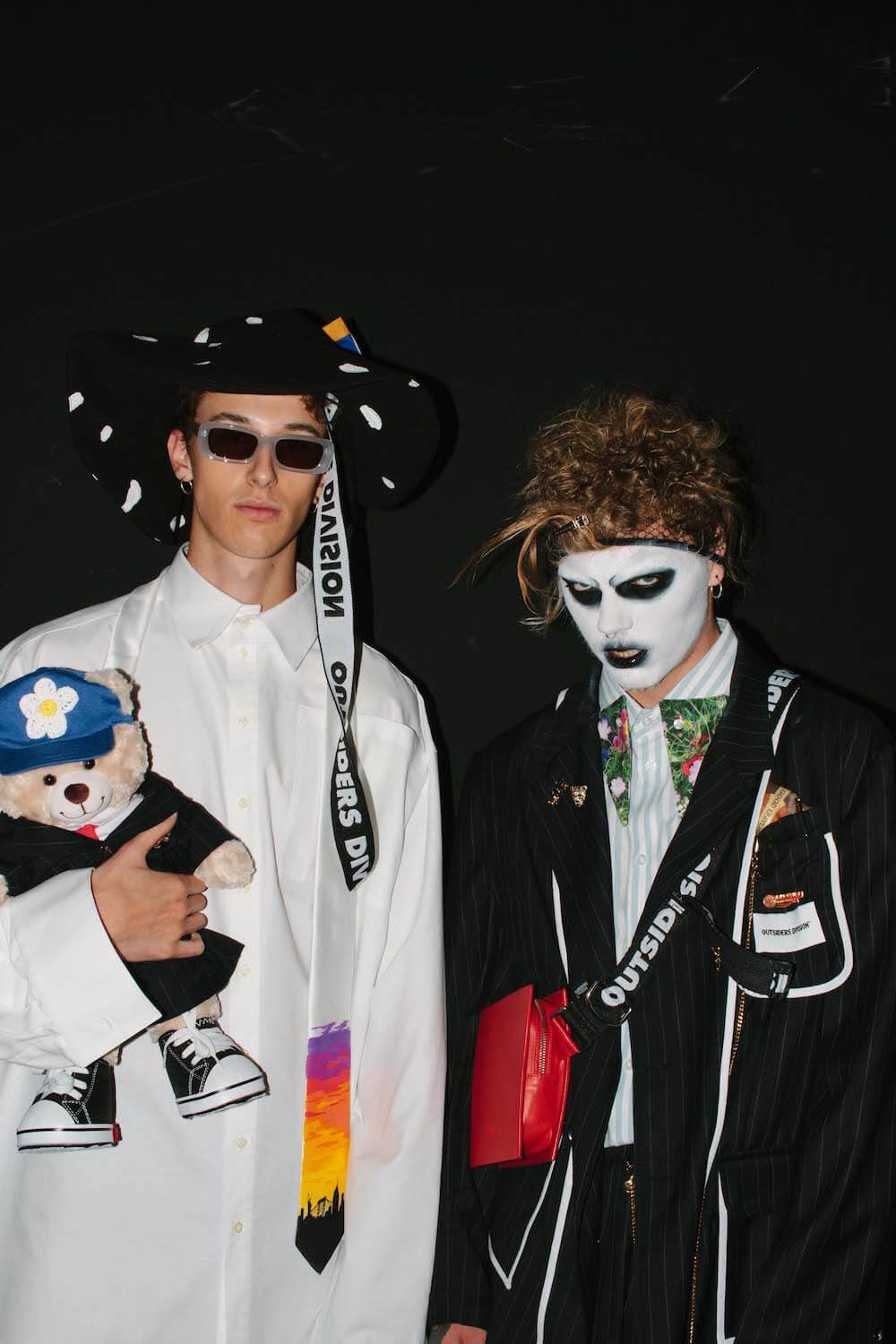 H – Understanding the dualities that exist in both genres is fundamental for today's fashion industry, how do you translate this into your collections? Do your garments have an unisex vocation?
OD – We don't like to position ourselves as a genderless brand, we don't even have a speech in that sense despite designing without keeping in mind gender. We dress boys in dresses and girls in trousers and caps in a natural way, because that is how we understand our fashion and that is how our buyers understand it.
Gender is one thing and fashion another, although clothes help us to build our identity, we believe that clothes should not condition the body on which they are worn, it is people who decide to build their own discourse with them. Outsiders Division helps you to find the best version of yourself.
"We decided to put an end to it and start doing "our things" being ourselves and our own bosses."
Outsiders Division
H – Your latest collection "Ocasiones Especiales" is a tribute to your adolescence and a redefinition of elegance, what would you like to recover from that time? What element of your wardrobe would explain your personal idea of elegance?
OD – A music band t-shirt, your Mickey Mouse tie as a kid, a 70s polo shirt inherited from your father, or a colorful shirt.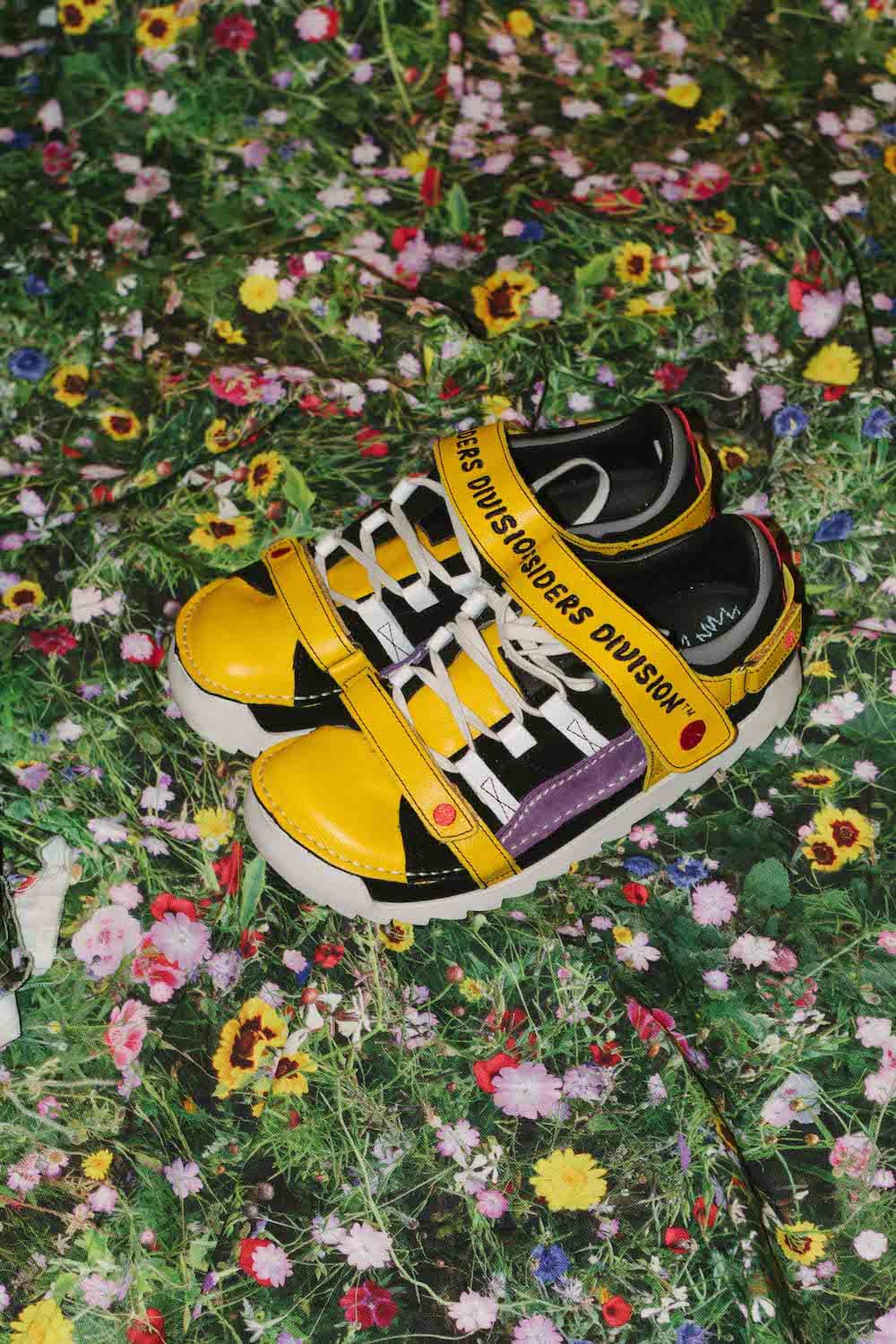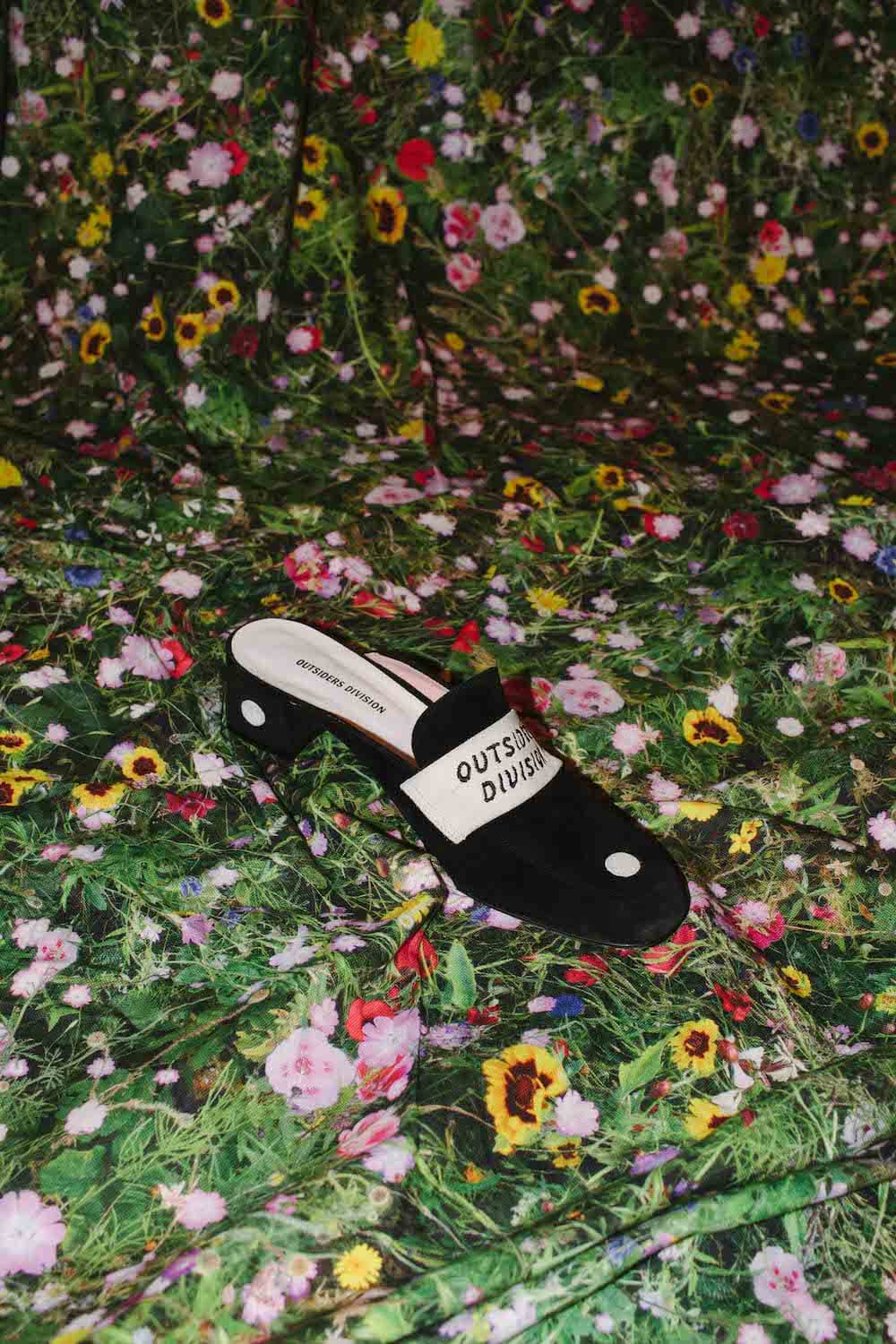 H – It is precisely with this work that you have won the Mercedes-Benz Fashion Talent competition for the second time. After the success of these awards, what direction does the brand intend to take in the near future? What kind of audience do you aspire to address with your designs?
OD – We don't think too much about the future because it makes us anxious. We have some written plans, projects on the way and a lot of things to do. Outsiders Division is growing and we are with it. As for the public, we don't like to talk about ages but about spirit, our products can be worn by anyone.
–
instagram: @outsidersdivision
web: shop.outsidersdivision.com