READ IN: Español
Preciados 25 is one of the most sought-after locations for fashion brands operating in Madrid. Right there, on the corner of Plaza de Callao, Desigual has its flagship store, just a few metres from Puerta del Sol and Gran Vía, in the heart of the capital.
The Desigual team has remodelled the look of this emblematic point of sale in accordance with a new, more serene shop concept with the feel of an art gallery. In addition, in order to enhance the character of the space, the firm has collaborated with the artist Pepo Moreno.
Thus, the interior of Preciados 25 combines an urban and somewhat thuggish personality with the look and feel that Desigual's entire network of establishments will be gradually implementing over the coming year.
Madrid is fu***ng awesome
For Desigual, life is cool. And when it is lived in Madrid and projected to the world, it is superlative. That's why the message on Pepo Moreno's installation in Preciados 25 is an expressive and forceful 'Madrid is fu***ng awesome'.
Printed in HD, Pepo Moreno's piece combines vinyl and ornaments with volume and shows the characteristic style of its author; large oil stains that swirl to generate textures and draw smiling expressions.
These large-format elements reflect a series of essential emotions such as joy or a smile that transforms into a grimace of sadness. "These are very pure, very universal feelings that connect me very much with Desigual and its history", explains Pepo. "With these murals, I wanted to create a moodboard of multicoloured emotions, where there is joy but also sadness. I see these characters as if they were colourful emojis. I wanted to find a way to express diversity and universality without falling into a cliché and for the message to be direct, without beating around the bush", he adds.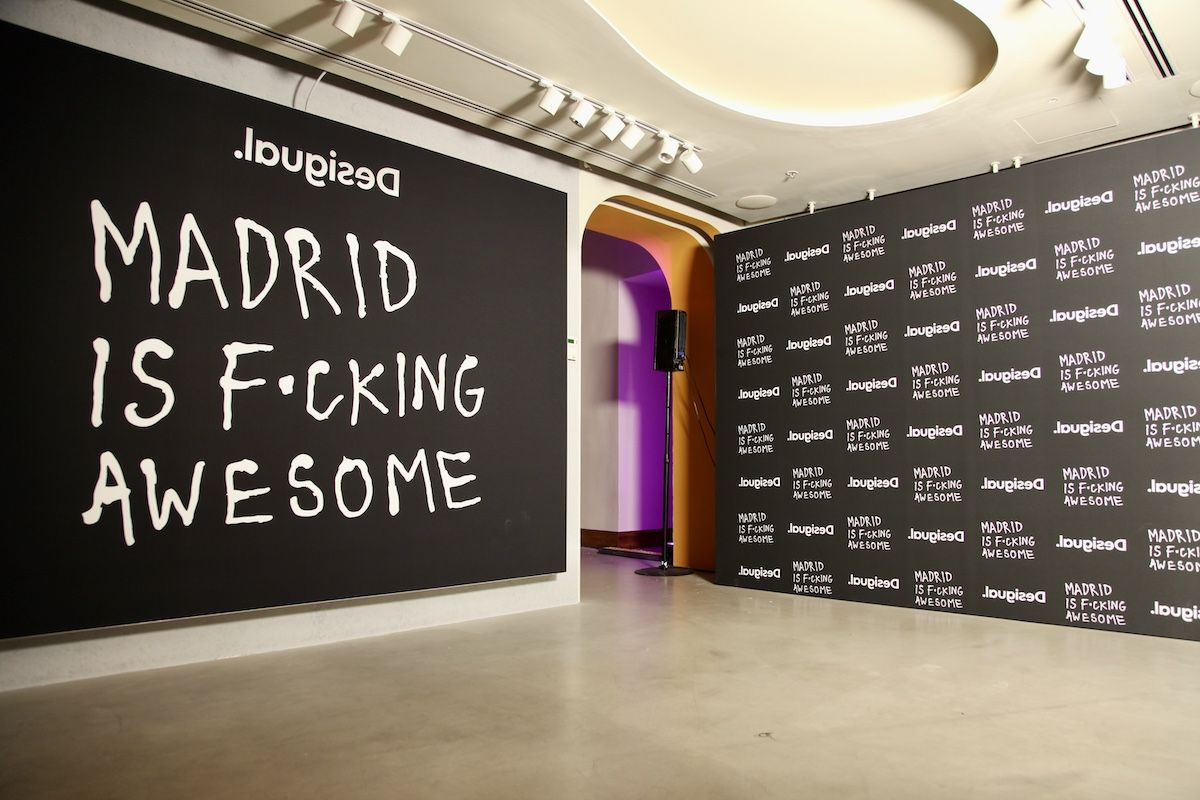 An impactful inauguration
To reopen the almost 1,800 square metres of Preciados 25, located in a historic building in the centre of the city and distributed over four shop floors plus another two for showroom and offices, Desigual organised an inauguration event on Thursday, 2 December.
Among the guests, apart from Pepo Moreno, were great personalities such as the actresses Najwa Nimri and Daniela Santiago; the model Rosanna Zanetti; the singer Natalia Lacunza with a private show for the attendees; and the contemporary dance collective Look at things differently, who performed a choreography on the balconies of the flagship store that could be seen from the Plaza de Callao.
Inspirational and arty
In the flagship store in Madrid, the collections are displayed as if they were works of art. Designs are suspended in the air and illuminated to highlight their beauty, design and colour. Thanks to this inspiration, larger spaces are created to make the in-store experience calmer and more rewarding.
As a frame for this display, imposing images of dreamlike landscapes play at opening metaphorical windows. It is an invitation to embark on a journey whose destination is one's own inner world. This idea stems from a reflection by the brand's founder, Thomas Meyer, and is an invitation to reconnect with oneself through serene spaces and inspiring collections.
Gradual implementation of the new concept
Desigual continues its commitment to take its new shop model to its entire international network of establishments. To date, 58 restyling projects have been carried out, with Preciados 25 (Madrid) and Plaça Catalunya 9 (Barcelona) as flagships. In addition to these, another 25 locations have opened their doors directly under the new concept. In total, by the end of 2021, there will be 83 shops worldwide with this updated image.