READ IN: Español
This month Apple has launched "As Told By Us", a collection of images taken with an iPhone to present the work of a prestigious group of creatives who wanted to capture the past, present and future of iconic locations for the LGBTQ+ community around the world, including Madrid's Plaza de Chueca. The first to take part in this project was photographer Lydia Metral, who tells us about her experience of shooting with an iPhone.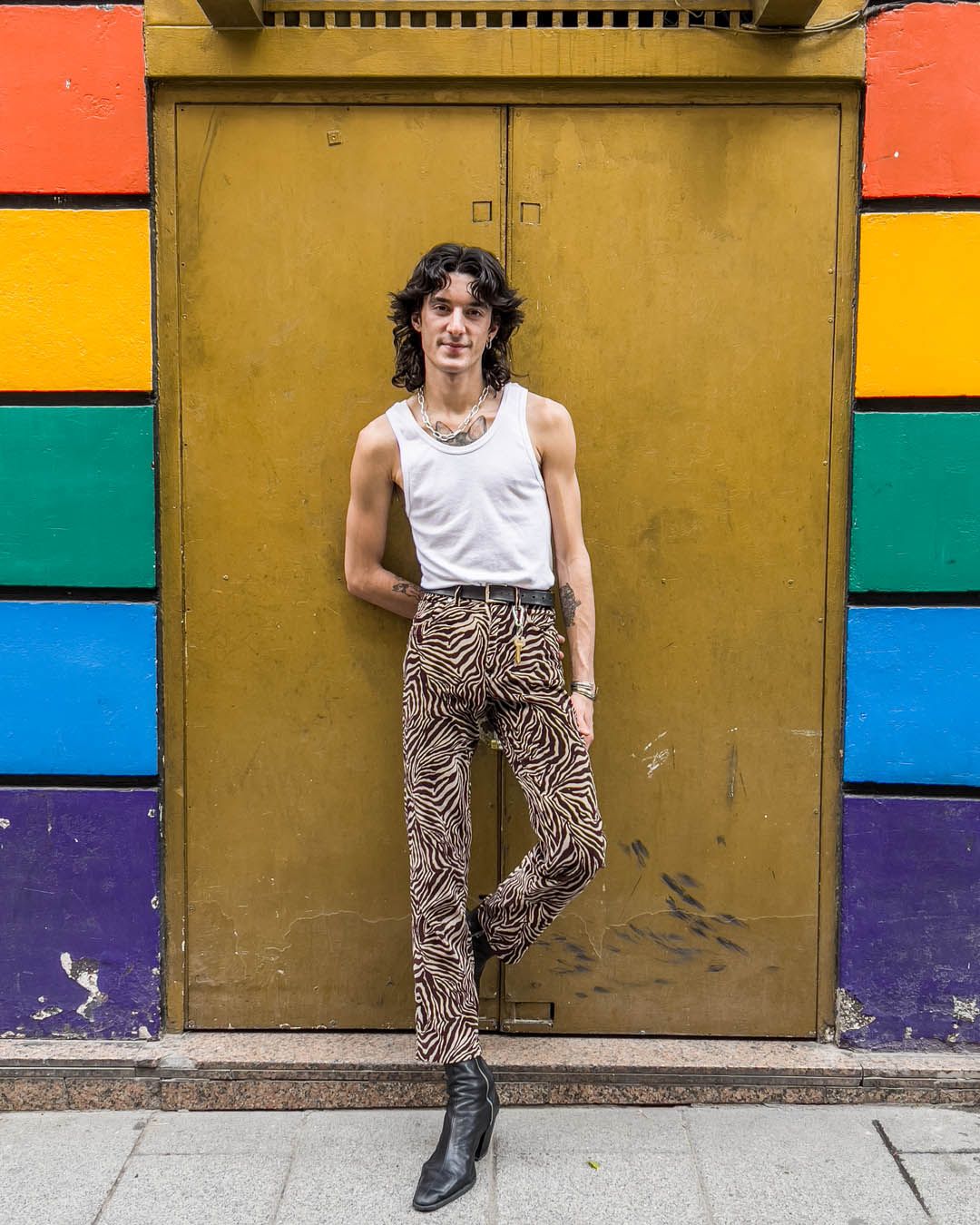 The campaign features photographers from around the world, including Spanish-French Lydia Metral, Evan Benally Atwood, Ryan McGinley, Collier Schorr, Caia Ramalho and creative duo Meinke Klein. Lydia Metral defines herself as "a queer photographer". Born in 1986 in Grenoble (France) and graduated from EINA (Centre Universitari de Disseny i Art de Barcelona) in photography and editorial design, she currently works between Paris and Barcelona for international publications.
In addition to Plaza de Chueca among the selected locations we can find other references of vital significance for the community such as Window Rock, (capital of the Navajo Nation reservation in Arizona and home of Diné Pride); Harvey Milk Plaza, named after Harvey Milk (one of the first activists); Paulista Avenue in Brazil (home of the largest Pride Parade in the world, which broke the Guinness attendance record in 2006 and 2009) and the Homomonument in Amsterdam.
Talking w/ photographer Lydia Metral
Highxtar (H) – Can you tell us a bit about how you approached the creative process for the campaign?
Lydia Metral (L) – I approached the project in the same way as my personal works. My idea was to show different queer people in Madrid's Plaza de Chueca. It was important to me to represent the diversity of this community, so I made sure to include a variety of queer people. I think it's essential to give a voice to the whole community and try to be as inclusive as possible by portraying real and different profiles. That's why I put a lot of effort into the selection of the protagonists. Afterwards, I thought of a specific space for each of them and tried to be as spontaneous and natural as possible, involving them in the creative process so that they felt comfortable. I wanted to represent them as they are, so they had total freedom to choose their style, hairstyle and make-up. I needed them to feel how important their role was in this project.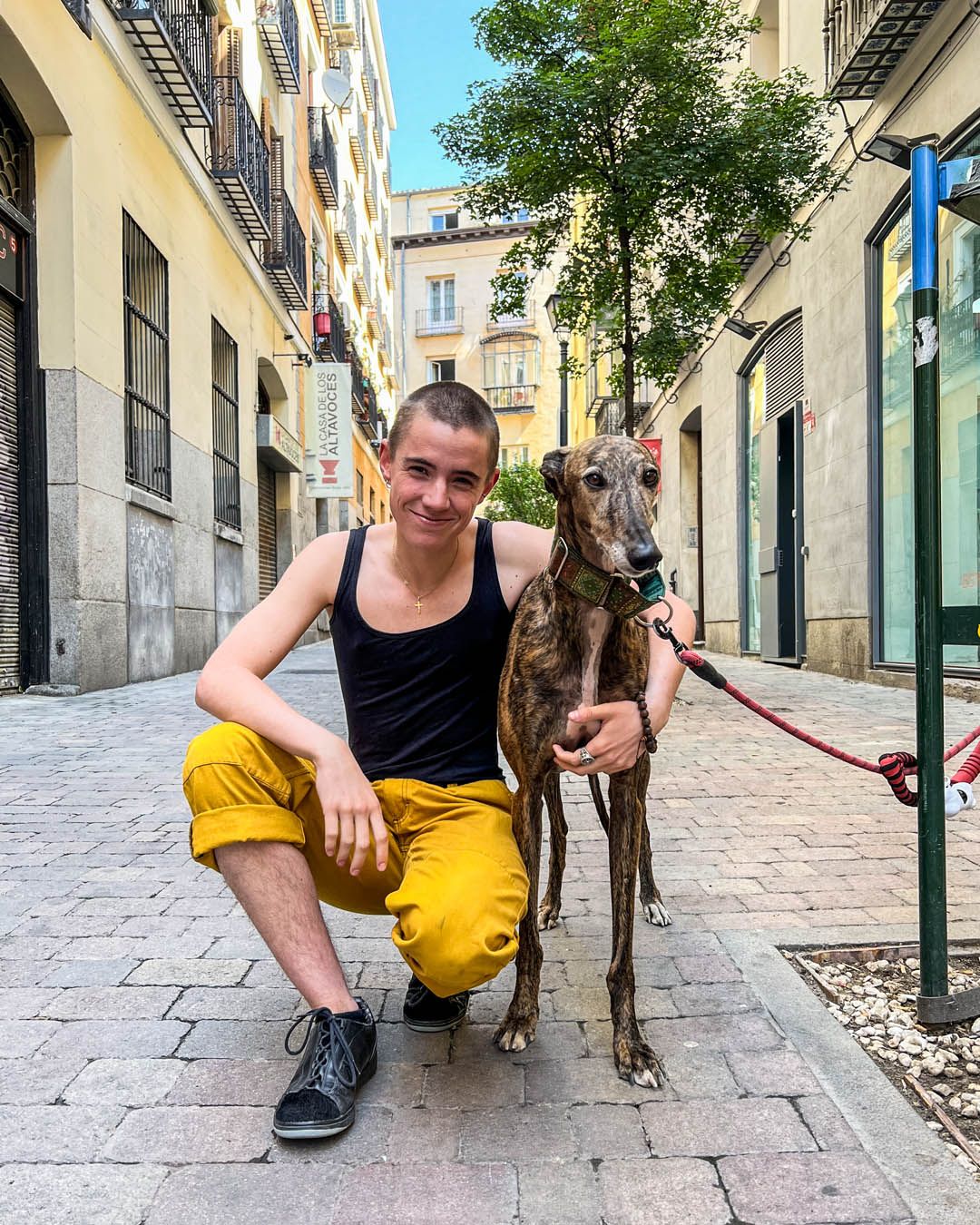 (H) – What was the challenge you found in this project?
(L) – The truth is that the deadline was tight so it was quite a challenge to find the protagonists, but I really enjoyed the process. I have to say that I am very happy with all those selected, they really represent the community and were very generous and spontaneous, which really helped me. I honestly couldn't have found better profiles! And my partner and video maker is the best person in the world, we immediately established a trusting relationship, which helped me to relax and enjoy myself even more. It was a very nice experience.
The sessions themselves were also a challenge. Chueca is a very busy and lively area and we were in the middle of the San Isidro festival. I'm used to working in quiet places, especially working with models from home, so the project meant facing something different, and that made me nervous. So we started in the morning but at that time we had to deal with all the cars and delivery trucks and then wait until sunset to get better light. Obviously, at this time of the day there is a lot of traffic, so it is quite difficult to take pictures, you get interrupted many times. But we managed to do it! We managed to find clearer corners and discover very interesting places visually.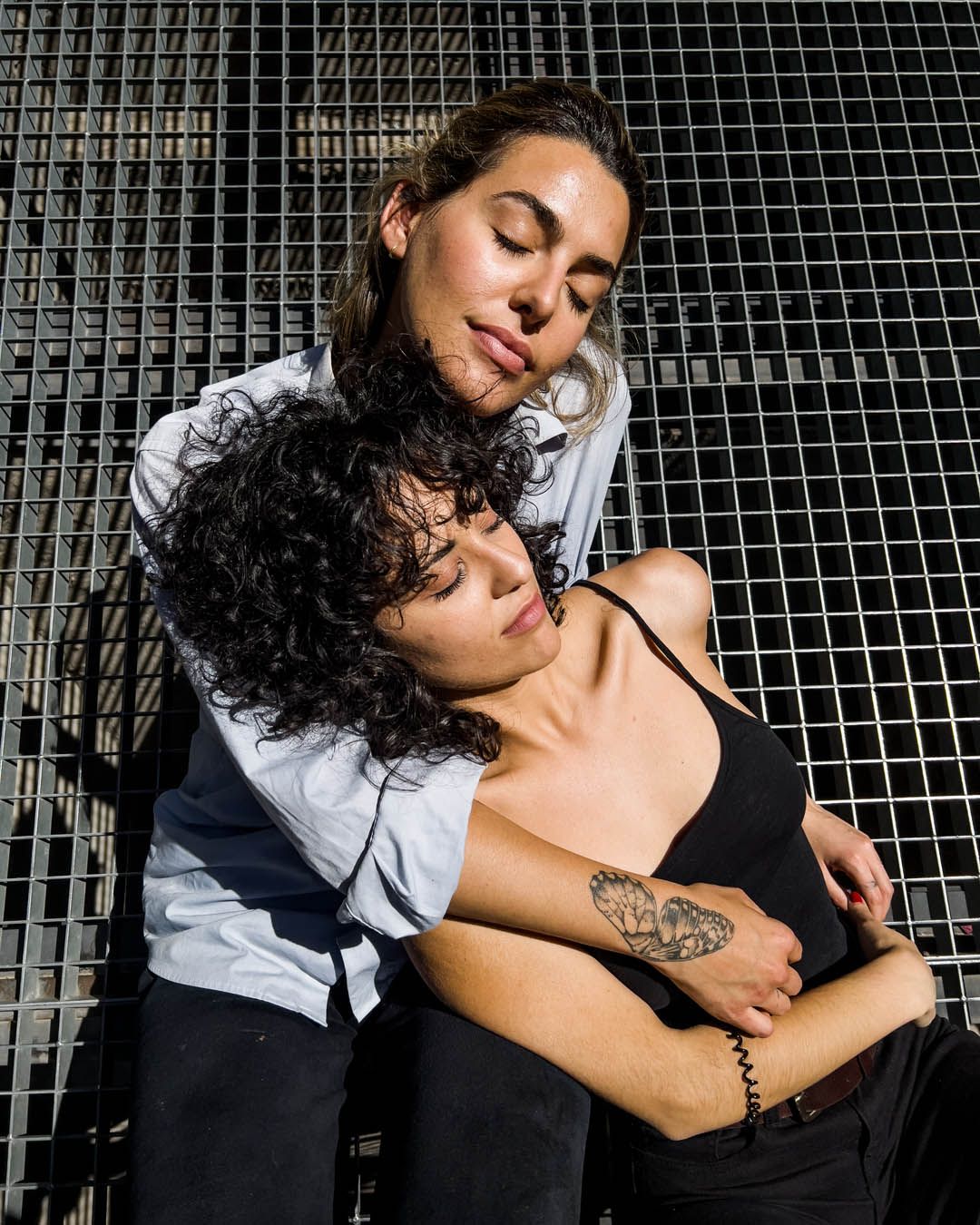 (H) – What is your connection with Plaza de Chueca?
(L) – In 2008 I met a Spanish girl while I was studying in England and we became good friends. Then she moved to Madrid, to a neighbourhood near Chueca. We spent a lot of time there, going out at night to bars and clubs, we met a lot of people. We went a lot to a mythical one right next to Plaza de Chueca, we felt very comfortable and safe and it was a surprise to see that the club is still going after all these years! Madrid is a place where you meet a lot of nice people, there is an incredible energy. I really enjoyed this time in my life and I felt very connected to the area, so it was very emotional to come back to this place after so many years to create a project about the queer community.
(H) – What does Chueca represent for Madrid?
(L) – Chueca is the place where historically queer people met without fearing for their lives. In the 1980s it was a neighbourhood in decline and people from the collective moved there because it was a central place where they could be together without fearing repression as no one dared to enter. So they started to create their community and took control of the area, opening nightspots, bars and shops where they could be themselves and hide from homophobic attacks. The power of the community is to feel safe, respected and understood. Then it became more and more popular and started to be known as a landmark in the city with a very lively atmosphere.
(H) – How has Chueca Square boosted the Pride movement in Madrid?
(L) – The Chueca area is the starting and closing point of the Pride parade held every year in the capital. The Pride movement has grown dramatically, with many young people from the community gathering in the street, hanging out and being able to be themselves. The collective has been very influential and has turned Madrid into one of the most emblematic queer cities in the world. Moreover, this movement has spread to the rest of the country and today Spain is one of the most progressive countries in terms of gay rights.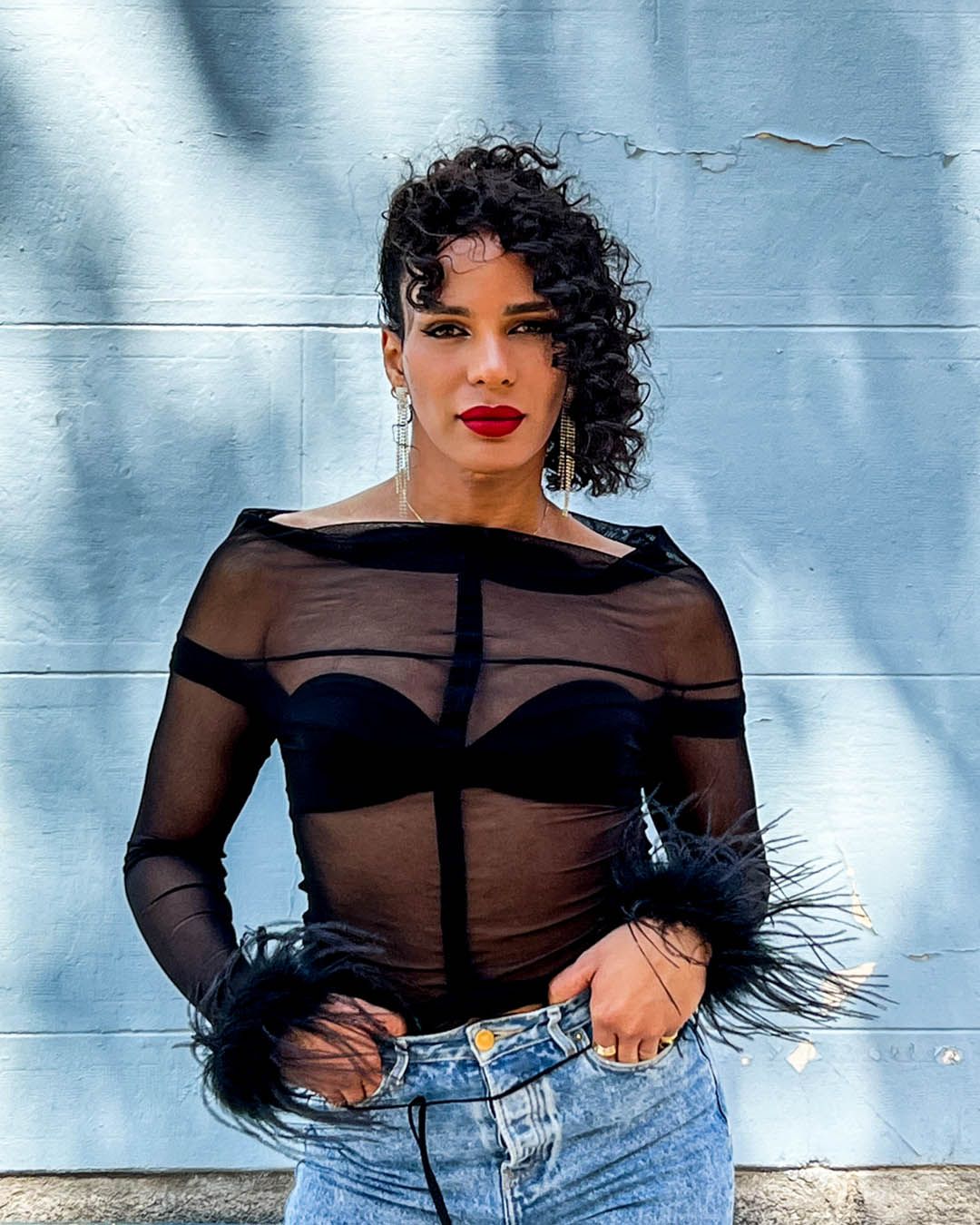 (H) – What do you hope to see in the future for the LGBTQ+ community?
(L) – My real hope for the community is safety. I want the LGBTQ+ community to be able to live their lives without being ashamed or feeling threatened. Unfortunately, there are still many attacks on members of the community and I really hope that we will finally be accepted worldwide. The queer community is so bright, creative, imaginative and intelligent that it will bring so many good things to the world. I want people to ask themselves why they have a problem with us, what do we do to make them hate us? We just want to live a happy life and fulfil our dreams like everyone else. I want better mental health for the future LGBTQ+ community.
(H) – How does this work honour the past, present and future of Pride?
(L) – This work is a tribute to a very symbolic place, which has helped our community to gain more and more rights and to be recognised as human beings. It is important to remember all those who have helped us to be privileged, who have fought for our rights. With this work I want to give special thanks to all of them. It is also a tribute to our current community, to tell them that they are not alone, that we are all together, everywhere and united to show the world how powerful we are. I want today's generation to be proud of who they are and not hesitate to seek help if they feel threatened. I hope this work will inspire the next generation. What we do now, what has been done in the past, will certainly help the future generation to be stronger. It is important to remember, to experience and to give hope.