READ IN: Español
It's not the first time that a brand has used children in its campaigns, in fact, Coperni FW23 stars babies. Now, Balenciaga has presented its "Objects" collection with a campaign that has given a lot to talk about and for which it has had to apologise publicly.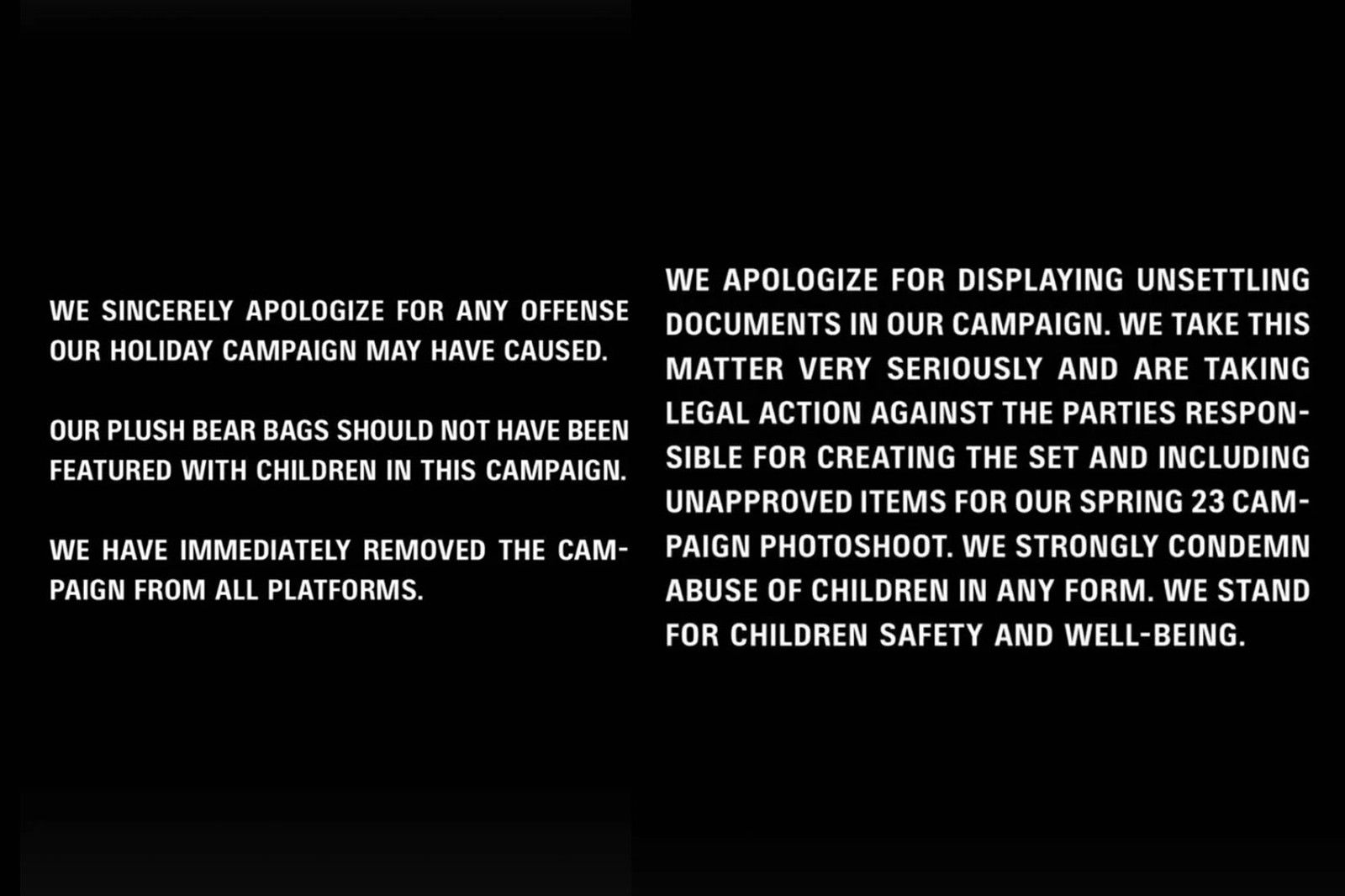 To present its new range of products for the home and the whole family, Balenciaga relied on Italian photographer Gabriele Galimberti, who captured the campaign called "Balenciaga Gift Shop". Although Demna wanted to give it a twist, she went too far and the campaign had to be deleted. He is also in the public eye for showing children with soft toys and BDSM accessories such as bondage harnesses.
Photographer Gabriele Galimberti adapted his art project "Toy Stories" which consists of photographing children with their toys. However, the campaign ended with an apology from the brand on its Instagram: "We sincerely apologise for any offence our campaign may have caused. Our plush bags should not have been featured with children in this campaign. We have immediately removed the campaign from all platforms." 
"We apologise for showing disturbing documents in our campaign. We take this matter very seriously and will be taking legal action against the parties responsible for the creation of the set and the inclusion of unapproved items for our Spring 23 campaign shoot. We strongly condemn the abuse of children in any form. We stand up for the safety and well-being of children". 
the brand "Balenciaga" just did a uh….. interesting… photoshoot for their new products recently which included a very purposely poorly hidden court document about 'virtual child porn'

normal stuff pic.twitter.com/zjMN5WhZ0s

— shoe (@shoe0nhead) November 21, 2022
The campaign features child models looking innocent and holding stuffed animals adorned with accessories and garments associated with fetish sexual practices, such as BDSM, including harnesses, chokers, padlocks and fishnets. Social media users expressed their disgust by calling the images of children "scary", "creepy" and "wrong".
The element that has caused the most controversy has been a text about child pornography that was placed on the table next to an Hourglass bag. "The brand 'Balenciaga' just did an interesting mmm……. photo shoot for their new products, which included a badly hidden court document about 'virtual child porn', normal stuff," wrote one user on Twitter.
Bella Hadid once again stars in a Balenciaga campaign, this time with adidas.