READ IN: Español
What's promised is what's promised and after so many requests, the track "Ateo" by C. Tangana and Nathy Peluso is finally here, with a clip included. After the preview published on social networks where the singer appears pulling the Argentinian singer's hair, alarm bells went off. But as we are used to from Pucho, everything had a background and an intention. 
"I was an atheist/ but now I believe/ because a miracle like you has had to come down from heaven", is the chorus of the new bachata single by C. Tangana and Nathy Peluso that we can't get out of our heads. This Caribbean rhythm is accompanied by a video clip in which Antón Álvarez makes his debut as a director and in which passion and sensual dances invade Toledo Cathedral.
In this new project, Peluso and Tangana are not alone. In the preview they uploaded on social networks, we already saw Elisabeth Duval, Josep Pedrerol, Cayetana Guillén Cuervo and Miranda Makaroff, in a parody video showing a debate programme where they discussed the images in which C. Tangana is seen pulling Nathy Peluso's hair.
At the same time, an audience appears to watch the whole thing with 3D glasses on while eating popcorn. Then there is a series of reports from youtubers who give their opinion on the video and the artist's intentions, while those on the programme discuss the context of the photos and how provocative the clip is. Among the familiar faces we saw Brays Efe, Marta Díaz and María Pombo.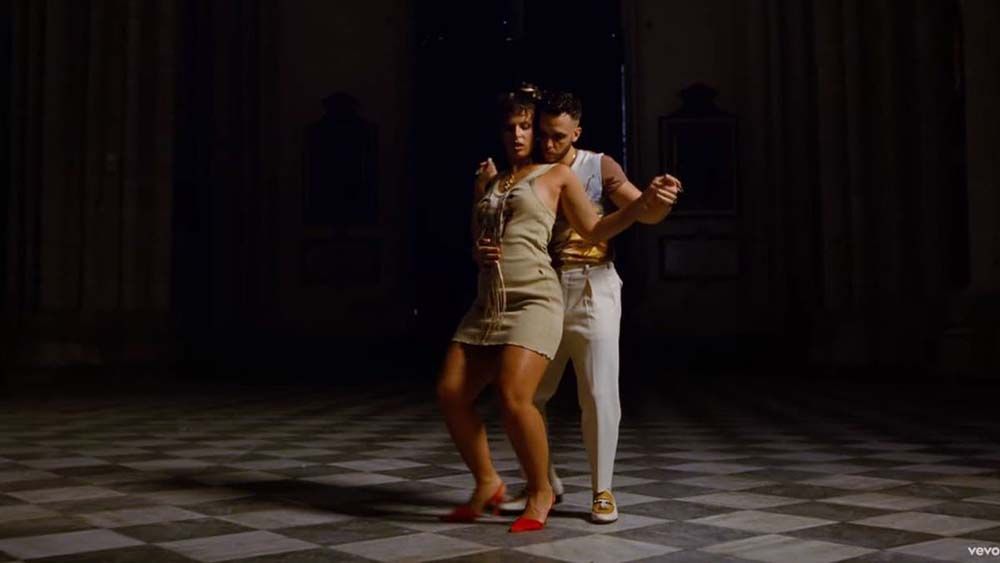 In the background, as the conversation heats up, Peluso appears naked, but pixelated, holding Tangana's head. A nod to the work "Medusa with the head of Perseus" by the Argentinian sculptor Luciano Garbati. A figure associated with women's struggle against sexual harassment and aggression, known as #MeToo, which is reinterpreted by the singer.