READ IN: Español
Nicolas di Felice is still at the head of the creative department of the French ready-to-wear brand Courrèges. The Belgian has been responsible for bringing the brand back into the fashion system and making it one of the hottest brands of the moment. This fashion week he did not hold a fashion show and preferred to present his proposal for the next spring/summer 23 in a presentation format.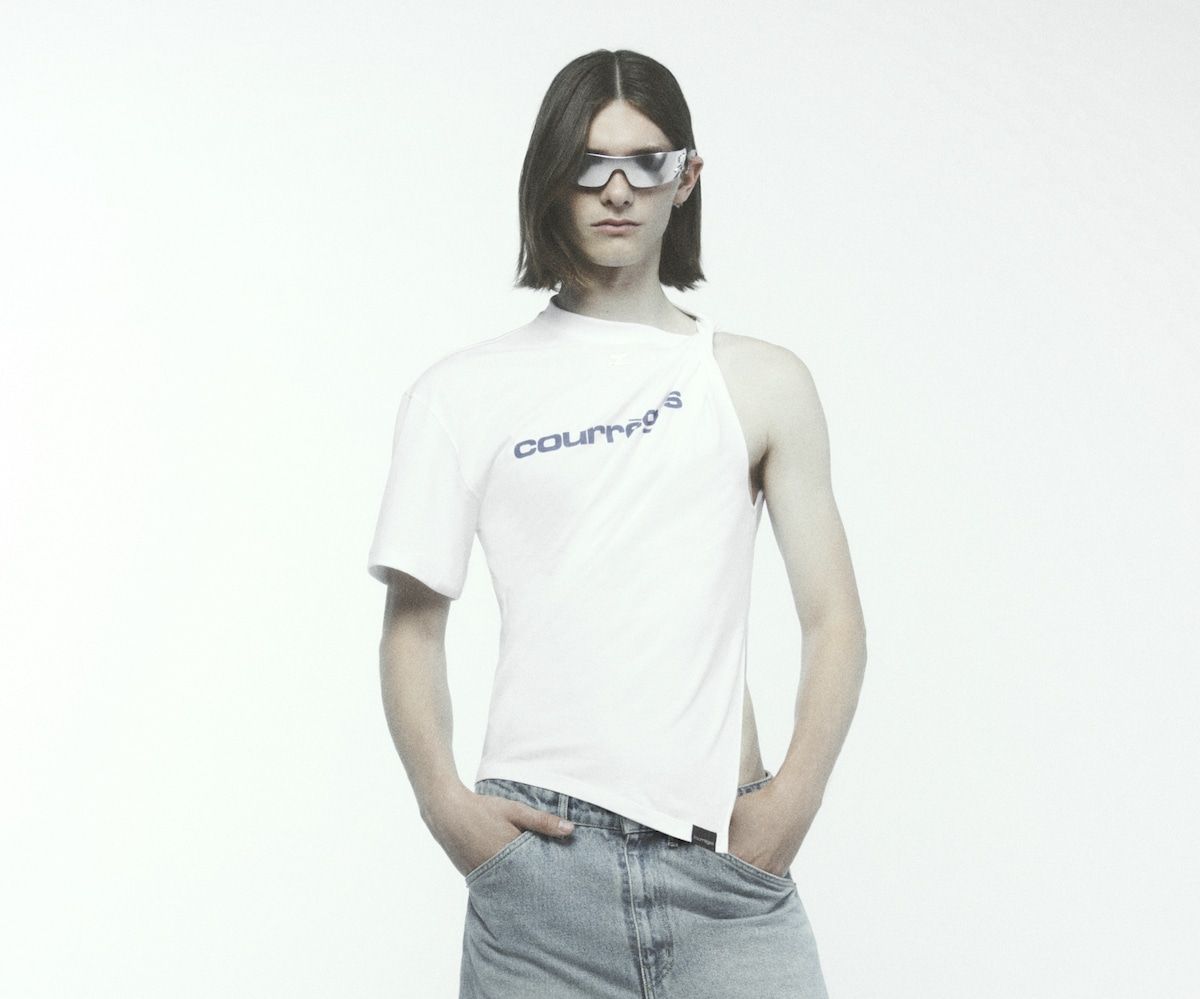 The collection comes as a variation of movement and has the impulse of the gestures and rituals of summer. Every moment is decomposed, every piece can be put on and taken off, even to the point of nudity. The beach as the pole of gravity: hands in the air, the wardrobe slung over the shoulder. A collection like the summer sensation. Wheels on the burning asphalt; a motorbike races towards the beach. Next to it, at sunset, surfers undress in a car park. The night, the party, the feet are bare on the sand. The dance heats up, excess clothing is wrapped around the waist, tied where it can be tied. The wardrobe modulates itself: nothing must stand in the way of summer and its freedom.
A faux fur strap is responsible for linking and connecting the entire Courrèges collection. On a large windbreaker parka, on a suede jacket, on faded denim, on a coat with heritage details (horizontal piped pockets) declined in leather or suit. As can be seen in the images, we find the strap on the back of the leather biker jacket, inspired by a 1981 neoprene suit straight from the House's archives, flanked by a tattoo-like logo, which coincidentally is the same as the one that inaugurated the first men's line in 1973.
Having explored the archetypes of urban countercultures, Nicolas Di Felice, faithful to his "rave" aesthetic, skilfully details those of the beach. Pearly jewellery, surf shorts or trousers, bathrobes or swimming costumes and these T-shirts twisted by a wave or a gust of wind. Bags are also for the summer and for the night. It's time to present the Shark bag and the berlingot bag that stands out for its geometric print and the integrated and profiled strap that resembles a shark's fin.
Always playful and total, the Courrèges by Di Felice universe tends to be more casual. Vintage is assumed – in a logo, in a very seventies cotton mesh or in the print of a jacket that comes directly from the iconic vinyl jacket. But the silhouette that emerges carries the beginnings of a new language where the trainer rubs up against sharp unisex leather jackets. Between the reinvented past and the near future, the collection exists outside of time.
Check out the gallery to discover the collection in its entirety.