READ IN: Español
A month and a bit after Diesel, the company founded by Renzo Rosso in 1978, entered the exclusive ranking of the most popular/desirable brands of 2022 according to Lyst and just a few days before its eagerly awaited show in Milan during Fashion Week (MFW), the brand has decided to unveil its fall/winter 22 campaign.
Literally larger than life, Glenn Martens – Diesel's creative director – brings a world of dressed giants to a metropolitan setting in which the campaign models become billboard cut-outs sporting next season's creations and merging with the skyline of an urban landscape, rivalling the scale of the architectural towers that tower above.
Photographed by Johnny Dufort, with art direction by Chris Simmonds and creative direction by Glenn Martens, the "Larger-Than-Life" campaign creates a bold juxtaposition between the imposing scale and structure of the city's skyscrapers and Diesel's bold human element. The models' poses exemplify Diesel's iconic attitude of optimism, rebelliousness, sexy irreverence and playfulness with unabashed confidence.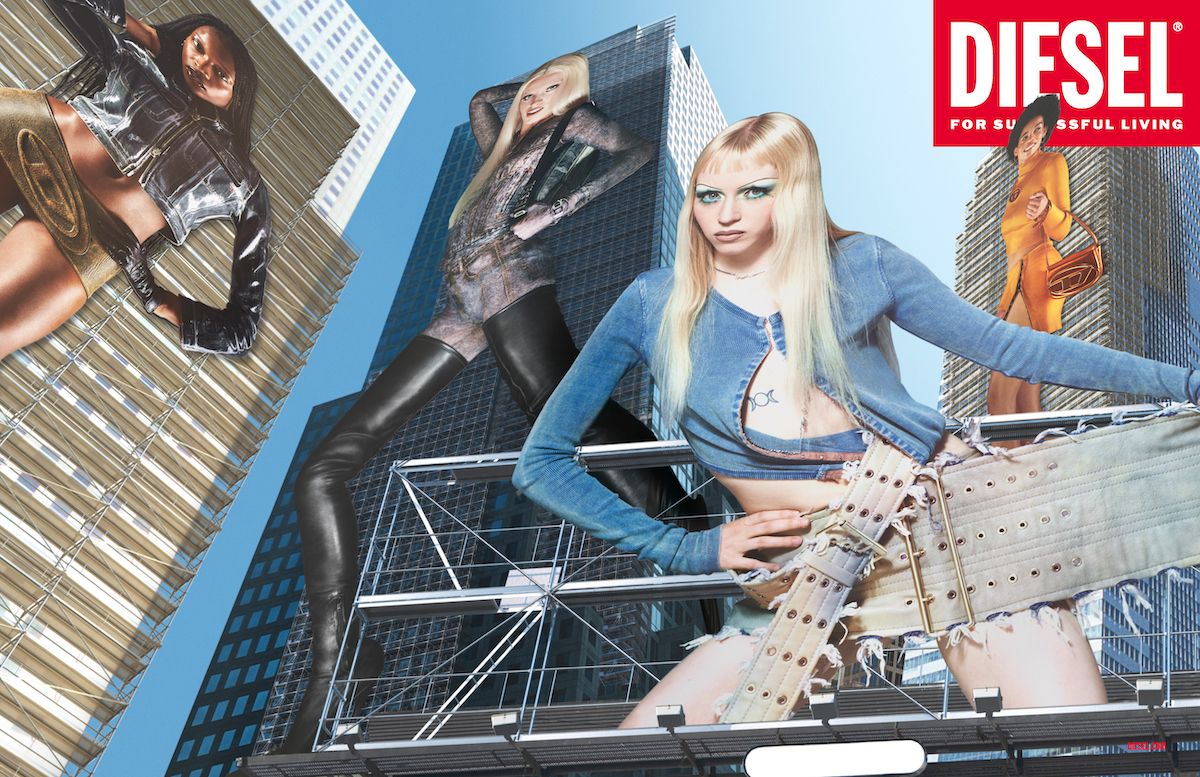 The collection showcases Martens' vision of the Diesel world: denim, experimentation, rebellion, playfulness.  Diesel's seminal signage is applied in responsibly printed wool garments and reversible balloons, while the Diesel D-ring of the show returns with bold metallic pop dresses, cropped tops, belts and shoes.
Denim goes post-modern in fluid trompe l'oeil print on skirts, bags, trousers and shirts, some of them in a mix of mixed material with "real" denim. The pure denim pieces are layered with additional texture through frayed hems at the pocket or waistband, or flexible inserts joined in washed red or white. The recycled T-shirt is bonded to the denim to create handcrafted "Peel Off" pieces, as if fly posters had been stripped from a wall.
How would you rate Diesel's new campaign? We won't tell you ours, but it's a very, very high score.
Check out the gallery to discover Diesel's FW22 campaign in its entirety and go to the top of the article to see the accompanying video.