Rosalía already warned us yesterday: today, Monday 18 April, she announced important information. And SO IMPORTANT: Motomami World Tour is finally here after a long time without being able to enjoy the artist on stage. Make a note of the dates and organise your calendar because NO ONE CAN MISS IT.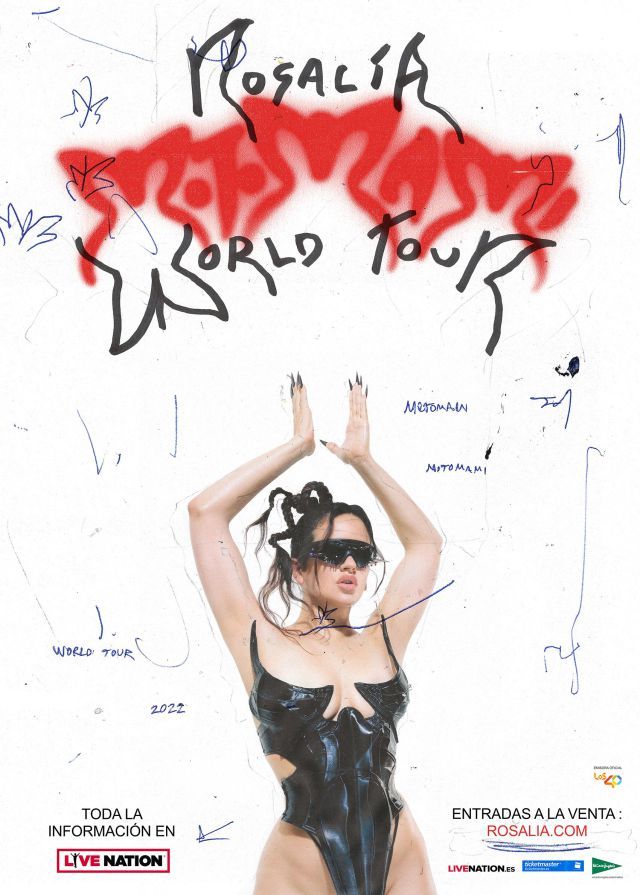 An international tour that will take in ten Spanish cities, starting on 6 July in Almería and ending in Palma de Mallorca. His most personal album, Motomami, will also be presented in Seville, Granada, Fuengirola, Valencia, Bilbao, A Coruña, Barcelona and Madrid, repeating two nights in each of the last two.
In addition, the Catalan singer will visit other countries such as Brazil, Chile, the Dominican Republic, Mexico and the United States, among many others.
Tickets to attend the MOTOMAMI WORLD TOUR will go on sale next Friday, April 22nd at 10:00 a.m. through Live Nation. In addition, a pre-sale will be organised from Wednesday 20th at 10:00 as well.
MOTOMAMI WORLD TOUR – SPAIN
Almería – 6 July
Sevilla – 9 July
Granada – 12 July
Fuengirola – 14 July
Valencia – 16 July
Madrid – 19 y 20 July
Barcelona – 23 y 24 July
Bilbao – 27 July
A Coruña – 29 July
Mallorca – 1 August
MOTOMAMI WORLD TOUR – RESTO DE PAÍSES
Ciudad de México – 14 August
Guadalajara – 17 August
Monterrey – 19 August
Sao Paulo – 22  August
Buenos Aires – 25 August
Santiago de Chile – 28 August
Bogotá – 31 August
La Romana (Rep. Dom.) – 3 September
San Juan – 9 September
Boston – 15 September
Nueva York  – 18 y 19 September
Toronto – 23 September
Washington D.C. – 26 September
Chicago – 28 September
San Diego – 2 October
San Francisco – 4 October
Inglewood – 7 y 8 October
Houston – 12 October
Irving – 14 October
Atlanta – 17 October
Miami – 22 October
Oporto – 25 November
Lisboa – 26 November
Milán – 1 December
Berlín – 4 December
Düsseldorf – 7 December
Ámsterdam – 10 December
Bruselas – 12 December
Londres – 15 December
París – 18 December
Sigue toda la información de HIGHXTAR desde Facebook, Twitter o Instagram