Full of energy and happiness, Colm Dillane talks as enthusiastically about his frustrated love of soccer as he does about his path to the top of fashion with his work at Louis Vuitton. Raised by an artist of Spanish origins, Mama Super – with whom we also spoke – and Papa Super, an Irish businessman, all three have traveled and lived in many parts of the world. All this has had a profound influence on the young Dillane and his outlook on life, including his time playing soccer in Brazil before he got to work with KidSuper.
His work on Louis Vuitton Men FW23 has catapulted him to unprecedented recognition but Colm has kept his feet on the ground. He never thought, nor intended to get with fashion to where he is now, not thinking of success as a goal but rather the art of surviving by being a creative. This way of thinking is what keeps him humble in an industry where delusions of grandeur are all too common.
In his brief visit to Spain, a country to which he is very close because of his maternal family, we spoke with him about his Louis Vuitton runway show, his brand KidSuper, his conception of success and his journey from making T-shirts in college to being the first designer in history invited to create a collection for Louis Vuitton.
HIGHXTAR (H)- How are you? How was coming to Spain?
COLM DILLANE (C.D)- It was a surprise for my mum's birthday. And she cried a lot when I arrived, so I think it was a good surprise.
(H)- What projects are you working on now? Your mother told us you were with the New York studio and all that.
(C.D)- I have a studio in New York which is about 10,000 Sq ft. It's very big. And I'm going to make a store, a gallery, a recording studio for music, and if everything goes well, I'm going to make a soccer field on top of it. But I don't know when it's all going to be finished; it's a very big project and I also have as always the Fashion Week shows that never stop. Every six months I have to do another one and I have to come up with better ideas than the previous show.
(H)- Will you continue to show in Paris?
(C.D)- Yes. When I did my first show in Paris I didn't know it needed to be done in the same city every time. I thought I could do Paris, Milan, New York, Spain… But if you want to stay on the official calendar, you need to continue, so I can't go to other places. And Paris has also helped me a lot, because to be honest, the US and NY didn't accept me as well as in Paris, which has always been very supportive. The LVMH award for example, was a very big support, now Louis Vuitton….
(H)- I was just going to ask you about that. I imagine you're still emotionally hung over from the Louis Vuitton fashion show. What was it like being the first guest designer in the history of the maison?
(C.D)- I never thought that would be possible for me because I'm from New York and it all started very streetwear. And Louis Vuitton in the end has always been very high end, very exclusive, so it seems like you're never going to be able to break into that world. I never thought I was going to break in there and also not be supported. So it was very unexpected for me but I'm very very grateful. And also being the first is always a super cool thing, so basically it's been like stepping on the moon.
(H)- Virgil has left a very important legacy at Louis Vuitton. Did you feel the pressure?
(C.D)- Yeah I felt the pressure, obviously, but I also was really grateful for the opportunity. I said: "I'm going to make the most of it". So, I tried to honor Virgil's legacy, which I think the most important thing was his fearlessness to live life and try new things and bring different people together. I think the Kid Super spirit is really similar, so I tried to honor that. And yeah, it was a lot of pressure. I was expecting a lot more negative reviews and I didn't receive many. So that was pretty cool.
(H)- When you heard that Pharrell was the new Creative Director of Louis Vuitton, how did you take the news?
(C.D)- My parents took it very badly and they called me pissed off, but I took it better because I don't compare myself with Pharrell, it's very different, so it's not like I did a bad job. I understood that at Louis Vuitton they wanted someone more famous simply. And I also know that there were a lot of people aspiring for the job, and they gave me the opportunity to design at least one collection. A lot of people tried and didn't even get what I got. I'm also very young. The future… we'll see.
(H)- After the Louis Vuitton fashion show, you had your own show. People went crazy, there were hundreds of people at the entrance, even the police came… Did you expect the show to cause such a buzz?
(C.D)- I didn't expect it at all. In my first fashion show I did the same thing, I put on my Instagram the address of the fashion show and only 60 people came, so I didn't think everyone was going to come to this one. But yes, in the end 5,000 people came. The people who were in charge of organizing it weren't very good at dealing with the situation, so it was pretty chaotic. The theater manager locked the doors and called the police, making it worse than it was. He should have let everyone in.
People thought I had done it on purpose, but absolutely not. When I'm doing a show, there are a lot of problems, but honestly the people issue… I didn't think about at any point. I was like: one of the comedians of the show canceled an hour before, we had no jokes for J.Balvin, some clothes didn't fit the models…. And then, on top of that, there's a stampede outside that there shouldn't be. Nobody talks about how difficult it is to make a fashion show that then, in essence, only lasts 8 minutes. Every 6 months you have to do one on top of that, it's a lot of pressure.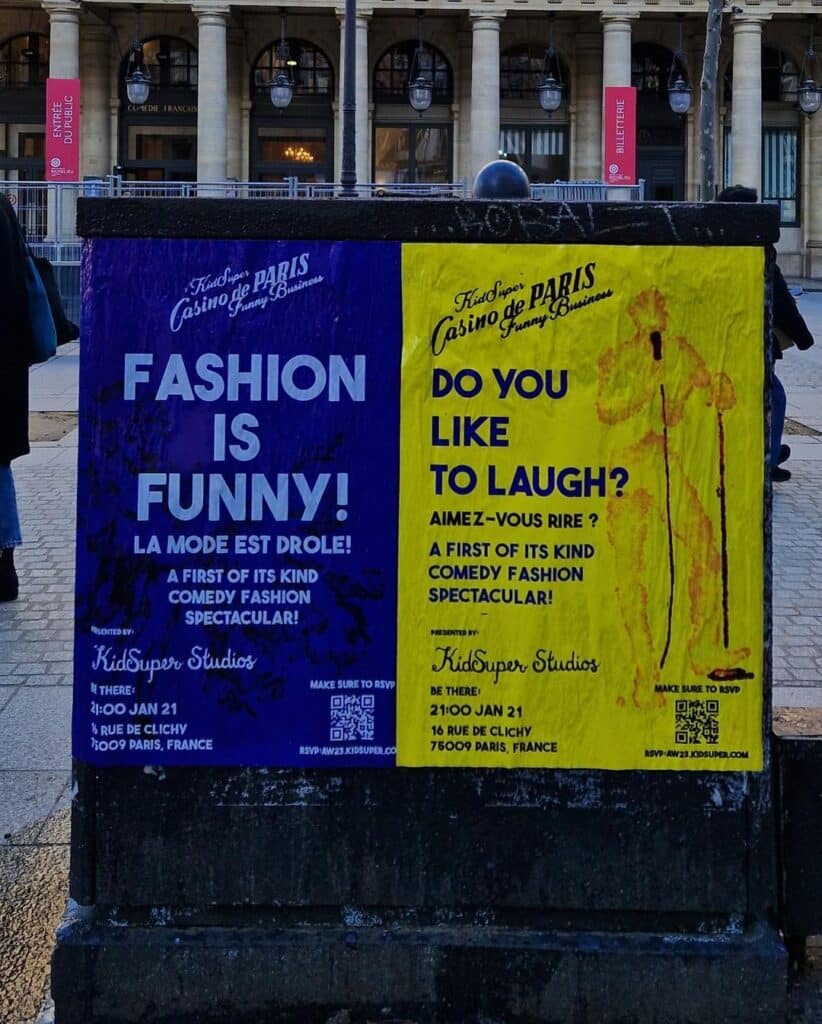 (H)- You always joke around, and in general you take life very lightly. You often say that fashion is a joke, is it?
(C.D)- I never thought I was going to get here with fashion. Because of that, I don't take it so, so seriously. I obviously take the work seriously and everything I do seriously and the projects and execution is very serious. But I wasn't so obsessed with what the media said or if I became successful or not. All of that wasn't what I did it for, because I never thought this was going to be my pathway to success, so I wasn't concerned.
When I started early on, nobody was writing about me, so then, when they started writing about me, I was like: "Well, you are a little late. I've been fucking around for the past ten years. I'm not going to change my personality now".
And also, what's interesting is as you get to more and more success and introduce to more and more successful people, you find out that they're not as serious or pretentious or annoying as you think they are. They become quite fun and are very grateful to be doing fashion as a living, and don't take it as seriously as you think they would.
(H)- What about your parents? You get a lot of support from them, you know not everyone is lucky enough to have that support. Do you think that's part of your success?
I think about the support aside, because I was always a good kid, so they had to support me. I never gave them a reason not to support me. But take out this support thing, I respect their mind and their opinion and their priorities. So this support thing…whatever! I think I really like bouncing ideas off of them and they're crazy thinkers. Were they supportive of my decisions? Yes. But I also was very successful at a very young age. I was a math major at one of America's top universities, and graduated with a math degree. By then, I had started the brand and was very focused. I never did drugs, never smoked marijuana…
I wouldn't give them so much credit for the support; I would give them a lot of credit for being great minds. They're very good to talk to. And that's what I think led to my success. When I have an idea, I get this bounce ideas off with my mom and my dad, and not everyone has that. So I'm more grateful that they're good and smart people than the support. I don't think I needed that. I was already very driven.
Because you can be supportive, but that to me is not as helpful as telling me wether this is a bad or a good idea. I have a lot of friends that have supportive parents, they think their kid is a star, but it didn't help. They actually should have said, "Hey, you're not that good. Get better". A lot of American parents are supportive. It's part of the DNA that created a generation of over time. But I think what's interesting is I actually respect their ideas in their mind.
(H)- Were you really kicked out of university?
(C.D)- I was kicked out of the dorm, just where I lived, but not the actual university. They didn't like that I had converted my dorm room into a store, so housing was mad. The school didn't care as much.
I had to meet the Dean of Housing and I thought that they were going to actually award me. I thought I was going to get an award, sponsorship and a scholarship for my brand. So I dressed up in a suit for my meeting, and I had a PDF presentation about why they should give me a bigger dorm room. And they were like: "What the fuck Colm?!". They were not happy at all. We were on completely different pages. I thought I would get a better, bigger dorm. They were kicking me out of dorms. So different, different ideas.
(H)- You know how it is in the fashion world. Have you ever felt misunderstood in the industry?
(C.D)- I never thought I was going to get into the industry, so I didn't really care. I think people assume I was more preoccupied with that, but I was really not. It wasn't that I didn't care. I obviously appreciated and liked if I got any accolades, I just didn't think I was going to get that. So I was like, I wasn't going to get these awards. I'll do my own thing and we'll see how it works. But then once I started doing my own thing, they came. But I was really expecting that I was never going to get it, so I was never upset or felt stupid or anything. Also, I didn't know how to become a successfull brand, I didn't have anyone in my life that was like, "Oh, this is the pathway". I didn't go to a fashion school, so they didn't tell me about these awards or these things. I was so outside of it. So if you're such an outsider, you're almost like: Ignorance is bliss.
It might come off as, you know, joking or whatever, because I didn't even know about the awards that I was getting until I got them. I don't know if that's a good or bad thing. It's pretty truthful, though. Maybe if you're a young designer, you might think like "Colm didn't even want this and now he got it", and I think that's a bad way of looking at it. It's more like I paved my own way and was really, really hardworking and never lost enthusiasm because if I didn't get an award, that wasn't defining my success. My success to me was if I was waking up every day and kind of trying my own thing or working towards a big plan. Those things to me were, well, what determined my success.
(H)- When I think of KidSuper I think of a superhero. If you could be one, what superpower would you have?
(C.D)- If I could choose any power I think it would be speed. Force, the truth is that I do not want. There are some powers that are unfair like controlling time. I think that's too much. Going back in time…too much.
If you want a good superhero, he also has to have flaws. He can't be perfect. That's why Batman is a great superhero, because he doesn't really have powers, so he can die.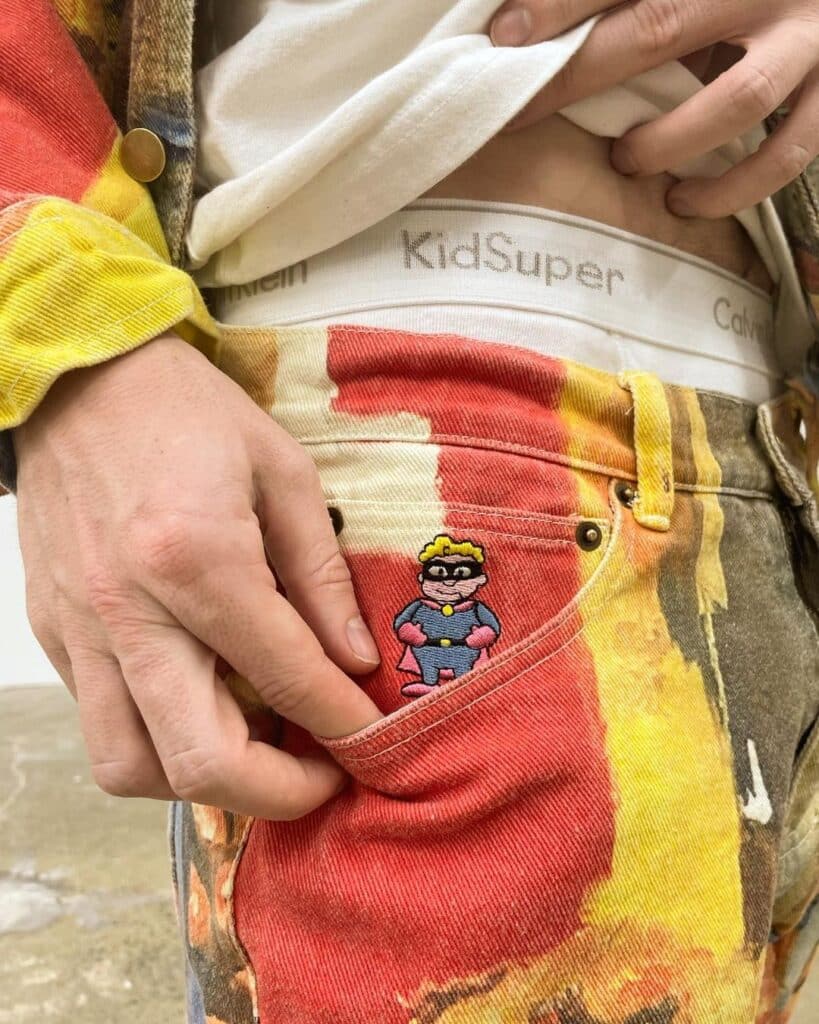 (H)- For your last campaign for KidSuper ss23 you chose four experimented independent artists. Why did you choose them?
(C.D)- For this last campaign I chose 4 fairly old artists from New York, because I wanted to talk to artists who worked for many years and survived 50 years as artists without becoming super super successful. That's not easy. I wanted to find out how they were able to do it and manage it. You know, there was a lot of support for artists back in the day in New York City that no longer exists. It's much harder to survive as an artist now because it's so expensive, so you have to create brands, different ways to make money and survive….
My mother moved to New York at that time and she always talked about how everyone was an artist and rent was $70 a month. That freedom (because you weren't tied down by living expenses) is pretty nice. And how to replicate that nowadays is very difficult or impossible, because you need freedom to explore and create and have new ideas. You can't worry about rent 24/7, or have a job that doesn't allow you to have good ideas or experiment in general if you want to create. So yeah, I was trying to understand their lives and I wanted young artists to hear that and say, "Okay, I don't have the same opportunities as them. How do I figure that out?"
To maintain yourself and be able to keep working and active in art for 50 or more years is not easy. It's a hell of a thing. I asked them what they missed about New York and what they were proud of and stuff. What I really felt was that the idea of being a professional artist in their mind was very possible, and for our generation it seems almost like you either get it or you can't be one. You can only be a very, very famous professional artist or nothing. It's pretty hard to be in between now. It was the same for me when I was a soccer player in Brazil. Being a soccer player seemed so possible to me because everybody was a soccer player. And in the United States, nobody is a professional soccer player, so it didn't seem possible. Now, as an artist, there are very few friends of mine who live only from art. It's not very easy.
(H)- Is that why you decided to become a designer?
(C.D)- Well, the reason I started was because, when I was younger, you wouldn't buy a painting, you wouldn't pay me for music or film. You wouldn't do this, but you would buy a $20 t shirt. It was just a way to make money early on. Once I started doing it, I loved that it opened up doors between people more so than a painting, more so than a video. I could give you a shirt or see you wearing a shirt on the street and be like: "Oh my God, we're friends". Whereas a painting, you'd have to buy it and put it in your castle or whatever…
(H)- When you look back, how do you feel about all the accomplishments? What would you say to your younger self?
(C.D)- People ask me this question sometimes. It's difficult because I'm not a professional footballer, so my younger self would be quite upset and disappointed with himself(laughs). I think I always wanted, even if I was a professional footballer or whatever, to get to a position where I could dedicate myself to different things and be respected for my mind and my creativity and have no limits. And I think I've gotten to that point through a path that I didn't expect, which is fashion. I think that's really cool and I'm proud of it. And I'm happy all the time. When I was younger I always felt like I was going to be successful, but I like that now I'm known for my work and the things that I've done.
(H)- We've talked about how hard it is to make a living from being creative today. What would you say to someone who is just starting out in this industry?
(C.D)- I think to succeed you have to survive. Because if you can produce and show up constantly, you will eventually get noticed. And because you do so much, you will get better. Even if you start out as a horrible designer, you will progress. But the ability to keep doing it, survive, have enough money, etc. is not easy. Another thing is that not everyone has to be the captain of the ship; you can help other people work together. But yes, it's really about surviving. And if you can keep it up and keep going and going, you will end up having some success.
Sigue toda la información de HIGHXTAR desde Facebook, Twitter o Instagram