Did we know that Glenn Martens was the king of experimental fashion? Yes, he's been proving it for years at Y/PROJECT. Did we know he handles denim like no one else? Of course, and he has done it again. The designer is back with his dictatorship -blessed dictatorship- of denim in Diesel latest show.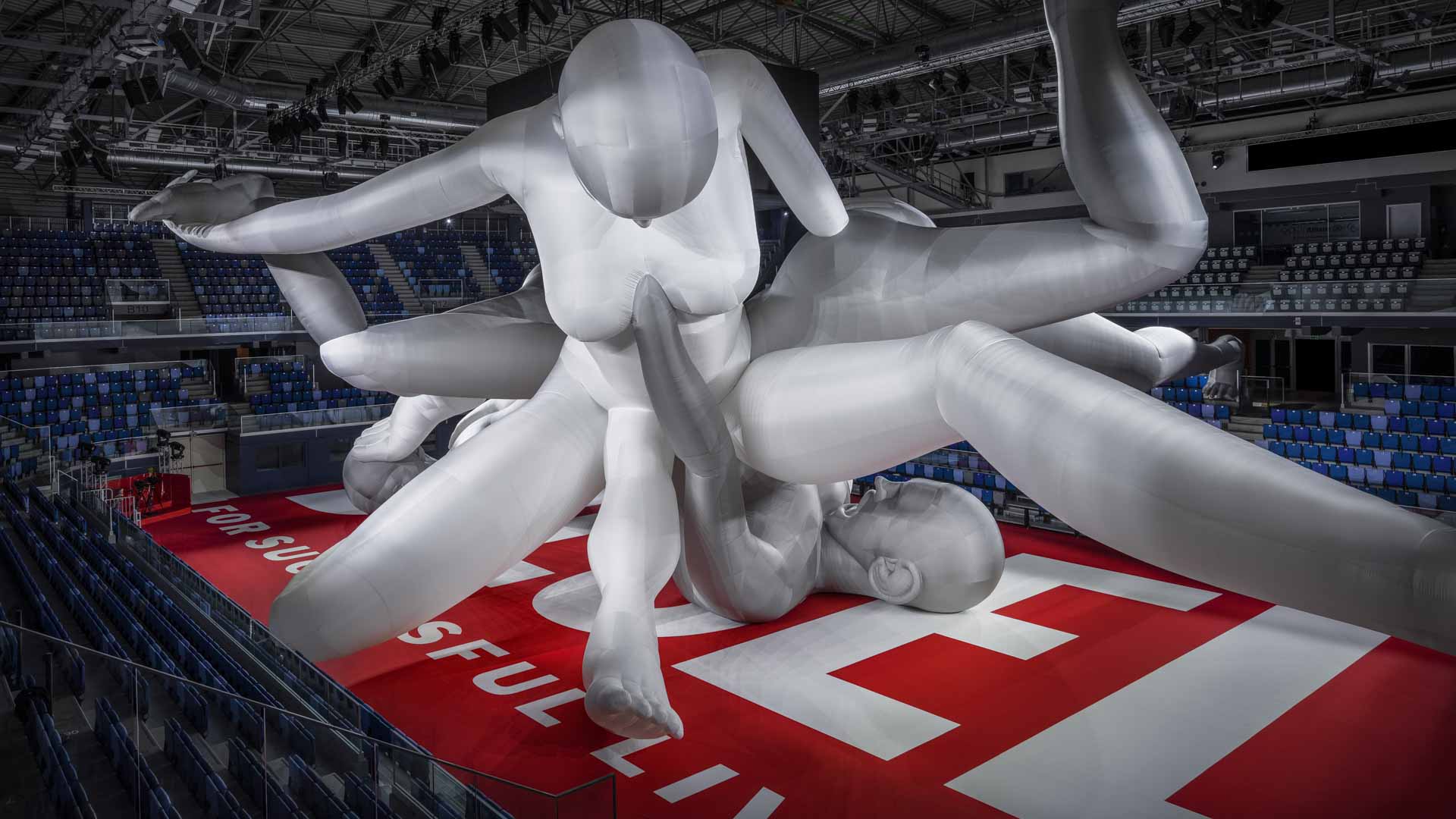 But this season the brand has gone far beyond experimentation. Diesel has made history at Milan Fashion Week with a show open to the public and the largest inflatable structure in the world. One more step towards the democratization of fashion and a place in the Guinness World Records.
This year the Allianz Cloud not only welcomed journalists, celebrities and professionals from the fashion world. Glenn Martens opened the show to fashion lovers who, by registering online, were able to get a ticket for the show. "I wanted to open Diesel to the public, for people who may never have been to a fashion show before. They deserve a show. It's what I believe about fashion and the mood: everyone can be a part of Diesel," says Glenn Martens.
Denim, Diesel's hallmark par excellence, has invaded the proposal for SS23. The fabric gives life to a myriad of different pieces, from ready-to-wear garments such as pants and dresses, to couture pieces with a strong personality such as voluminous coats and stylized jackets.
The techniques applied to the denim fabric have also been very varied in each piece: devoré embroidery, solarized denim…There is also denim that has been bonded with a layer of cotton and then acid washed, revealing the denim once again. Denim has even been used to create trompe l'oeil pieces that we have seen in other seasons of the brand.
Continuing to experiment and play with fabrics, Glenn Martens does not settle for denim in Diesel SS23, but in the second part of the show gives way mostly to leather pieces, interspersed with satin or cotton ensembles. The most special garment? A coat made entirely of more than 15,000 ripped Diesel labels.
The accessories didn't leave us indifferent either. Denim heels appear with utilitarian pockets, while boots are finished with a metallic D. The brand's iconic 1DR appears in medium or micro size, with inlaid stones or in metallic styling. The D-Vina-M X model also appears with shiny details or are reinvented with a molded D.
Diesel democracy or the blessed dictatorship of denim in front of an audience of almost 5,000 spectators is only the beginning of a new way of doing fashion in the 21st century. A fashion more accessible or, at least, closer to everyone who loves the fashion world.
Sigue toda la información de HIGHXTAR desde Facebook, Twitter o Instagram