READ IN: Español
"You know, I think everything about the brand is grounded in reality. I could see this guy, how he looks, existing on the street. And for me, that's a really modern approach to fashion." This is how Matthew M. Williams sees from the outside his latest proposal for the legendary French fashion house he has been creatively directing for the past two years, Givenchy, presented in Paris during Paris Fashion Week at the École-Militaire.
Amidst the Parisian architecture that dominated the venue, a sort of nuclear white island reigned, where the models began to stroll through the water, without fear of getting wet, so that guests and celebrities such as J.Balvin, Tyga or Raw Alejandro, among others, could see in detail the Spring/Summer 23 pieces and accessories designed by Williams and inspired by all his surroundings and people close to him.
The aesthetics of this island, as well as contrasting with the classic buildings of Paris, were designed to perfectly match the minimalist style and the Y2K air that the items in the collection exuded. We refer to this type of trend because it is true that several of the looks that appeared in the show were reminiscent to a certain extent of the tracksuits worn in the 2000s by EVERLAST.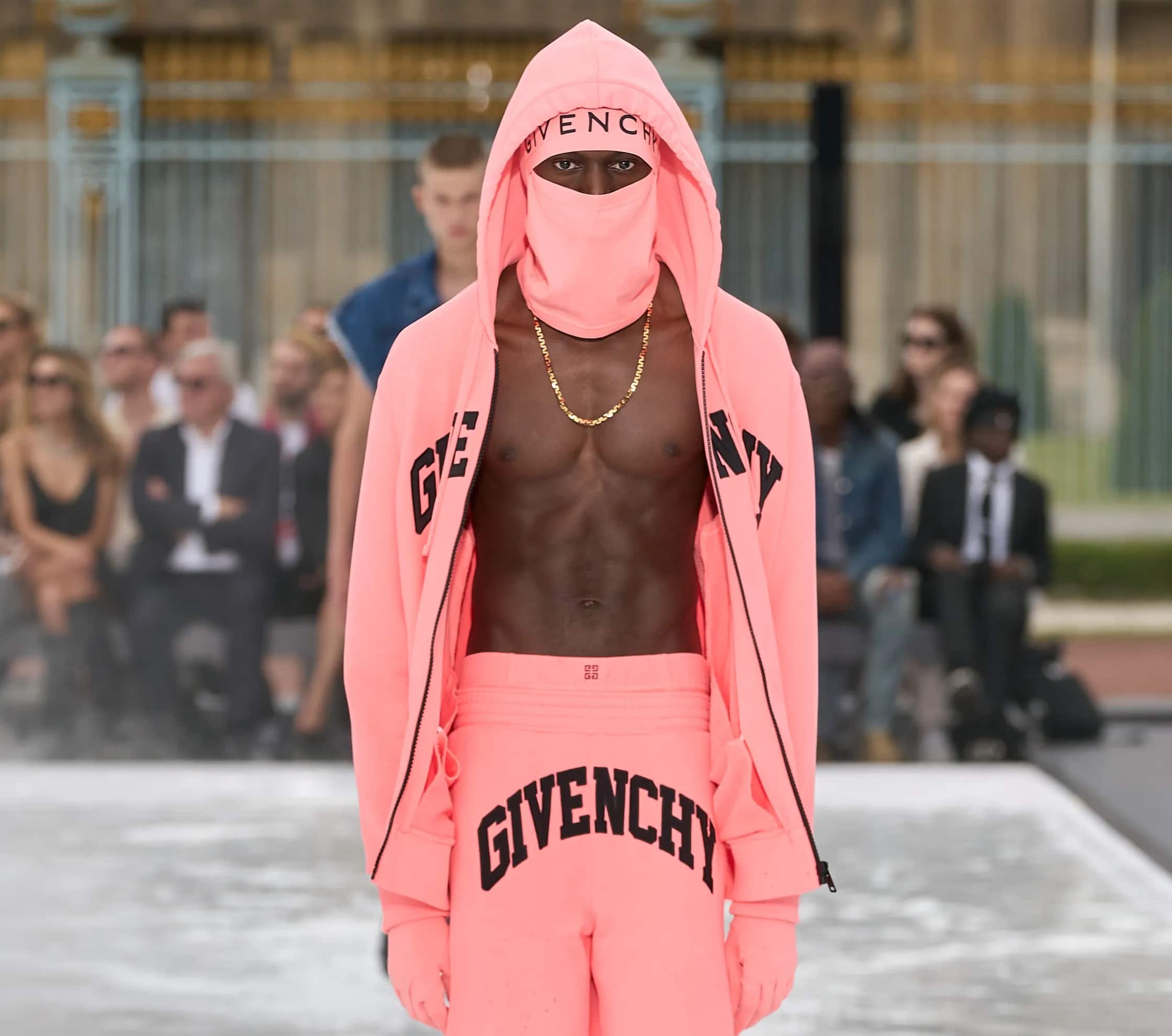 There is one thing that M.M.W. as a designer has done very well, and that is not to leave behind the legacy of logos that was successfully introduced by the previous creative director, Riccardo Tisci during his time working for the maison. These are present on most, if not all, of the garments, so what does Matthew mean by this: will the logos be back and stronger than ever? It looks like they will, and they will be very visible, as even faces won't be able to avoid the Givenchy logo not appearing on them. Balaclavas and ribbons attached to a kind of mask will ensure that this is the case.
However, the logo-mania disappears when it comes to footwear and the minimalist style is more present on boots and sneakers. But if you don't like logos, it's not time to celebrate victory yet, because they're not gone forever, they're still here with us, albeit in a more subtle way, on sunglasses and jewellery (necklaces, padlock pendants, earrings); all metallic, of course, because we know how Matthew likes it all.
In conclusion, Matthew M. Williams proposes a Spring/Summer 23 in Givenchy very relaxed, carefree and wanting to be seen. Why can anyone go unnoticed with so much logo? Only a few.