READ IN: Español
For more than two seasons, the collections of the russian designer Gosha Rubchinskiy have gone virtually unnoticed. Perhaps this is one of the reasons that led the photographer and designer to launch the following statement, leaving the fashion and streetwear industry in shock.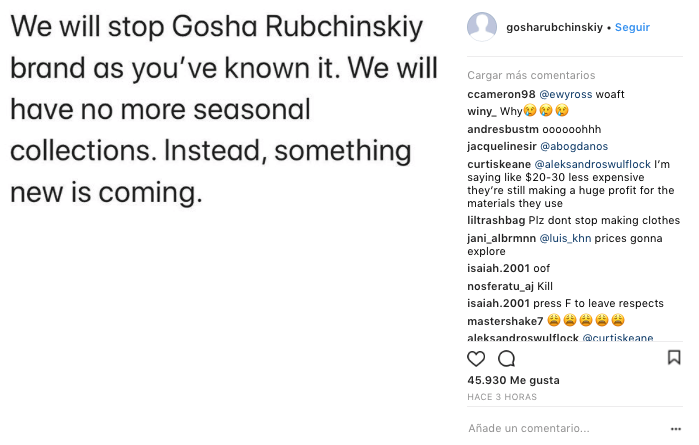 Among the comments that were repeated in the editorial staff about his latest works were the – it's more of the same -, –there is no evolution-, and so on, a long etcetera that was replicated in the streets, but above all in the furniture of his usual retailers where the sales of the firm became more discreet and were far from the initial sold-out.
Recently in an interview with Highsnobiety he made it clear that he was very much involved in his new PACCBET (@rassvetmoscow) project and that Gosha as a firm had reached a turning point.
It is also true that Gosha Rubchinskiy has contributed very much to the fashion that we are experiencing. He has been one of the promoters of streetwear on the catwalk and above all has brought us closer to a Russia unknown to many and has positioned his country as a source of inspiration for much of the industry for some time.
Sources from COMME des GARÇONS (distributor and producer of Gosha Rubchinskiy) have told BOF: "We are currently working with Gosha and his team on many projects for the next two or three years. We want to find a new way to make and sell the product."
Now is not the time for regrets, things begin and end; what we are completely sure of is that the "something new that's coming" will not disappoint us and Gosha will once again excite us with his project, if he ever stoped doing it.