READ IN: Español
Bodies merge and are glimpsed through diaphanous fabrics, like optical illusions that fashion has been reinterpreting throughout history. From Y/Project to Tom Ford or Loewe: eroticism is now diluted in their creations as a result of screen-printed nipples or digital curves that underlie an expression of freedom that escapes the anachronistic censorship of algorithms.
This visual effect has been recovered during the last fashion seasons, igniting a flame that has never been extinguished. One that set fire to icons of the sartorial universe such as Margiela, Jean Paul Gaultier or Comme des Garçons. Not to mention the role and significance of Schiaparelli, Max Hearst and Vivienne Westwood in the matter at hand.
Fashion continues to explore the possibilities and perspectives of artistic technique, whether through playful or political connotations. It continues to version the symbolism of the nude dress that had its heyday in the 1990s with JPG, and its trompe l'oeil and nude prints as the core of "Cyberbaba" 1996. A memorable collection that displayed dresses with life-size projected nudes, turning those graphic codes into references for the fashion to come, as well as inverting the hyper-slimness beauty canons extolled in the 2000s.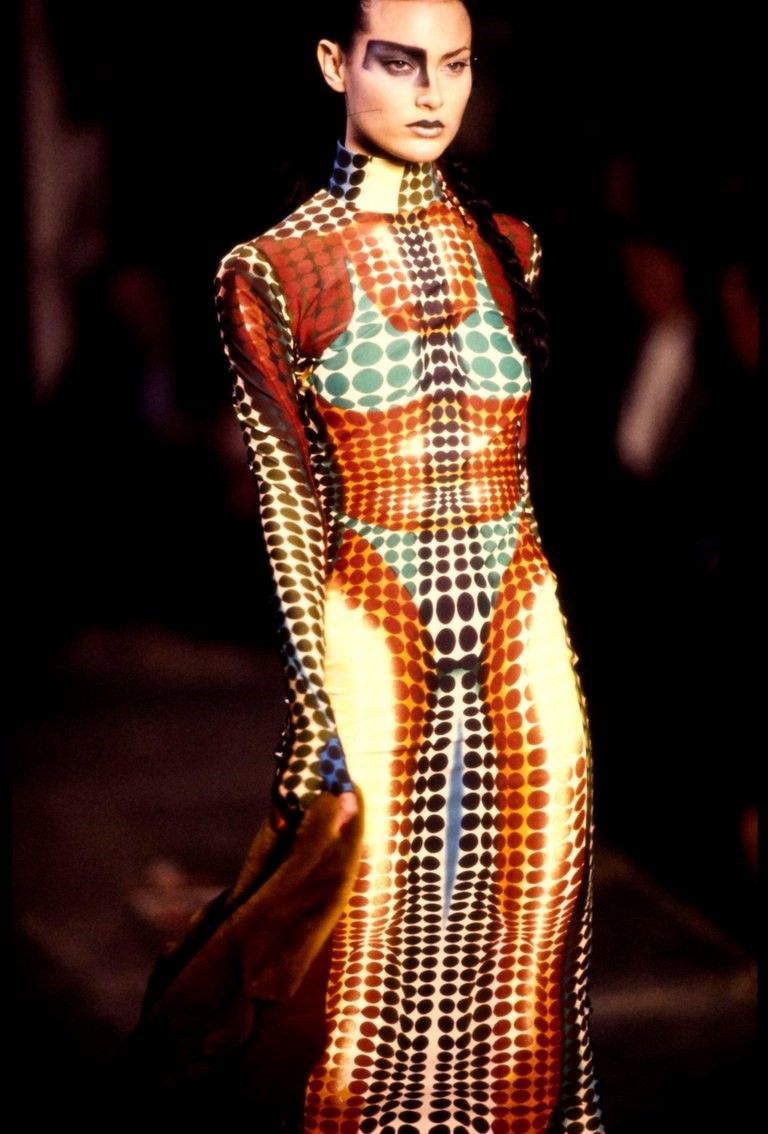 THE REVIEW OF NUDITY
The beauty of the natural nude is now revisited by Richie Shazam AW22 through wool coats with painted breasts by Yves Klein. Also by JW Anderson's Loewe and his jersey kaftans with balloon-like nipple covers, or by Glenn Martens and his new subversive Y/Project project for fall-winter with feminine shapes that sculpt silhouettes with psychedelic nuances.
Beyond the "touch me" dress (or viral object) by the Greek brand Di Petsa, other brands have been joining the system that raise the temperature with that horny energy, such as Sinead Gorey. The London-based creative's designs radiate body heat, being made from thermo-reactive leatherette that changes color depending on the temperature. The SS22 Curve-Enhacing pieces embrace all bodies like second skins, regardless of physique, in an era haunted by surgery, dysmorphia and FaceTune.
The revival of the trend then deconstructs the conception of the nude through design techniques that update those ideas out of sync with the change of generational values, through playful and Dadaist approaches. The body is no longer hidden and oppressed, but liberated and exhibited in pieces as works of art that evaporate that patriarchal scourge called sexualization.