READ IN: Español
As part of the Pride 2022 week celebrations, this year Apple Music has a special guest playlist. The prestigious designer Alejandro Gómez Palomo is the official curator who has personally chosen 39 of his favourite songs to celebrate diversity.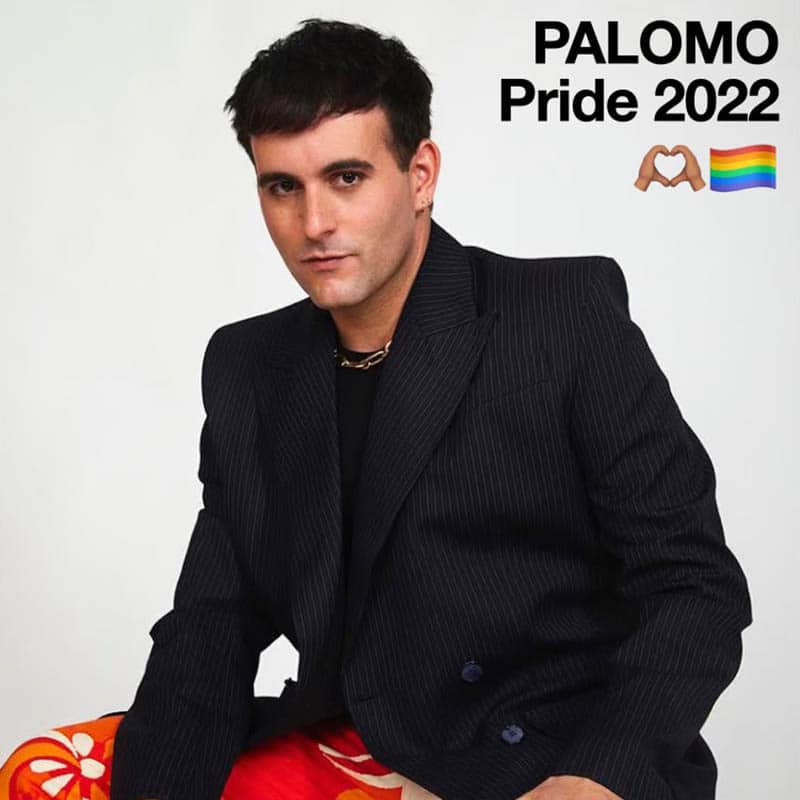 Palomo Pride 2022 is an exquisite musical selection where the designer shows his preferences for 70s masterpieces such as "Somebody To Love" (Jefferson Aiprlane), "Aquarius" (Galt Mac Dermont & Tom Pierson) and the great "Let's Stay Together" by Al Green or "Baby Love" by The Supremes, among others. The Andalusian roots, always so present in Alejandro's artistic life, are reflected here in the sound of two legendary couples such as Lola Flores and Antonio González and Lole and Manuel.
British icons could not be missing, given the Anglo-Saxon influence in his artistic life, with an important representation in the form of immortal classics such as David Bowie with "Heroes" and Elton John with "Rocket Man". New York new wave, with the sophisticated pop of Blondie, seems to be one of the designer's weaknesses, selecting up to 3 songs by Debbie Harry's band in his special playlist for Pride 2022.
Alejandro talks exclusively to Apple Music about the songs that inspire him, about the role of music in the visibility of the LGTBI cause, about artists who have been a reference and refuge for the collective and about the intimate relationship between music and fashion:
Apple Music (A) – The songs that most inspire Palomo Spain.
Palomo (P) – The songs and artists that I have selected in this list are the soundtrack of my life, there are things like Lole y Manuel that are my absolute inspiration, that I have listened to practically every day of my life for years and that accompany me in the happiest, saddest or most inspiring moments; there is also a mixture of genres that inspire me; like the song "Walk On By" by Isaac Hayes that has been part of my fashion shows and may be one of the songs that has helped me the most to imagine a fashion show or a fashion show, when I go to the countryside I put it on… In general, they are songs that inspire me and have given me imagination at a certain moment in my life.
(A) – The role of music in the visibility of the LGTBIQ+ cause.
(P) – The role of music in the visibility of the LGTBI cause is very important. Artists who have a great global reach become great references and the voice they can have can reach many people and all corners of the world. We can have a clear example in Harry Styles, who is an activist for the cause without being part of the collective or being homosexual, but who gives a voice to a lot of people.
Music has also served as a refuge for many gay people who have not felt identified or welcomed in their environment and have felt welcomed within the musical universe, like the giant case of Lady Gaga, how she has helped thousands of people to come out of the wardrobe and boys and girls to be able to create their own stories. I certainly think that music is a very important place of reference and refuge for thousands of LGTBI people who may not have the support they need to feel that they are doing something right because of their family circumstances at home or in their countries.
(A) – The artists who have been references for the collective.
(P) – In Spain we have also had references for the cause from Lola Flores, Mónica Naranjo, Rocío Jurado or all these copleras who have felt so well accompanied by the collective, to many other contemporary artists who are clearly part of the collective, for example this year with Chanel and everything around Eurovision that is clearly surrounded by everything that happens in the LGTBI collective. We can think of very powerful references such as Elton John, Prince, Whitney Houston, Gloria Gaynor… there are thousands, almost impossible to list.
(A) – The relationship between fashion and music.
(P) – Music is an indisputable part of fashion, the perfect accompaniment, without music there is practically no inspiration. Music is part of dreams and imagination, like the soundtrack that feeds me as a designer in my creative process, in my processes, in my way of creating, in the fittings…. It is part of my daily work almost, and fashion also contributes different and valuable things to music, like giving it image and enhancing all public moments; a good performance or a good artist wouldn't be great if her wardrobe didn't say anything; we can think this year in Eurovision and how we have accompanied Chanel and how her costume was also part of the success of that performance, or for example how the wardrobe has been so important for artists like Cher, Elton John, Lady Gaga or The Rolling Stones… Fashion has always been part of the nourishment of the performance in general.