READ IN: Español
The LV fashion show already has enough expectation in itself, but after Kim Jones announced that he would leave the firm after yesterday's parade, the expectation rose to the tenth power… and as it could not be otherwise, Mr. Jones, did not disappoint in his farewell.
The show was a thank you and a reference to Marc Jacobs's Vuitton from early 2000. That was made clear to us by the designer in his instagram account | @mrkimjones.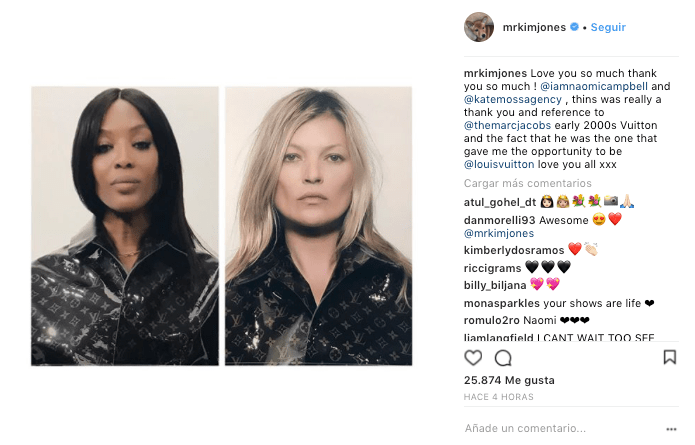 As for the fashion show, he opted for a last bet where the classic patterns were mixed with other disproportionate ones of clear street influence. Colors like blue, grey or "Louis Vuitton brown" coexisted with glitter and accessories, creating a perfect coherence and a unique story only within reach of the best.
Some garments such as the Peace & Love print jersey or quilted bags captured the attention of the public. We were also able to see floral prints and endless versions of boots with incredible military aesthetics.
Louis Vuitton Men / FW18
We knew Kim wouldn't leave without leaving us with our mouths open. That moment came when the raincoats with the LV monogram walked across the catwalk wearing the iconic Naomi Campbell and Kate Moss supermodels. Closing the circle of references to Marc Jacobs.
A farewell that leaves us with a lot of doubts. If yesterday there was talk of his future in Versace, today there is talk of Burberry. As for Vuitton, it is even more difficult to know if it will follow the line close to the street that Kim Jones has promoted over the last few years and that has positioned it at the top of the hype.